Have your kids gone to Jumptopia at Gardens by the Bay yet? I think it's worth the $18 per ticket and here's why. If you did not already know, Jumptopia is an Indoor Inflatable Park (aka bouncy castle heaven) located at the Bayfront Pavilion of Gardens by the Bay. They have 8 different bouncy castles, and occupy 8,600 sq in total. Jumptopia is run by the people from Kiztopia, so you will see familiar characters but the indoor play space is completely different in that Jumptopia offers solely bouncy castles.
It's fun!
There's something about bouncy castles and kids, they just gravitate towards them! Even though Edward had been to Jumptopia at both MBS and Gardens by the Bay once, he still opted to return again as his weekend birthday treat! If you ever need to push your kid to exercise, this place is it. They won't stop till their heads are all sweaty!
The ticket is relatively affordable
When it comes to indoor playgrounds, you will be hard pressed to find any that are less than $20. And given that Jumptopia is so huge, it's even more worth the money.The only downside is that a kid's ticket does not provide free entry to adults. In fact, there is only 1 type of ticket, and anyone who wants to enter has to pay $18 for the ticket.
The size is more manageable as compared to Jumptopia at MBS
During the December holidays in 2021, Jumptopia was also available at MBS. From the crowds, it seemed like half the children population visited Jumptopia at MBS at one point. That space was humongous, taking up 44,000 sq ft. The inflatables were much bigger and taller, and there were different kinds including some non-inflatable options. Some found it too crowded, noisy and overwhelming, especially when you had to cover a much larger ground in that cavernous hall within the same 1hr 45 minutes time slot. Jumptopia at Gardens by the Bay, by virtue of its size and low ceiling, is a relatively calmer and less rowdy place. Please note the word relative.
It's safer than the one at MBS
Many of the inflatables at MBS had open sides. I was always on tenterhooks whether Edward would jump jump jump and inadvertently jump off the side in a moment of inattention. Also with the higher structures, there was the tendency for some kids to jump down from a high height, potentially knocking over unsuspecting kiddos nearby. The one at Gardens by the Bay has enclosed sides, except for the entrance and exit areas, so less chance to topple out unexpectedly.
It's fun for the adults too!
Well if there's one type of indoor playground that adults can also partake in the fun, it's the bouncy castle type. Adults can jump up and down on the bouncy castles just like the kids, without any need to worry about tiny spaces or having to stoop down low. Of course there are some of such areas, but there's also more than enough open space for adults to jump freely! So, even though adults have to pay for their entry, the cost is not completely wasted. After all, many adults do indeed visit trampoline parks, and Jumptopia is like a trampoline park, except that it's decked out in a colourful and cartoony theme.
There's an onsite cafe
Kith Cafe is the resident cafe. It's not huge so it only offers a limited menu. But if your kids are old enough, you can sneak off for a cuppa while they are jumping on the inflatables a few metres away.
1.45 hours of healthy fun, and 1.45 hours less of screen time. Why not.
Scroll down for more photos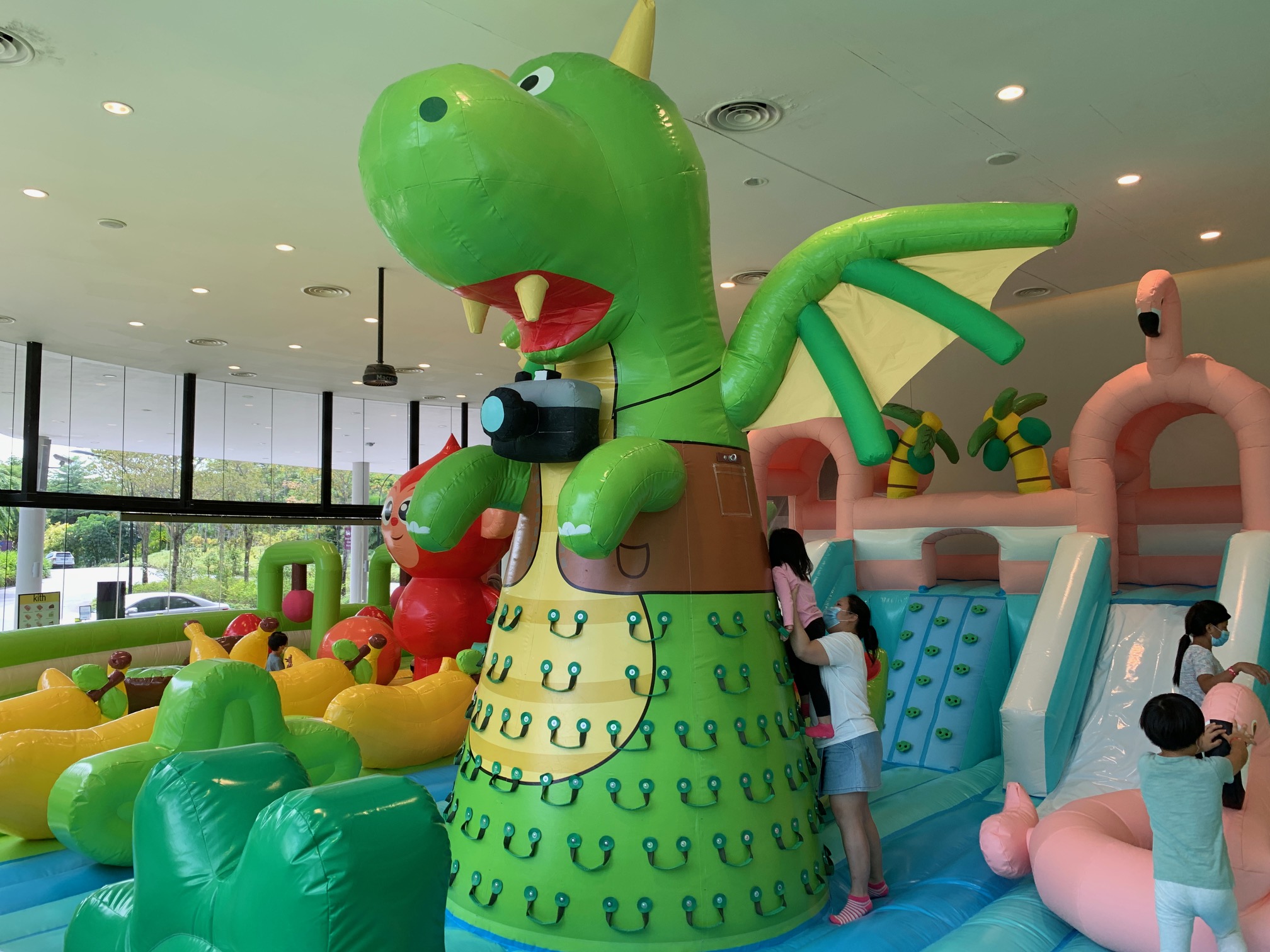 Jumptopia Wonder Garden
Gardens by the Bay, Bayfront Pavilion
If driving : Park at Bayfront Plaza Carpark
If taking the MRT : Head for Exit B. Head towards the right of the gardens and follow the directional signs.
OPERATING SCHEDULE
Monday — Sunday (5 sessions per day)
10:00 am — 11:45 am
12:00 pm — 01:45 pm
02:00 pm — 03:45 pm
04:00 pm — 05:45 pm
06:00 pm — 07:45 pm