*Media Invite*
I shudder to think how expandable my stomach capacity is. When I was in baking school and we had to pack our own lunch, I survived very well on 2 pieces bread sandwiched together with peanut butter and jam. In fact, having just 1 extra slice would have made me bloated and lethargic! On the contrary, the capacity grows when I am called upon to obtain my money's worth at a buffet, or at 16 food court stalls in the span of 3 hours.
Yeah you heard me right. 16 stalls. And my job, along with the other bloggers, was to sample the delights from each of the 16 featured stalls at Food Republic at the newly opened 112 Katong. The good thing though was that each stall could only feature 1 signature dish, so it was quite manageable in the end. Ha.
BTW, if you haven't already visited the newly opened 112 Katong, you should! It's totally different from the old Katong Mall. I love the carpeted floors! There are quite a number of interesting eateries like Max Brenner and Da Paolo Gastronomia that are worth trying out too!
As there are 16 stalls, I shall breakup the posts into Noodles, Non-Noodles and Snacks/Drinks.
Let's start with the Snacks and Drinks first.
Yong Soon You Tiao $0.90 each.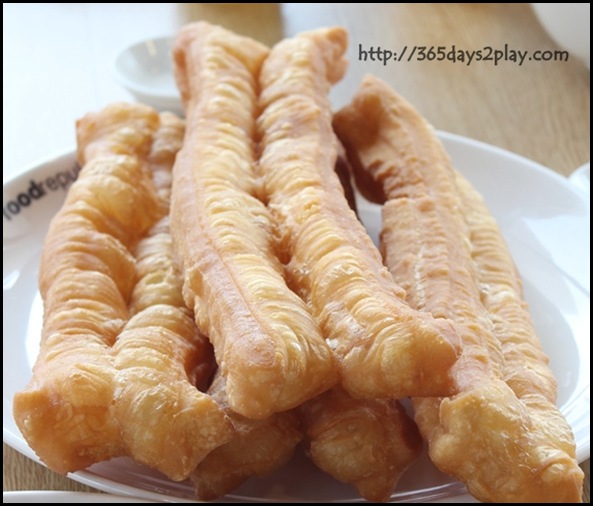 I think they were very smart to go first, because we would surely not have been able to down the fried dough if it had come at the end. I have to say though that this You Tiao is one of the best You Tiao I have ever eaten. I don't claim to eat a lot of you tiao but I recall in my younger days, you tiao would be limp and lifeless if you didn't eat it hot straight away. Even the ones you get as garnishing on porridge become chewy after a while. The amazing thing was that this you tiao still retained its crispiness even when cold! Still crispy, fluffy, not oily tasting and not too salty either! Thumbs up to this fattening dish.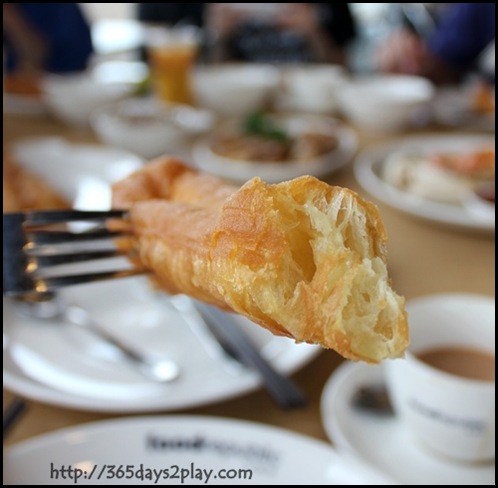 Mmmmm
Huat Huat BBQ Chicken Wings $1.30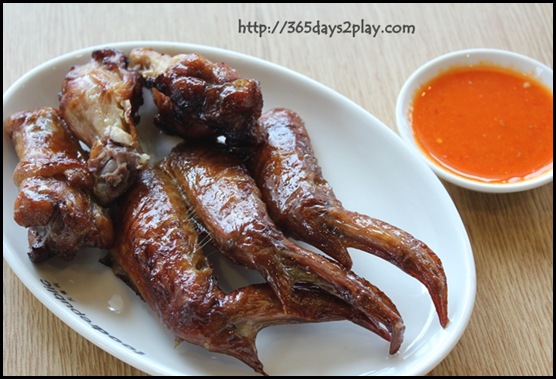 Huat Huat BBQ has over 20 years of history. I seldom eat BBQ chicken wings like these because they tend to be over charred or too dry. These here would appeal to people like me who like clean tasting chicken wings. I didn't find the BBQ taste to be very strong. It almost had a kind of braised flavour which I did like but I would have preferred it to be a little bit more crispy. The chilli sauce is quite deadly so go easy with it when you first try it.
Ice Shop Chendol $2.40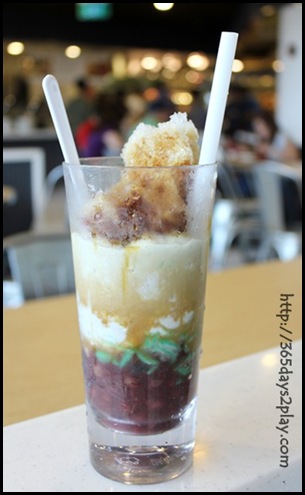 The Ice Shop offers over 15 cold and 5 hot dessert selections. We got to try the Chendol drink. I thought this to be a very value for money dessert! As you can see from the picture, they are very generous with the amount of red beans and the coconut milk! When mixed together, the drink tasted rich and refreshing. It was also very easy to eat this as all I had to do was to suck all the ingredients up the straw! I told my father about this as he is a fan of Chendol and we will definitely be back to try this again.
Read more about Food Republic at 112 Katong Mall
https://365days2play.com/2012/04/20/food-republic-at-112-katong-snacks-and-drinks/
https://365days2play.com/2012/04/20/food-republic-at-112-katong-oodles-of-noodles/
https://365days2play.com/2012/04/20/food-republic-at-112-katong-rice-and-more/