Awfully Chocolate is a household name when it comes to chocolate cakes. They started out as a hole in the wall shop in Katong Mall, retailing just 3 flavours of chocolate cakes. Sales boomed like mad, probably because the chocolate cakes on offer at Awfully Chocolate were more cake than cream, unlike its counterparts in the market at that time.
Fast forward to today and the Awfully Chocolate Group has expanded into an awfully lot of F&B areas, ranging from small cafes like the one I'm going to review in this post, to full brunch and dinner places like Nine Thirty (previously known as Mooshi Bakes) to even an old-school coffeeshop styled coffee shop called Sinpopo Brand. I really didn't like Sinpopo Brand when I tried it a couple of months back, but when I walked past Sinpopo yesterday on a Saturday night, it was packed to the gills. I've been tracking the growth of Awfully Chocolate over the years because many of their concepts are situated at Joo Chiat and I live near there. It's no wonder Lynn Lee, the owner of Awfully Chocolate is dubbed the queen of Joo Chiat!
Anyway, I was kindly invited by Awfully Chocolate to try out their new Afternoon Tea set that they had just rolled out. The tasting was to be held at the Awfully Chocolate Greenwich V branch in Seletar. A cross country travel for me to be frank, but I am familiar with Greenwich V Mall after having participated in an amazing race kind of contest there last year. It's really a quiet and relaxed mall far away from the hustle and bustle of everyday life, especially since it's mostly landed property nearby. My colleague who lives in Sengkang likes to visit Greenwich V every other weekend or so just to chill. I must admit the bus ride to Greenwich V, although tiring, was interesting because it let me experience a part of Singapore that looks a little set back in time.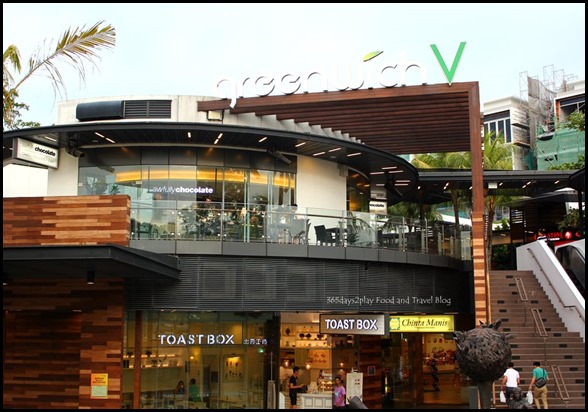 Welcome to Greenwich V, a chill out mall in Seletar! Awfully Chocolate is on the upper level of the mall.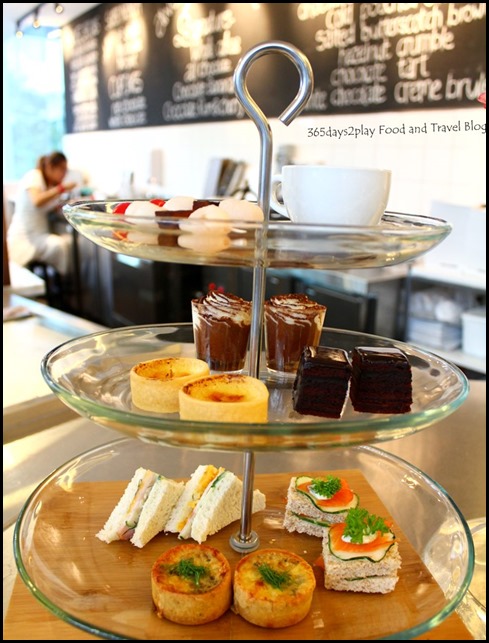 This is the tea set, which includes a choice of house coffee or artisanal teas, as well as a selection of savoury and sweet bites. Also includes scones pictured below. $20 for 1 pax or $36 for 2 pax. This set shown here is the serving for 2 pax.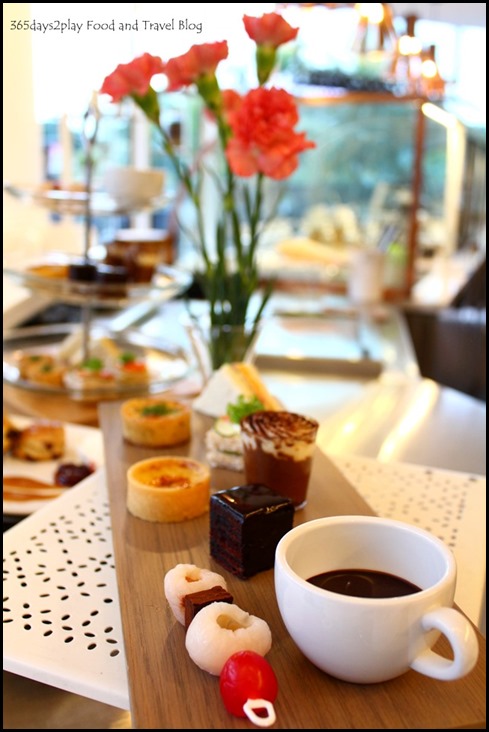 The skewer is of frozen lychees and a small square of the famous Awfully Chocolate chocolate truffle. You are supposed to dip it into the cup of chocolate sauce. I didn't though because it was serious chocolate overload for me by the time I reached the frozen lychee skewer. This set pictured here is the serving for 1 pax.