Never really understood the hype about Awfully Chocolate's chocolate cake.
It all started when the owner of the brand got tired of chocolate cakes that were less cake and more mousse and cream instead. I too hate the frivolous use of mousse and cream, where's the bite in that? She had a vision of a chocolate cake that was substantially cake, one with a rich chocolate taste, yet not so sweet as to be offputting. This cake was to be an object of desire. And so, she came up with what is now Awfully Chocolate's signature chocolate cake. Layers of chocolate fudge between layers of chocolate sponge.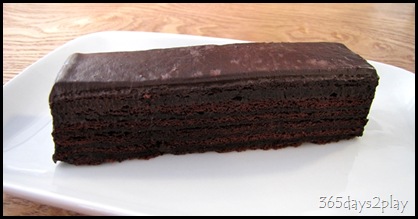 Admittedly, the cake does have more substance than a chocolate mousse and cream cake. I performed the Squish test on it, a very scientific method where I used my spoon to squash the cake down. The cake yielded a few mm. PASS.
And yes I would also have to agree that it is a cake that is not so sweet, so you do not run the risk of getting sick of it after a few mouthfuls. PASS
HOWEVER, and here's the clincher, the cake just doesn't taste THAT great to me. Frankly speaking, it tastes like chocolate kueh rather than chocolate cake. It definitely looks chocolatey enough, but to me, it didn't feel like I'd had my daily dose of chocolate after eating the cake. I'm still hankering after a chocolate drink at this point in time. Maybe the sweet tooth in me just can't process the idea of a chocolate cake that isn't sweet.
Maybe I have to start my own business selling rich dense chocolatey chocolate cakes for sweet tooths. In the meantime, if you're craving for a rich, sweet and dense chocolate cake, these are my all time favourite chocolate cakes in Singapore:-
1. Coffee Club — Viennese Chocolate Cake $5
2. Canele — Le Royale $7
3. Cafe Epicurious — Devil's Chocolate cake (flourless and has mascarpone cream in it!)