You seldom find hotels in neighbourhood locations in Singapore, and naturally so because most tourists would tend to prefer to stay in the city centre where the action is, or in the business districts. Interestingly, there are a number of hotels in the Marine Parade / Katong area, since decades ago. This is probably because prior to the land reclamation done, the Katong area was sea-facing and so it would be quite natural to have seaside hotels facing the waters. The coast has since moved further away but thanks to the resurgence in interest in the Peranakan culture (my guess), hotels deem it fit to still locate themselves in this heritage area. Now Hotel Indigo and Holiday Inn Express Katong also call themselves home a stone's throw away from Grand Mercure. 
So, if you are in the Marine Parade / Katong area, or after shopping at I12 Katong or Parkway Parade, and thinking of simply eating at the mall again, you just might be interested to know that there's a cosy restaurant bistro bar tucked inside Grand Mercure Singapore Roxy hotel with relaxing pool views, for your consideration. People tend to be more familiar with Grand Mercure's bigger restaurants (such as Feast @ East buffet restaurant and Jia Wei Restaurant), so this little bistro is a fantastic hideaway. You'll have to snag the al-fresco seats or the indoor seats right next to the entrance, if you want the pool views though.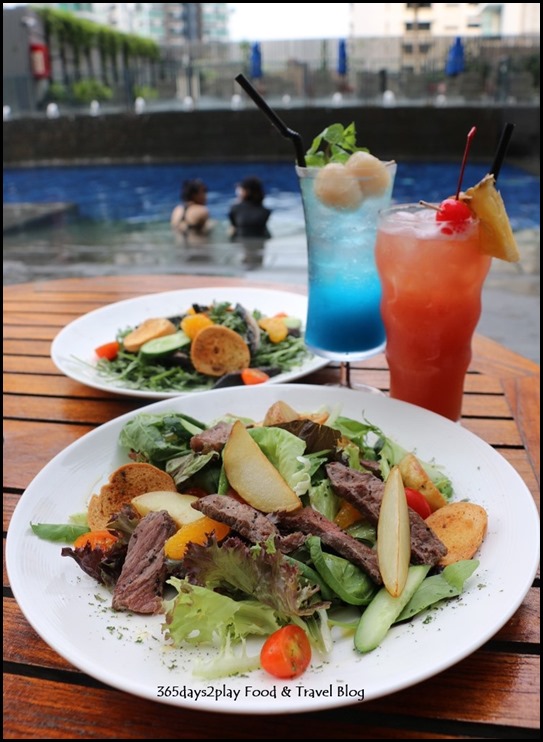 Beef Fillet and Roasted Potato Salad $18
Nothing like a icy cold drink to help you relax.