Having had a most sumptuous albeit sad lunch to bid my boss adieu 2 years ago at Oso Ristorante, I've always had a mind to return. Oso Ristorante is a cozy yet fine dining sort of restaurant housed on the 2nd storey of a row of shophouses along Bukit Pasoh. It has a woody theme, with windows to let in the light. The seating is not as cramped as 2 years ago.
The chance to dine here again presented itself when I snagged a table during Restaurant Week last month. Actually, I wanted to try more restaurants but I had to settle for only 2, given that Restaurant Week is but one week long! You can read about all my Restaurant Week feastings here.
Oso Ristorante was very generous for Restaurant Week. Most restaurants provide just 3 course meal, but Oso Ristorante up the ante with not only a starter, but a soup! That's why, for Restaurant Week, it's best you check out the menu to see if it's to your liking, although some restaurants make the choice of keeping it secret and surprising you only on the day itself. Very tough for fussy eaters, but good if it means that the restaurant can select the freshest produce of the day to serve to customers.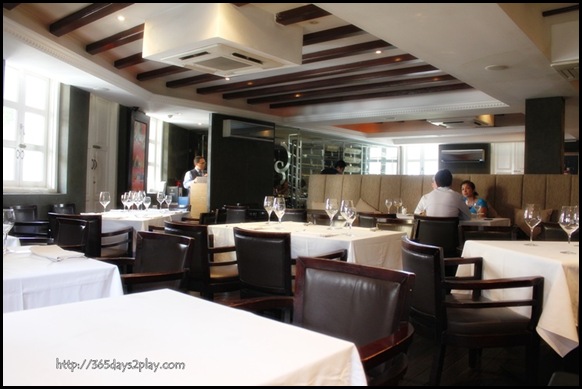 See, don't you think it looks nice?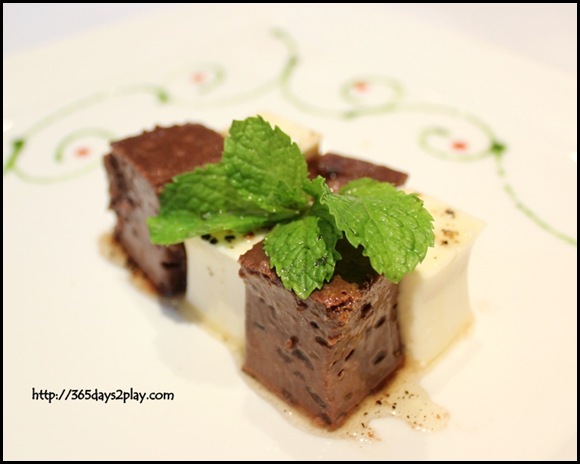 70% dark chocolate and almond timbale bonnet & Double cream flan panna cotta with caramelized black pepper sauce
Decided to talk about the dessert first for a change. The white cubes were the panna cotta, delivered in a cube form as compared to the usual shot glass form or unmoulded onto a plate. It had an even creaminess, and actually not extremely creamy despite the double cream. The chocolate cubes had a half brownie half gelatine texture. True to the description, it was very chocolaty and had a slightly crisp top. Wish it were a little more sweet as it was meant to be a dessert.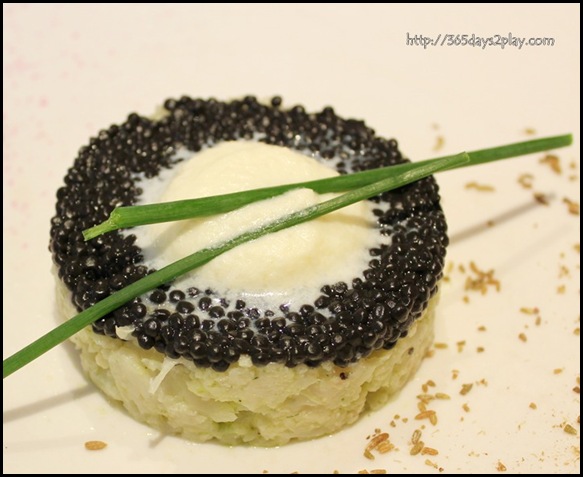 Warm cauliflower timbale with avruga herring caviar in dill dressing sauce