Having had a most sumptuous albeit sad lunch to bid my boss adieu 2 years ago at Oso Ristorante, I've always had a mind to return. Oso Ristorante is a cozy yet fine dining sort of restaurant housed on the 2nd storey of a row of shophouses along Bukit Pasoh. It has a woody theme, with windows to let in the light. The seating is not as cramped as 2 years ago.
The chance to dine here again presented itself when I snagged a table during Restaurant Week last month. Actually, I wanted to try more restaurants but I had to settle for only 2, given that Restaurant Week is but one week long! You can read about all my Restaurant Week feastings here.
Oso Ristorante was very generous for Restaurant Week. Most restaurants provide just 3 course meal, but Oso Ristorante up the ante with not only a starter, but a soup! That's why, for Restaurant Week, it's best you check out the menu to see if it's to your liking, although some restaurants make the choice of keeping it secret and surprising you only on the day itself. Very tough for fussy eaters, but good if it means that the restaurant can select the freshest produce of the day to serve to customers.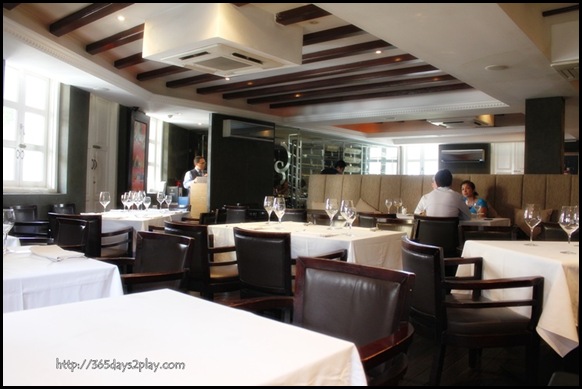 See, don't you think it looks nice?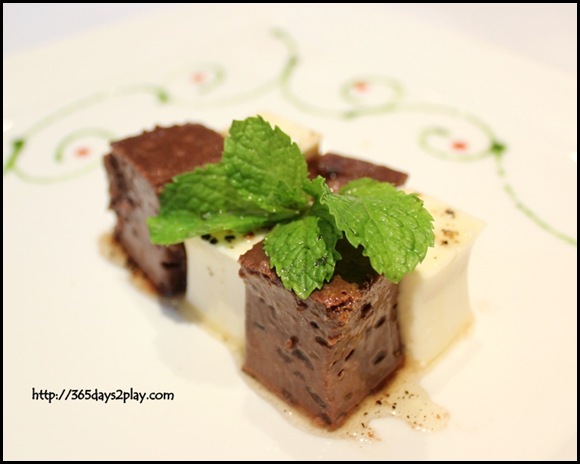 70% dark chocolate and almond timbale bonnet & Double cream flan panna cotta with caramelized black pepper sauce
Decided to talk about the dessert first for a change. The white cubes were the panna cotta, delivered in a cube form as compared to the usual shot glass form or unmoulded onto a plate. It had an even creaminess, and actually not extremely creamy despite the double cream. The chocolate cubes had a half brownie half gelatine texture. True to the description, it was very chocolaty and had a slightly crisp top. Wish it were a little more sweet as it was meant to be a dessert.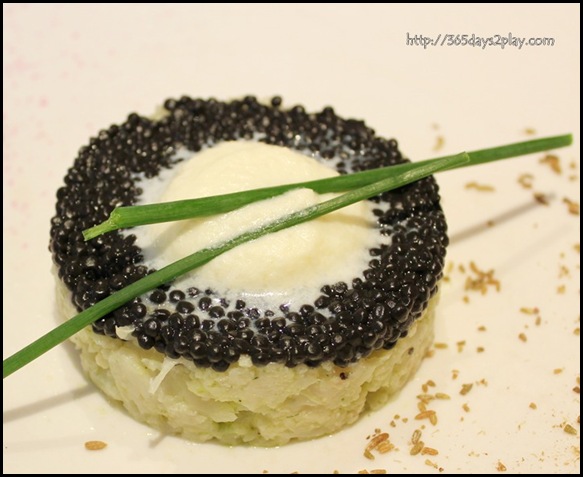 Warm cauliflower timbale with avruga herring caviar in dill dressing sauce
With that much caviar in the appetiser, I expected to be in for a treat. Unfortunately for me, as I love strong flavours, the caviar was very mild tasting! Also, the caviar didn't have the bubbly burst it and juice oozes out type of texture. It was kinda slippery and mushy. Together with the already milder tasting and slightly mushy cauliflower, I thought the dish lacked both flavour and texture.
Another interesting point, if you look back to the photos I took 2 years ago, you'd notice that they employ similar garnishings, both for the dessert and appetiser. A bit uncreative don't you think? I seriously wonder if the chef doesn't get bored doing the same thing for 2 years.
Hot seafood cioppino bisque soup with grated orange skin
This really didn't go down so well with me nor the Partner. He was worse, he drank one sip and put his spoon down. I managed to finish a quarter of it. It had a very fishy taste that wasn't too pleasant. The orange flavour also tasted weird on the back of a seafood base.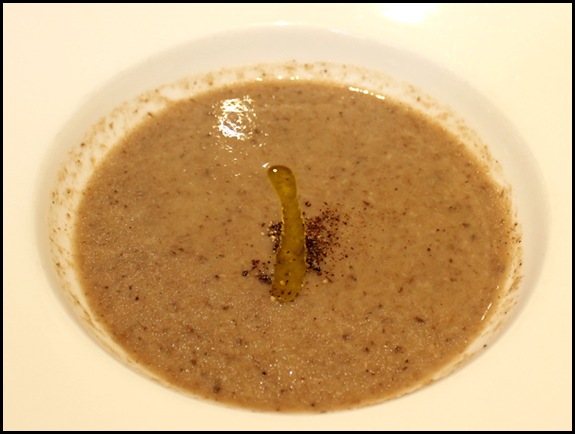 Mushroom Soup
The waiter must have noticed our dissatisfaction because he offered us the soup of the day, ie the mushroom soup. Actually I wasn't expecting the restaurant to offer us a replacement soup, partly also because I didn't want to become too full of soup and not have enough space for my mains! But they were pretty sincere in making amends so I had to give them a second chance. Thankfully, the mushroom soup tasted very good.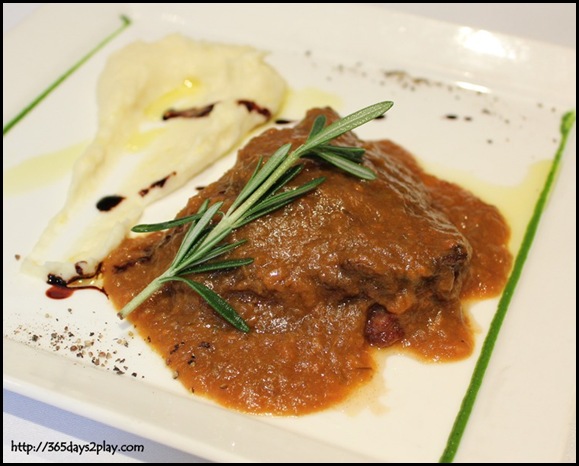 Braised Wagyu beef cheek in Barolo red wine served with lemon mash potato
The Partner ordered this and it was a winner. It may not look too appetising in the photo, but the braised wagyu beef cheek was so deliciously tender and flavourful! The barolo red wine sauce packed a punch and just made every morsel of the beef cheek extremely enjoyable. The mash potato with lemon in it was also creamy and delicious, although I must admit that I was at first unaccustomed to the lemony taste of teh mash potato. If only there was more of it!
Homemade tagliatelle pasta with light Taleggio cheese fondue and baby peach in white truffle flavour
This looked rather plain when compared to the beef cheek above, but was thankfully also very enjoyable. I knew that it would be pretty plain looking because it's vegetarian. It was a risk I took and it paid off. You see, the proof is in the sauce, for a dish as simple as this, and I have to complement the chef for making the simple looking cheese fondue sauce so appetising. It had much greater depth that the usual type of sauces you get when you order cabonara pasta. Also, the tagliatelle was distinctly "homemade" as it was thicker than usual, giving a good firm bite to it.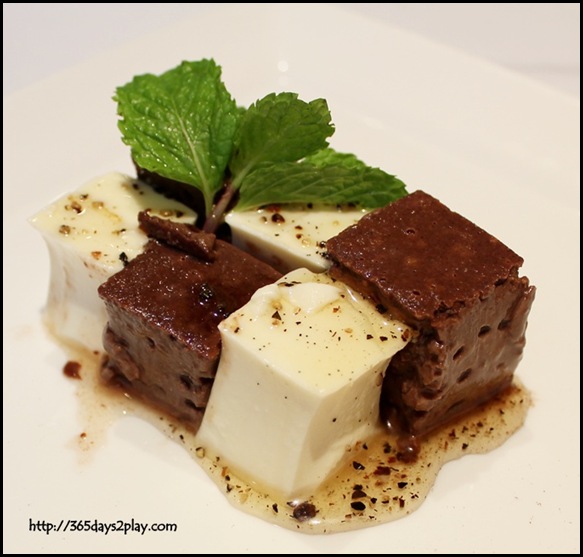 Another look at the dessert.
Oso Ristorante
46 Bukit Pasoh Road
Singapore 089858
Tel: (65) 6327 8378
Fax: (65) 6224 9610
Email: reservations@oso.sg
Opening Hours
Lunch : 12pm – 2:30pm (Mon – Fri)
Dinner : 6:30pm – till (Mon – Sat)