On the 3rd day of our sponsored Whirlwind 5D4N trip to Taiwan, we arose bright and early to make the best of a beautiful day. Seriously, a blue sky day with cold crisp air just makes my heart sing! I was all raring to venture out, but we had to pack our tummies with a little something first because the 1st stop of the day was to go coffee tasting!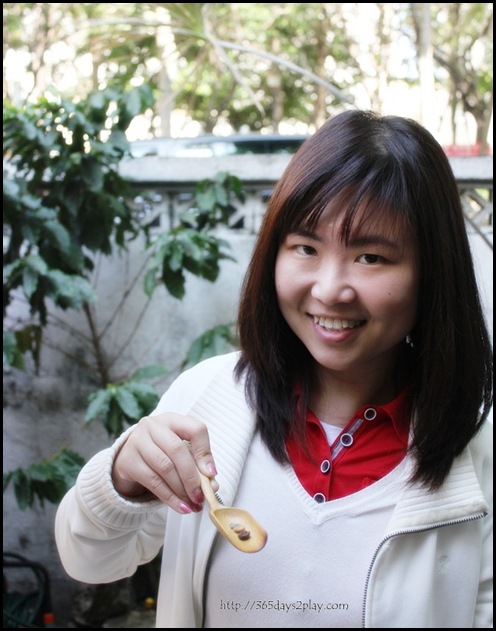 Actually, we didn't just get the opportunity to sample freshly brewed coffee, we got to witness the ENTIRE coffee roasting process from bean to brew!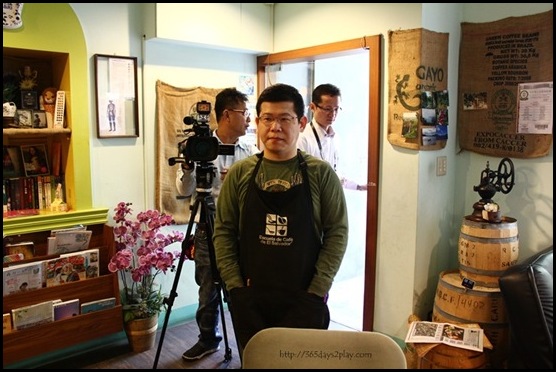 This is the boss of Coffee Area. He is an extremely jovial character, with a rather humorous streak. The shop is only open from Wednesday to Sunday. We visited on a Tuesday and we heard that he'd specially opened his shop just for our visit. This is a rare treat because we were told that Taichung people are laid back, many of whom work for fun and not for a living. You will find that when you are in Taichung, shops may not open all hours of the day just to cater to customers or to generate the most amount of profit. On the contrary, people are friendlier than in Taipei.
Don't mind the camera man at the back. He filmed us the whole of our third day in Taiwan. Felt a little like a celebrity!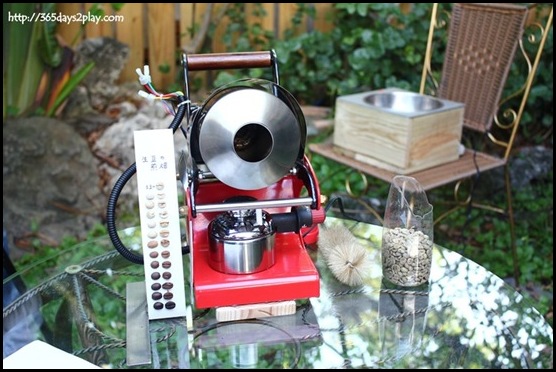 This is the portable roaster. I used to think that coffee roasting was a very complicated process best left to the experts, but after viewing this contraption work its magic, I feel compelled to purchase one of these babies.