The annual Singapore Botanic Gardens Heritage Festival is back for 2 weekends from 30 June – 9 July 2017. There's so much to see, do and eat that you might want to spend more than 1 day at the Gardens!
Check out this link for more details on the programmes and promotions lined up for the Heritage Festival, but here's a short summary on what you can expect:
Performances at Shaw Foundation Symphony Stage and the Bandstand
Programmes such as laughter yoga to qigong to
Talks such as why the Singapore Botanic Gardens gained UNESCO World Heritage status or getting to know your Kampung vegetables.
Guided tours of the Gardens
Plant sales
Free entry to National Orchid Garden
and more!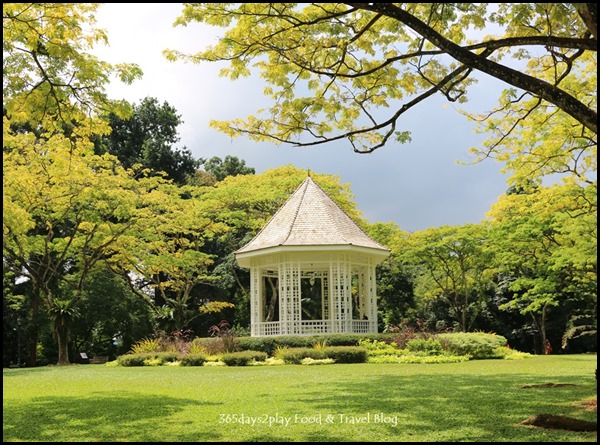 And of course, not forgetting the fooooood! The F&B outlets at the Singapore Botanic Gardens will be coming up with special heritage dishes and/or discounts to whet your appetite during this period. Scroll down for pictures of what to expect.
~~~ Halia ~~~
Check out the numerous food and drink selections that have ginger and other botanical inspirations in them. The Chilled Ginger Jive is particularly refreshing, especially after a long and sweaty stroll in the Gardens. The Lemongrass and Ginger Prawn salad is really good too. It has a zesty Asian dressing and is quite substantial as a meal actually. And of course, the Chilli Crab Spaghettini is their long standing house favourite.
Check out Halia's Chilli Crab Sauce Cooking Demonstration approx 45min on 1,2,8,9 July 4.30pm. Demo is FREE but registration is required.
Halia's Provisions Store will also be offering a 10% discount for various items during the Heritage Festival, such as Halia's signature chilli crab sauce, ginger flower sauce, ginger pineapple jam etc.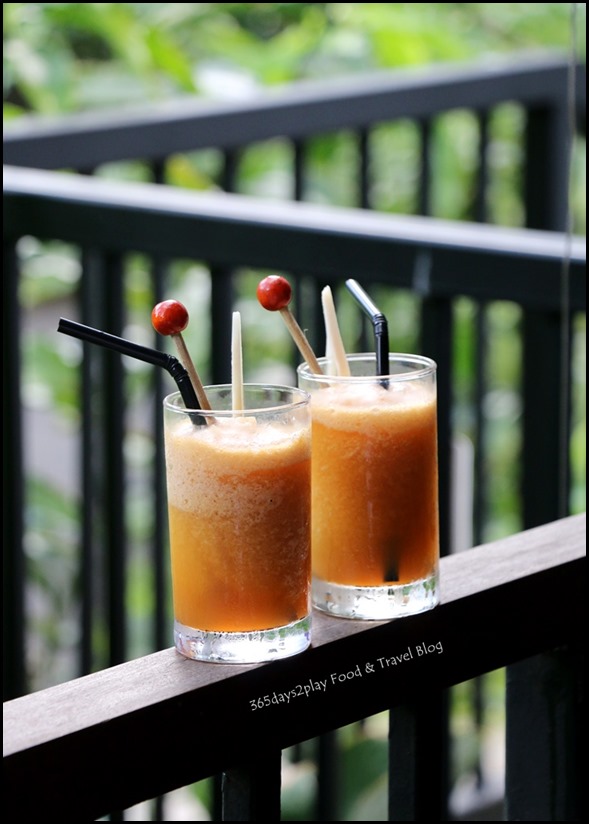 Chilled Ginger Jive (Ice blend of fresh ginger, fruit punch, orange & honey) $12
These 2 glasses look like 2 birds perched on the railing!