The annual Singapore Botanic Gardens Heritage Festival is back for 2 weekends from 30 June — 9 July 2017. There's so much to see, do and eat that you might want to spend more than 1 day at the Gardens!
Check out this link for more details on the programmes and promotions lined up for the Heritage Festival, but here's a short summary on what you can expect:
Performances at Shaw Foundation Symphony Stage and the Bandstand
Programmes such as laughter yoga to qigong to
Talks such as why the Singapore Botanic Gardens gained UNESCO World Heritage status or getting to know your Kampung vegetables.
Guided tours of the Gardens
Plant sales
Free entry to National Orchid Garden
and more!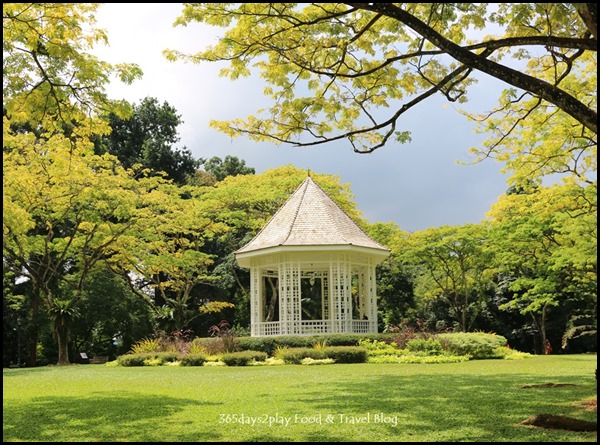 And of course, not forgetting the fooooood! The F&B outlets at the Singapore Botanic Gardens will be coming up with special heritage dishes and/or discounts to whet your appetite during this period. Scroll down for pictures of what to expect.
~~~ Halia ~~~
Check out the numerous food and drink selections that have ginger and other botanical inspirations in them. The Chilled Ginger Jive is particularly refreshing, especially after a long and sweaty stroll in the Gardens. The Lemongrass and Ginger Prawn salad is really good too. It has a zesty Asian dressing and is quite substantial as a meal actually. And of course, the Chilli Crab Spaghettini is their long standing house favourite.
Check out Halia's Chilli Crab Sauce Cooking Demonstration approx 45min on 1,2,8,9 July 4.30pm. Demo is FREE but registration is required.
Halia's Provisions Store will also be offering a 10% discount for various items during the Heritage Festival, such as Halia's signature chilli crab sauce, ginger flower sauce, ginger pineapple jam etc.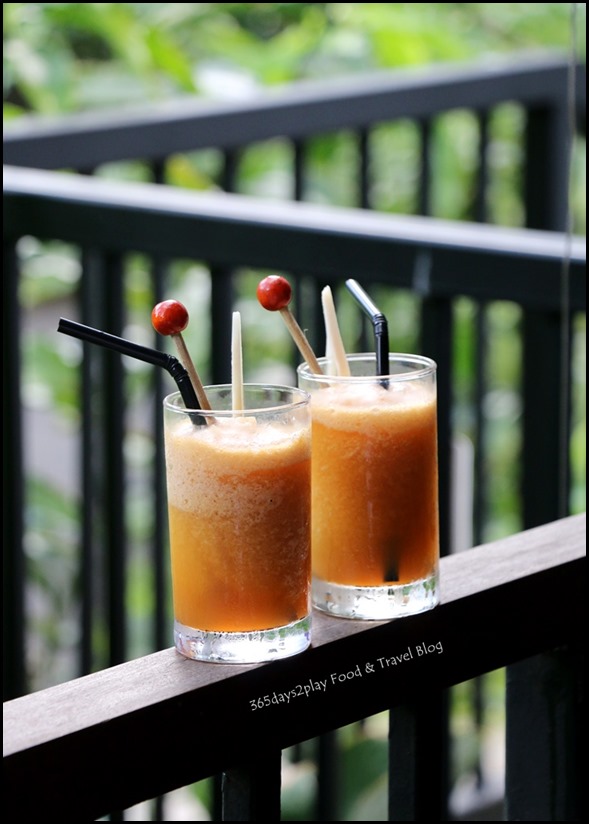 Chilled Ginger Jive (Ice blend of fresh ginger, fruit punch, orange & honey) $12
These 2 glasses look like 2 birds perched on the railing!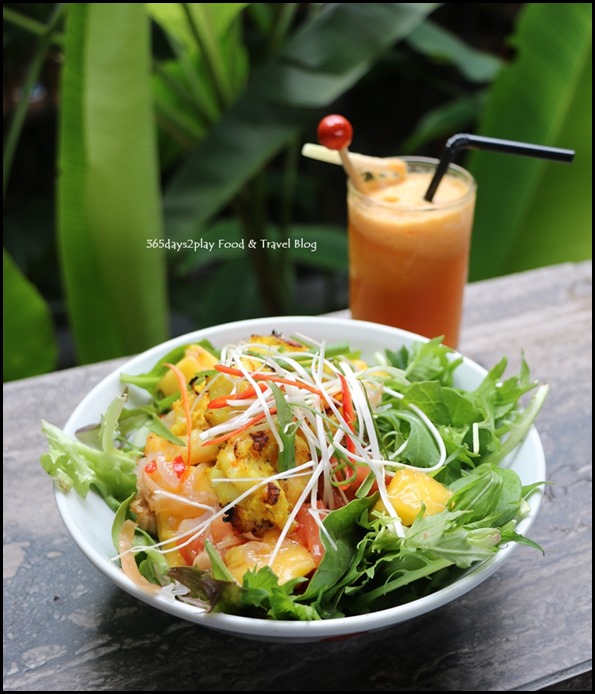 Lemongrass & Ginger Prawn Salad $19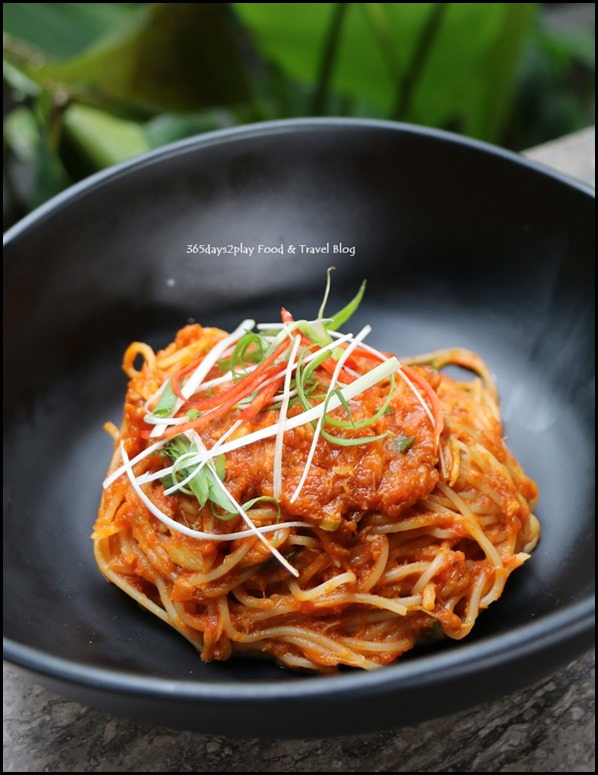 Chilli Crab Spaghettini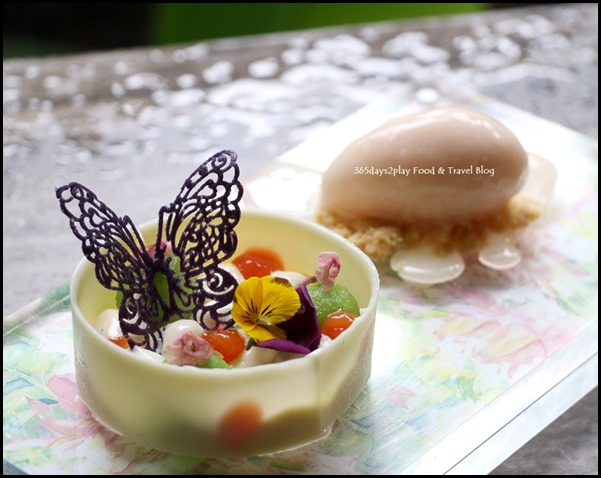 The Ginger Garden (Orange blossom vanilla mousse, galangal poached apples, blood orange coulis, ginger flower sorbet) $13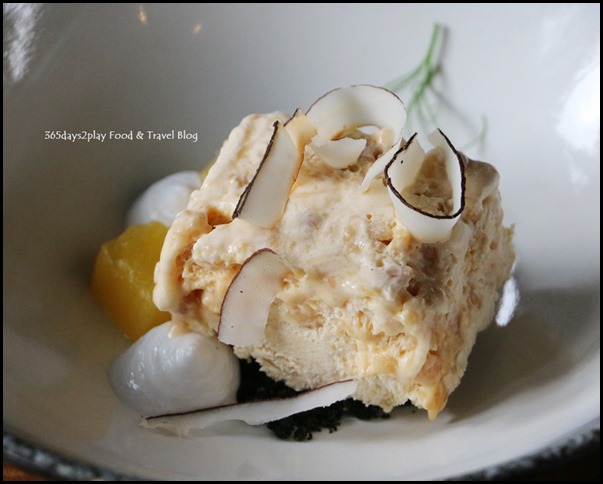 Ginger Spice All Things Nice (Coconut mousse, compressed pineapple, dehydrated coconut flesh) $11
~~~ Food For Thought ~~~
An amped up version of the Nasi Lemak with a lovely runny egg, but what you really need to try is the Iced Rose Bandung Ice cream Ripple. These days Bandung at the food courts taste so watered down, but this Bandung tastes exactly how Bandung should be, creamy and with a fragrant rose flavour. Adding that ice cream is just a fabulous idea. $5 if you're just going for the drink without the Nasi Lemak.
On 8 and 9 July 11 am — 2pm, check out the Old School Mini Carnival where kids get to try out traditional games like Goli and Chapteh and have a taste of local snacks such as kachang puteh, ice balls and gula melaka cotton candy. The carnival is FREE!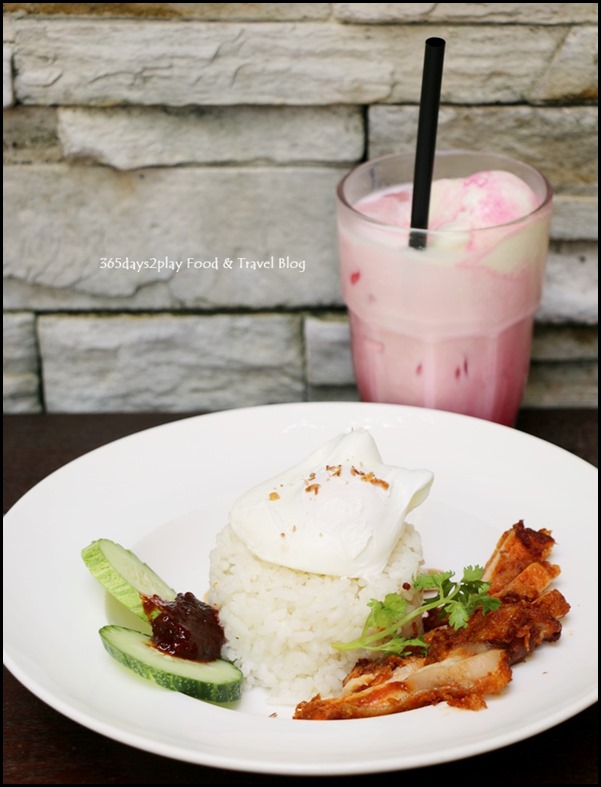 Nasi Lemak Risotto + Iced Rose Bandung Ice Cream Ripple set $18 nett
~~~ Casa Verde ~~~
If you're looking for local delights such as Prawn Noodle Soup or Seafood Char Kuay Teow, Casa Verde's the place to be during the Heritage Festival. Those dishes will be served with Ice Jelly and Aloe Vera + soft drink or regular coffee at a set price of $19.50 nett. But… what I really want to HIGHLIGHT is the fabulous Beef Rendang Pizza $25 nett. The pizza has GENEROUS amounts of super tender beef rendang. I truly enjoyed eating this pizza. It kinda tastes like murtabak too, except no murtabak I have ever eaten has had meat this moist and flavourful.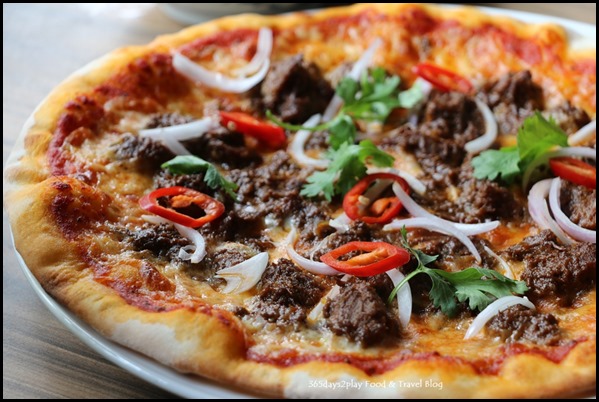 Beef Rendang Pizza $25 nett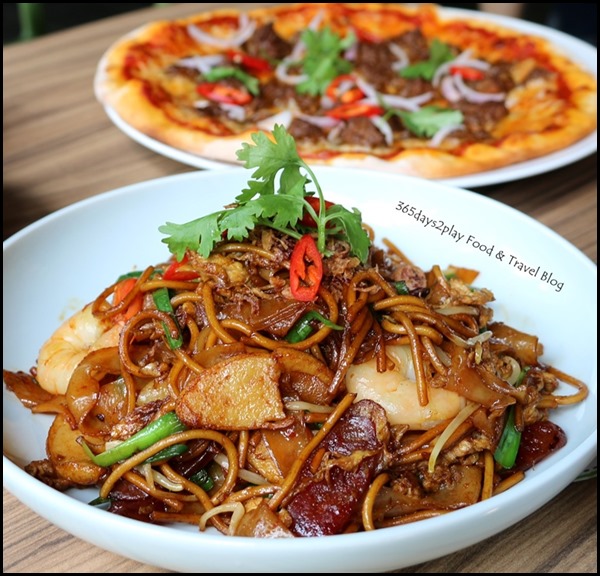 Seafood Char Kuay Teow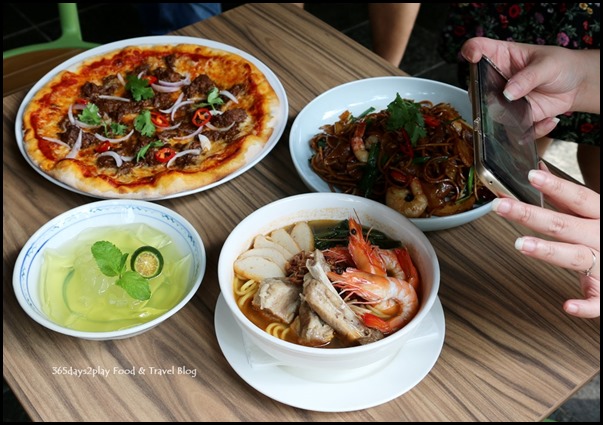 Heritage Festival exclusive set $19.50 nett
~~~ Gardens Shop ~~~
The Gardens Shop offers a wide selection of nature-inspired gifts and souvenirs. On 1,2,8,9 July, receive a complimentary Tea Sampler Pack with any purchase from the Gardens Shop located at the National Orchid Garden, while stocks last!
There will also be demonstrations by Eden + Elie and Indian Spice Box on 1, 2, 8, 9 July!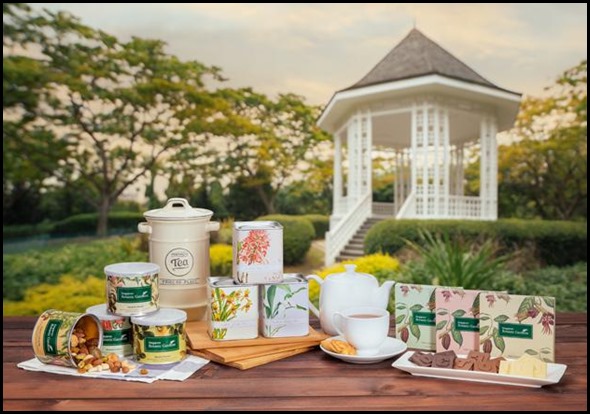 ~~~ Corner House ~~~
E.J.H Corner House is a 2-storey Black and White conservation bungalow built in 1910, where the former Assistant Director to the Botanic Gardens used to live. Today, it houses the 1-Michelin starred restaurant Corner House helmed by Chef Jason Tan. Gastro-Botanica food is t Chef Jason's forte and love, and if you're willing to indulge, you can check out the special 4 course Heritage Discovery Menu for $128++. Chef Jason's interpretation of Pandan Kaya Toast has always been a crowd favourite and mainstay of his menus. What is also interesting is his interpretation of Chicken Rice. This is probably one of the most jazzed up chicken rice you will find in Singapore, using risotto rice and black truffles to boot.
On 1,2,8,9 July 3.45pm — 5.15pm, you can also get a FREE guided tour of the house to learn more about its history as well as about the former residents.
Chicken Rice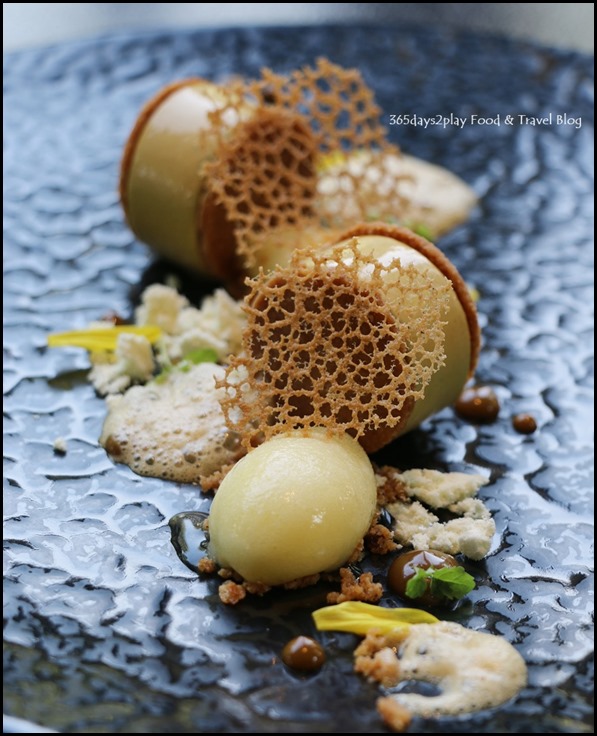 Pandan Kaya Toast
~~~ Food Canopy (Di Wei Teochew Restaurant) ~~~
Did you know that there is a food court located in the middle of the Singapore Botanic Gardens? No it's not the basement one near Gleneagles because that closed many years ago. I wouldn't fault you if you didn't know because it is off the beaten track, so much so that even taxi drivers do not know of its existence. But now you know that there is cheap food to be had at the Gardens! There's the mixed rice stall, Indian stall, noodles stall, drinks stall and also a "restaurant" stall called Di Wei Teochew Restaurant.
Check out Di Wei's Heritage Festival Special Set menu comprising of Cai Po Kway Teow, Prawn Balls and Teochew Yam Paste with Gingko Nuts for $8.80 nett! Or you could also order other dishes such as the cold crab we had that was full of roe! Even though we said we didn't want to dirty our hands (and risk dirtying our cameras), us bloggers all succumbed and there was a moment's silence as we devoured the finger licking crabs.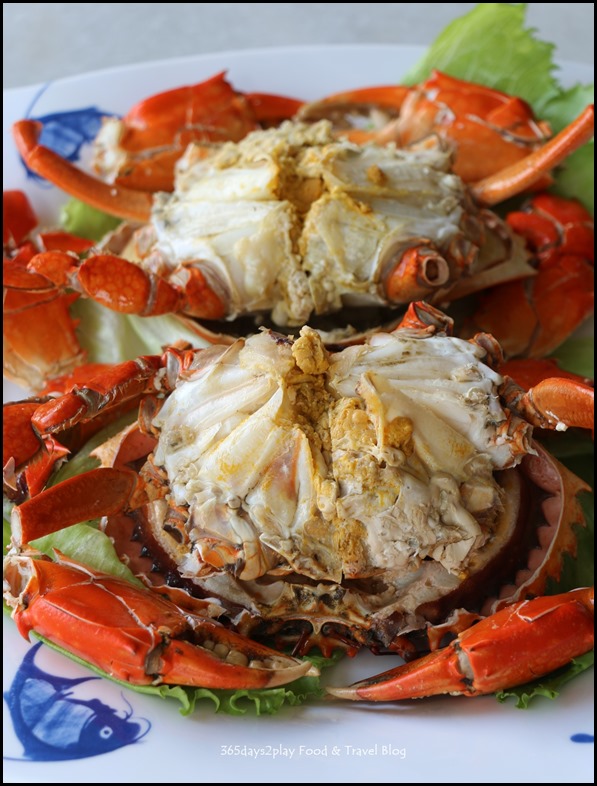 Cold Crab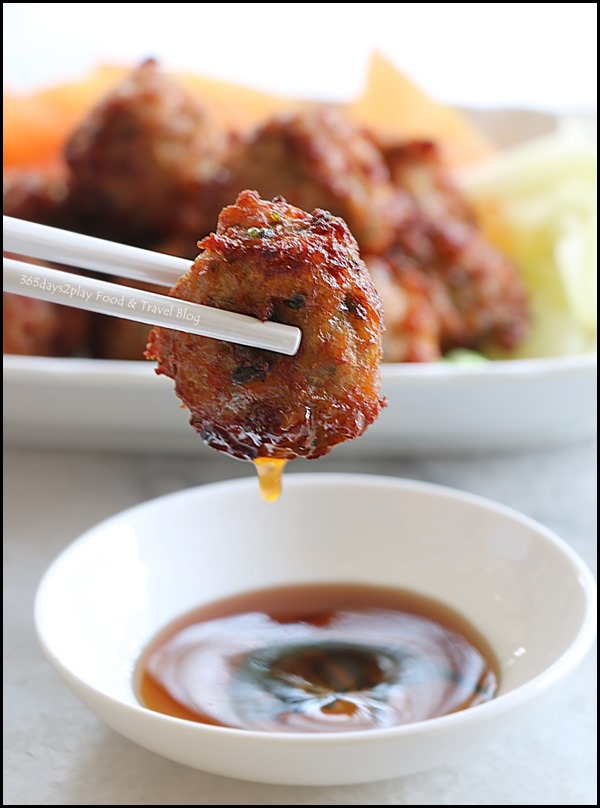 Prawn Balls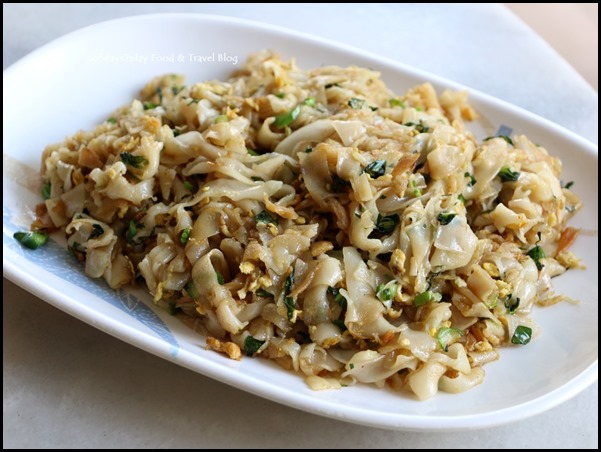 Cai Po Kuay Teow
~~~ Botanico ~~~
Botanico is housed at the two storey 1920s art deco conservation building now known as The Garage. The Bee's Knees cafe is on the ground level while Botanico, on the 2nd level, is a restaurant that offers a seasonality-driven menu and by bistronomy. What that means is that you get "fine-dining" type of food at more affordable prices!
Check out the chargrilled Iberico Char Siew. I really loved sweet-savoury marinade and the super melt in the mouth texture of the meat. This char siew is even better than what you can get at the hawker centres. The marbling is good too because you don't notice any conspicuous fatty bits sticking out.
There will be kids' pizza-making workshops on 1 and 2 July, 4pm — 5.30pm, for $30 per pax. Limited slots only so register quickly!
Iberico Char Siew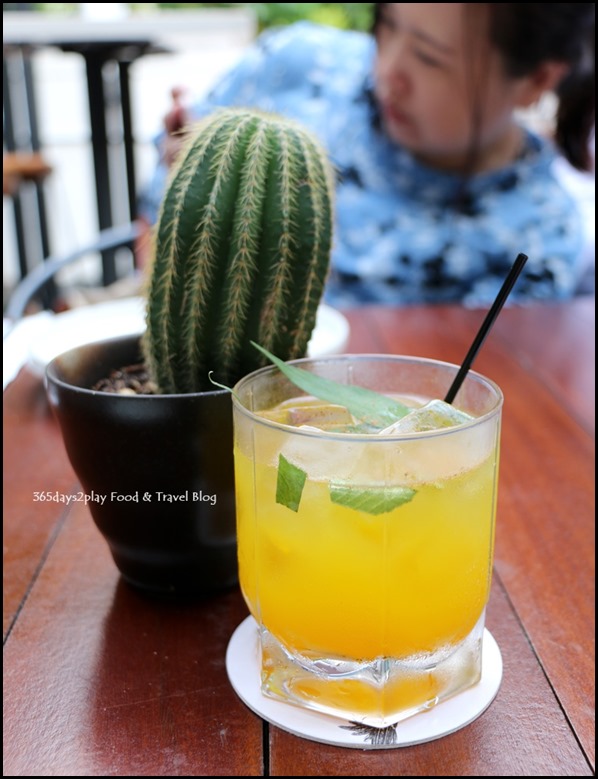 Tumeric Twist drink
Tropical Fruits Dessert (Laksa Leaf Ice Cream, Tumeric Ganache, Palm Fruit and Jackfruit)
---
Add me on Facebook, Instagram and Twitter if you want to be kept up to date with the latest happenings in the food and lifestyle scene in Singapore!
---
Read about my previous reviews of what to eat at the Singapore Botanic Gardens here.