Sick and tired of the usual moon cake offerings each year? Wanna impress your parents, your in-laws or your clients but not sure if they'll actually be impressed with what you might think is the best flavour/best looking box/best design??
Fret no more because now you can really indulge your loved ones this Mid-Autumn Festival with signature ice cream mooncakes from Häagen-Dazs! I believe Häagen-Dazs is the only place in Singapore that retails ice cream mooncakes! How innovative is that? I mean the last significant innovation in the mooncake arena were the Snow Skin mooncakes right, and that was 10 years ago maybe?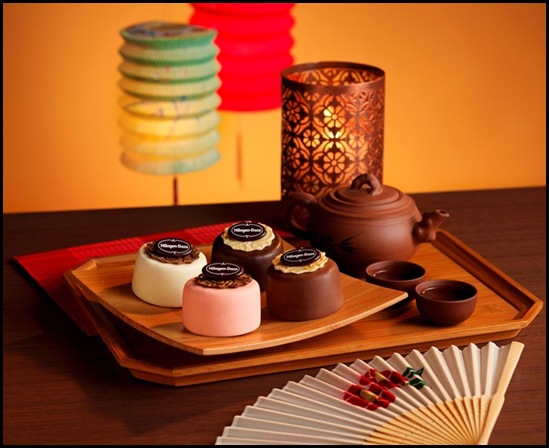 Anyway, there are 4 different ice cream mooncake flavours to choose from : White Chocolate, Dark Chocolate, Milk Chocolate and Strawberry Chocolate. All 4 flavours have a crispy praline base and a Mango Sorbet 'yolk' in the centre to symbolise the full moon. The refreshing 'yolk' complements the creamy ice cream filling and the scrumptious crispy base perfectly, delivering a unique taste and texture in every bite.
Available in a 4-piece Classic Gift Set or 2-piece Petite Gift Set, the exquisite boxes bring the festive mood to the ultimate level, making it the perfect gift.  The mooncakes are also available as dine-in creations, accompanied by exquisitely handcrafted fruits at all Häagen-Dazs outlets.
The luscious Häagen-Dazs ice cream mooncakes are available only until 30th September 2012! Häagen-Dazs Ice Cream Mooncake gift vouchers are available for both Classic and Petite Ice Cream Mooncake gift sets. Redemption of vouchers will be till 15th October 2012.
These vouchers can be bought at the Häagen-Dazs cafés as well as booths. This year, the booths will be located at Takashimaya (No.32 from 30th August to 30th September), Vivocity (No.20 from 11th to 30th September) and Century Square (No.16 from 14th to 29th September).