When I told my friends that I was invited to a food tasting session at Hard Rock Cafe, many of them told me that they had either been there once eons ago, or never at all. This caught me by surprise, as I was under the impression that people liked going to Hard Rock Cafes all over the world to buy their memorabilia as evidence of having been to the respective countries. Perhaps that's just it, they go only for the souvenirs but not the food.
Personally, the first and only time I was at Hard Rock Cafe was way back in 2007. It was the birthday of our American intern, and he specifically requested for a celebration at Hard Rock Cafe to remind him of home. The birthday meal was fun, and I believe he even received a small birthday cake compliments of the house! It's interesting to know that Hard Rock Cafe actually started as an American diner in London, and not in USA! I've been to London's Hard Rock Cafe, and I have a Tshirt to prove it too, heh.
Fast forward to last week, and I was there once again to sample Hard Rock Cafe's new Seafood Menu with the URBAN TEAM bloggers I made friends with during our Greenwich V Amazing Race. I even had a special guest with me, the winner of my Hard Rock Cafe contest!
Hard Rock Cafe is a very lively place. A stage and a huge ceiling to floor projection screen take centre stage. Loud music is played and MTVs are shown on the projection screen. Needless to say, music memorabilia such as guitars and photos of singers decorate every wall available. When you're in it, you know you're in Hard Rock Cafe alright. By the way, did you know that there are more than 70,000 guitars, drums pianos etc on the walls of over 163 Hard Rock Cafes, Hotels and Casinos in 52 countries around the world? And the 1st guitar ever donated, which started the collection going came from Eric Clapton!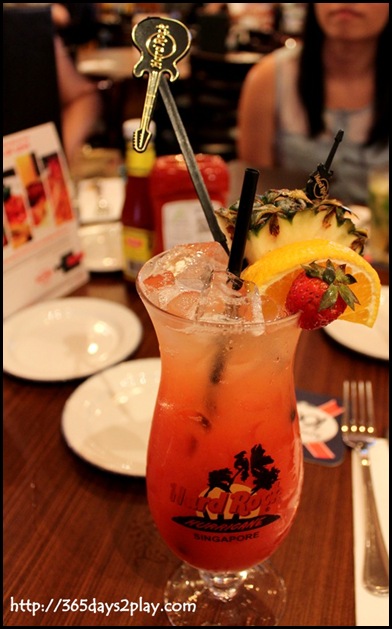 I ordered this Mocktail for $10 to get things started. If you don't know what to order, I would highly recommend this drink. It's pretty humongous and lasted me the whole evening!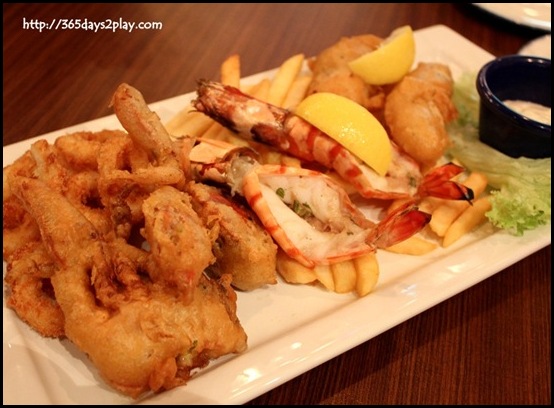 Seafood Platter with an assortment of grilled prawns, calamari rings, battered sea bass fillet, soft shell crab served on a bed of french fries with tartar sauce $28
I love it when someone at the table orders a seafood platter. It's always such a feast for the eyes. However, the downside is that with nearly everything being covered in batter, it can be very unhealthy. I only tried the calamari rings and soft shell crab. The soft shell crab was very nice but the squid was a little on the soft and mushy side.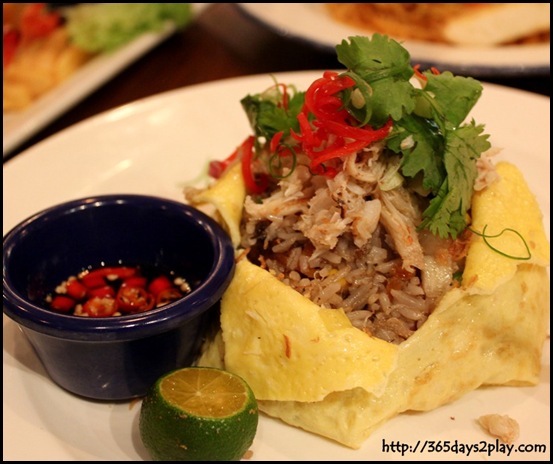 Crab Fried Rice, wok fried with succulent crab meat, prawns and diced portobello mushrooms, wrapped in an egg omelette $20
Out of the entire seafood menu, this was my favourite dish. First of all there is a generous amount of crab on top of the rice. That's good because when the crab meat is hidden within the rice, if not done properly, the flavours can be lost. At least with the crab outside, you can savour it separately. The olive rice was also pretty fragrant, and was kept piping hot by the enveloping thin egg omelette. A lime was provided which added an extra tanginess to the rice.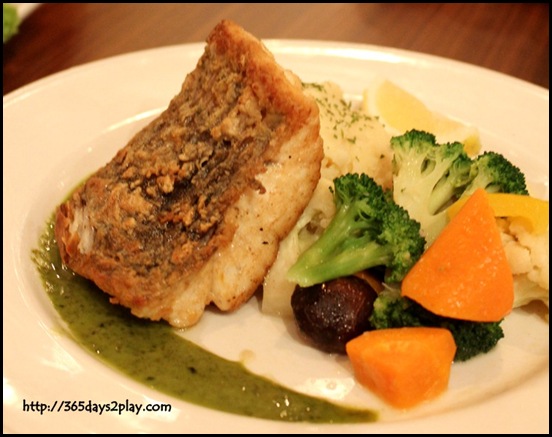 Crispy Sea Bass served with Pesto Sauce, smashed potatoes and vegetables $26
Didn't like the fish at all. It was too dry.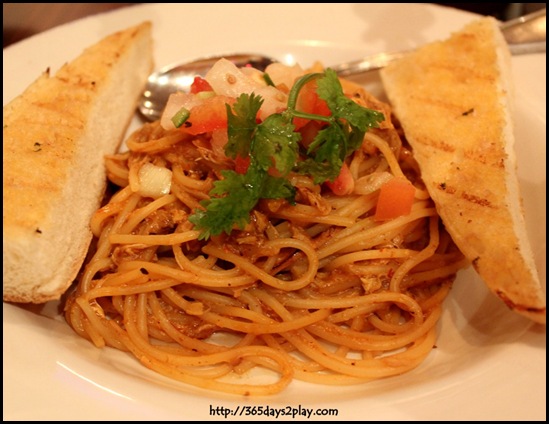 Chilli Crab Spaghetti $26 
An interesting way to serve the chilli crab. Think of it like spaghetti bolognaise, except instead of minced meat, crab meat is used instead! I'm not too sure if the 2 pieces of bread were necessary as there wasn't any gravy to mop up.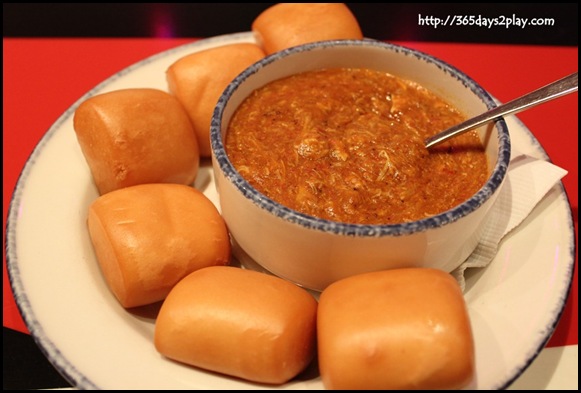 Bet you didn't expect Chilli Crab Sauce in Hard Rock Cafe right? Those man tous were heavenly, crispy on the outside and oh so fluffy on the inside. The crab sauce was a bit too spicy in my opinion, and the crab meat too fine, such that I couldn't really savour the sweet flavours from the crab.
If you don't want to be seen eating mantous at Hard Rock Cafe, you can ask for nachos on the side instead.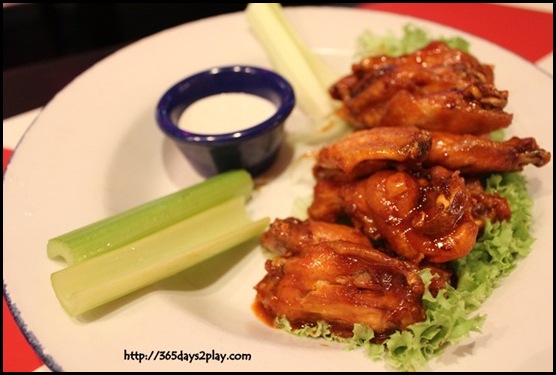 Hickory Smoked Chicken Wings with choice of Classic Rock, Heavy Metal or Tangy BBQ Sauce.
I believe we chose the Heavy Metal sauce and the Tangy BBQ sauce. The Heavy Metal sauce is a spicy sauce. Both sauces were great with the chicken wings.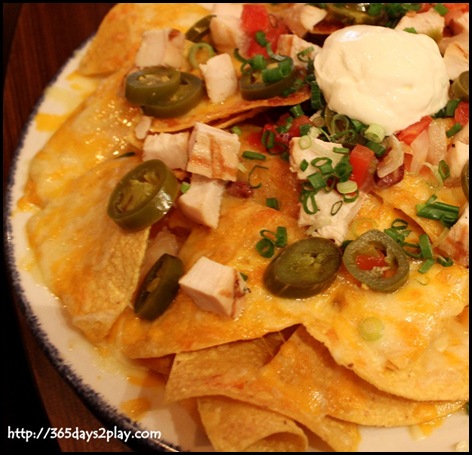 Fresh corn tortilla chips piled high with Jack & Cheddar cheeses and seasoned pinto beans with addition of chicken
One of Hard Rock Cafe's signature starters, it's a Must Order if you're not sure what starter to get. We added chicken to it, and the plate of nachos was so big, it was like a main course in itself. Love the generous amounts of cheese too. I don't believe they fried the tortilla chips as they were slightly soft, however that means they were very much less oily.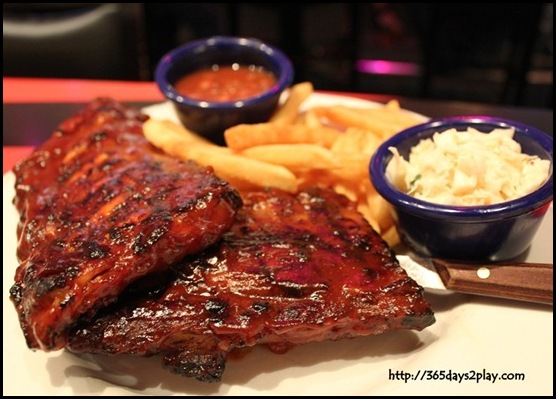 Hickory Smoked BBQ Ribs
I liked the Hickory Smoked BBQ sauce on the ribs. It was sweet enough just for my liking, with a smoked hickory flavour that wasn't too overpowering. More of the sauce would have been even better! The meat fell off the bone upon cutting, which is a mark of tenderness, although upon chewing, it just seems a little tough.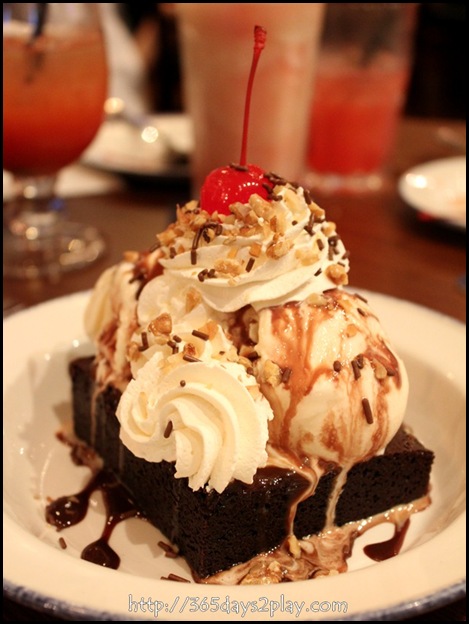 Haagen-Dazs vanilla ice cream and hot fudge on a fresh brownie, topped with chopped walnuts, chocolate sprinkles, fresh whipped cream and a cherry
LOVE this dessert. Haagen-Dazs ice cream. I'm won over already regardless of what's underneath the ice cream. Brownies are really a great vehicle to eat ice cream with. And if its a decadently chocolaty piping hot brownie with vanilla ice cream, it doesn't get much better than that.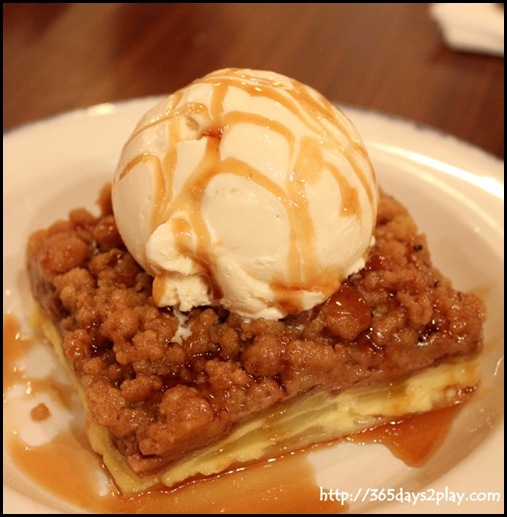 Apple Crumble with Haagen Dazs Ice Cream
The apple crumble was not that great for me. It wasn't served warm and it became soggy with all that ice cream.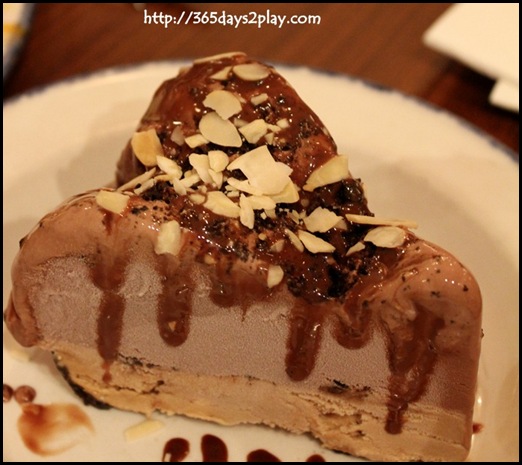 Mud Pie – Cookie crust filled with a heavenly concoction of coffee and chocolate ice cream topped with hot fudge and crunchy almond flakes.
This Mud Pie is more or less 90% ice cream. I'm not complaining at all cuz I LOVE the ice cream!