Day 3 of 365days2play's Honeymoon in Luxembourg, Germany & France
After our train arrived at Strasbourg, we went to the Hertz car rental company to collect the car we had rented for our trip through the Alsace region, Burgundy and Lyon. Driving in a foreign country is always a slightly jittery affair although it has become much better a few years ago after we acquired our own GPS. There's no way I would drive around holding paper maps anymore, it's just too cumbersome when you know that a GPS can make life so easy.
The most jittery part about driving in France of course is that people drive on the right side of the road, ie the wrong side. I'll admit that the 1st half an hour was quite harrowing, not helped by the fact that the French roads are not marked clearly like in Singapore or New Zealand. But you do get used to driving on the right side after a while and we were like a duck to water the next day. Interestingly, it's quite easy to remember that you have to drive on the right. You remind yourself before you start each journey, the GPS unit can be programmed to remind you too. When you reach a turning junction, repeat the mantra "Drive on the right"!
Even though it is not cheap to rent a car, I really wanted to drive in France because I wanted to be able to visit the countryside easily. With trains, you're mostly stuck with cities and towns. Also, I wanted to be able to stay in the chateaus or countryside manors in France, and there's just no way that the chateaus (chateaux) are going to be in the middle of town.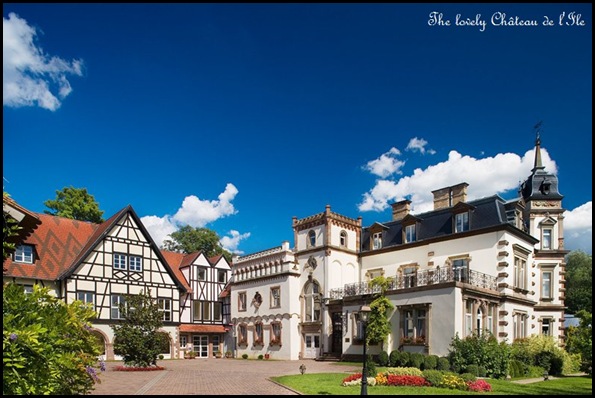 Lovely blue sky day at Chateau de L'Ile… picture courtesy of the hotel
Was very happy with the decision I made when we arrived at our first Chateau of our holiday in France. This 19th Century castle is ideally situated within a tree-lined bend in the Ill River, only 5 kilometres from Strasbourg, and 6 kilometres from the airport. With its half-timbered style and flowery balconies, it reflects traditional Alsatian architecture and is ideally suited for leisure or business tourism. Strasbourg by the way, is the capital and principal city of the Alsace region in eastern France and is the official seat of the European Parliament. Strasbourg is definitely a must visit city when you are in the Alsace region! More pictures on Strasbourg in my next post.
Before we even got into the hotel itself, we were already mesmerised by the pretty flowering trees in the carpark!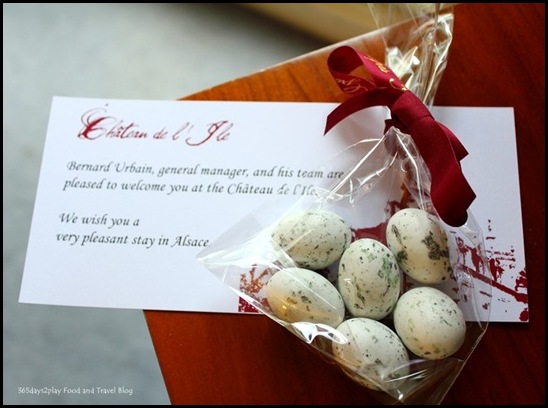 Nice touches like this always perks me up. Thank you Mr Bernard Urbain, I did have a very pleasant stay in Alsace.