Day 1 of 365days2play's Honeymoon in Luxembourg, Germany & France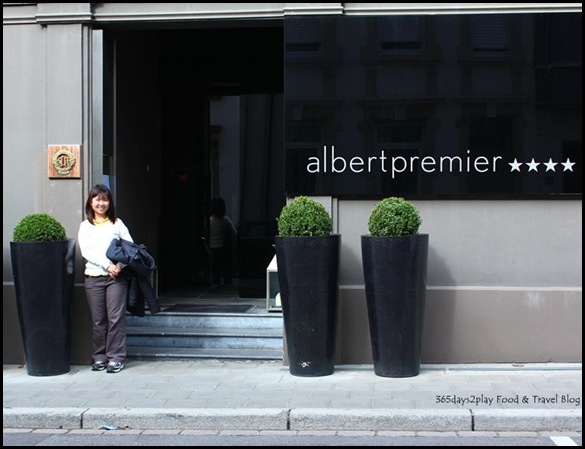 Luxembourg was our official first stop in our 14 day trip through Luxembourg, Germany and France. We made the conscious decision that we were not going to stick to just the mega cities like London and Paris, and that we wanted to be able to experience "country living". After massive planning, we came up with this very unique itinerary of first arriving in Paris via Singapore Airlines, followed by taking the TGV train to Luxembourg (part journey by coach), taking another train to Strasbourg before collecting our car and travelling to Hornbach (Germany), Alsace, Burgundy and Lyon.
I am quite confident in saying that few Singaporeans have visited these areas that I have mentioned because I hardly saw a Chinese person in those areas, let alone a Singaporean. So if you're planning to go somewhere to escape the Singaporean crowd, try Luxembourg and Alsace!
While walking the streets of Luxembourg, I suddenly bumped into a hoard of Chinese tourists, probably the only Asians I saw in my 2 days in Luxembourg. They were all so happy to be able to finally have dinner at the Chinese restaurant. I have to admit there's just nothing quite like having comforting food that you are familiar with, especially if everything else has been so foreign the entire day.
Luxembourg is a lovely little city. The country is only about 3 times bigger than Singapore, but has only a population of 524,853 (as of October 2012). You can read more about Luxembourg in my previous post. I loved that Luxembourg was my 1st stop in my European trip because it is such a relaxing and pretty city to be in. I love city centres which are cordoned off from traffic so that pedestrians can wander the streets easily. Did you know, the official country motto for Luxembourg is "We want to remain what we are". It's admirable that there can be a country brave enough to recognise that maintaining its heritage and culture is as important as building a better economy. Despite the motto, Luxembourg is one of the richest countries in the world. Contrast that to Singapore's motto, which is Majulah Singapura, aka Onward Singapore.
Things are not particularly expensive too. I had the best steak tartare sandwich of my life in Luxembourg, from a cafe costing just 5 Euros! Be warned though, that Steak tartare is referred to as steak í  l'Americaine over there. I didn't even know it was Steak tartare, and ate it 6 hours later. It was so delicious I decided to risk any possible stomach upset, but luckily all was fine.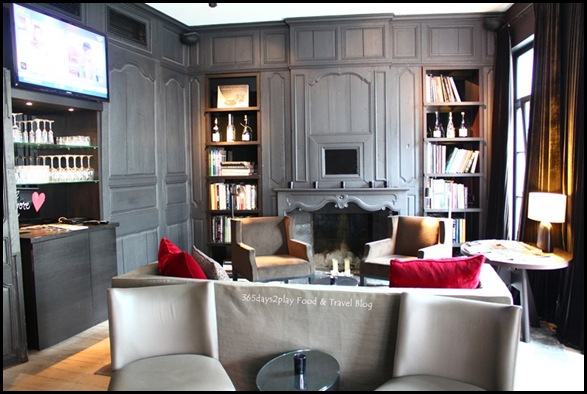 Lobby Lounge of the Albert Premier Hotel
We stayed at the Albert Premier for the 2 nights that we were in Luxembourg, courtesy of the Albert Premier and Small Luxury Hotels of the World. The Albert Premier is a nifty little boutique hotel providing 40 elegant rooms and suites, fine dining in our gourmet restaurant, a library and a fitness and steam room. The hotel is located just off a main road, but we weren't disturbed by noise at all. The hotel is about 10 minutes walk away from the heart of Luxembourg City. Along the way on avenue Monterey , you will pass a park, which has a huge playground with a Viking Ship! If you have children, you must make this a visit! I'm sure the kids will absolutely adore the place! Just across the street from the hotel is a small supermarket chain called the Alima, should you need anything. As with all hotels that we stayed during our trip, WIFI is free! Get your coupon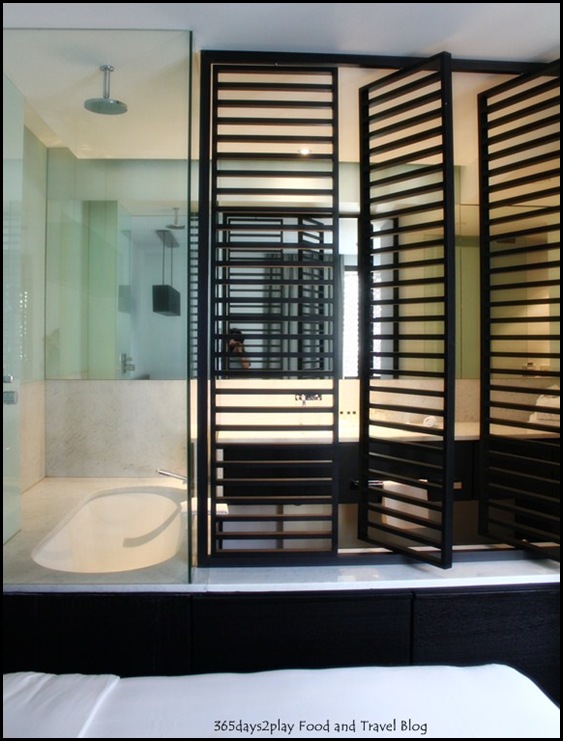 We got a Superior Premier in the newly refurbished section of the hotel, which is more business looking. The classic rooms look more traditional if that's what you prefer. Obviously from the photo, what shocked us upon entry was the lack of screening of the bathroom from the bedroom. Be sure not to get this room if you are staying with a colleague or a friend of the opposite gender! But, for married couples…. I don't see a problem. Heh.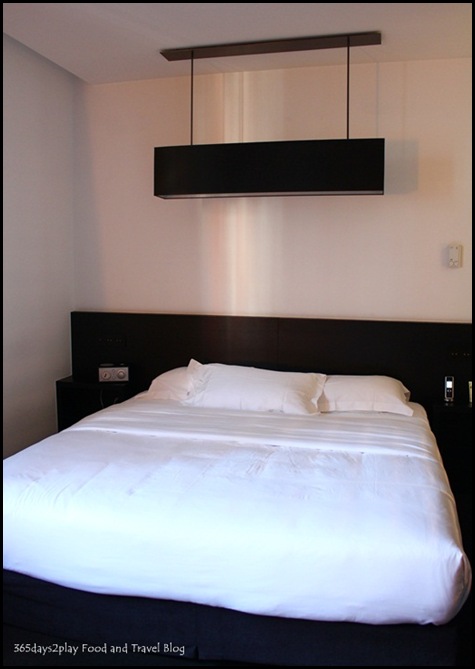 This is the comfy bed in the Superior Premier room.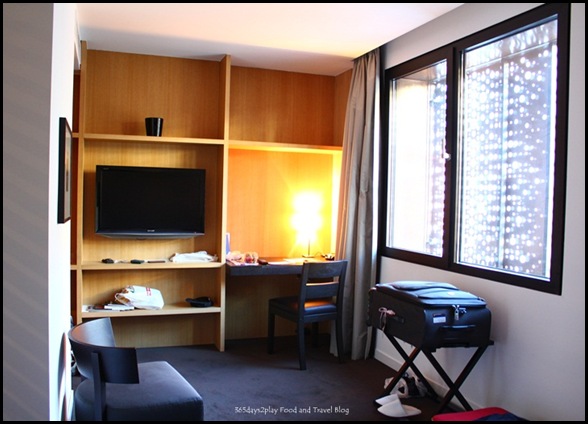 Nice little corner to do some work if you wish. Windows can be opened quite wide. I noticed that most of my hotels have windows that can be opened, unlike the hotels I've been to in the USA or even in Singapore. I like to poke my head out to breathe the refreshing crisp air once in a while.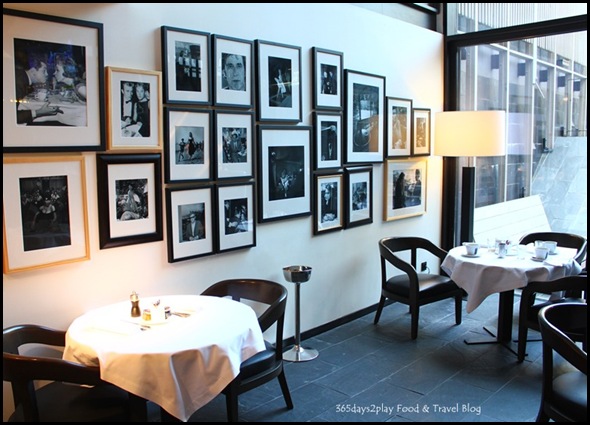 The contemporary theme exudes throughout the hotel. These are pictures hung in the hotel restaurant that serves breakfast.
The Albert Premier provides a very nice buffet continental breakfast. And because the Albert Premier gets a lot of business guests, I suppose that's why there is a television in the dining area. I loved the convenience of being able to catch up on the news while having breakfast. We were in Luxembourg just a few days after the Boston marathon bombings so my eyes were really glued to the TV as I chomped on my croissants. This being the 1st hotel that we had breakfast in, I was pleasantly surprised to find Nutella provided as one of the breakfast spreads. You have no idea how much I love Nutella, it's the stuff of dreams!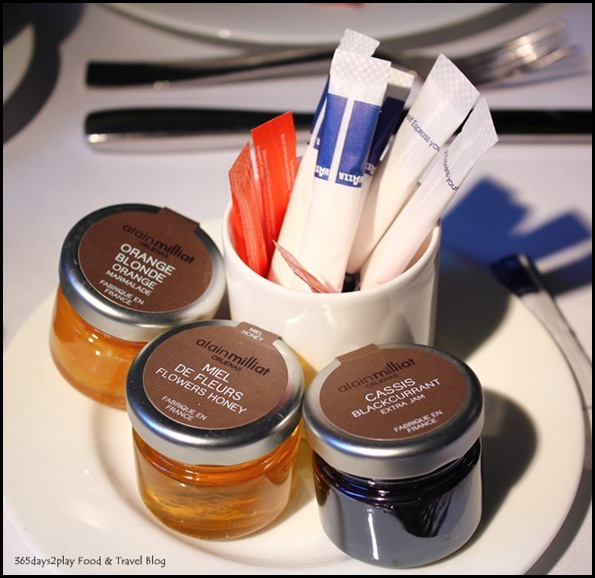 There's other spreads like marmalade and jams, but who needs those when you have NUTELLA.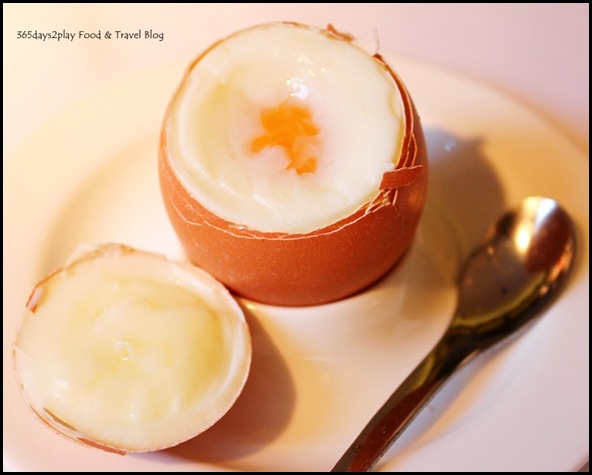 The breakfast lady will serve you a small fruit salad as well as ask you if you would like to have eggs. Even though eggs are cheap and available in Singapore, eating boiled eggs while on holiday is a different thing! In fact, eating breakfast while on holiday is a different thing! We spent an average of at least 1 hour for breakfast every single day of our trip! There were days where we had to literally tear ourselves away from the breakfast table so as to be able to keep up with our travel itinerary.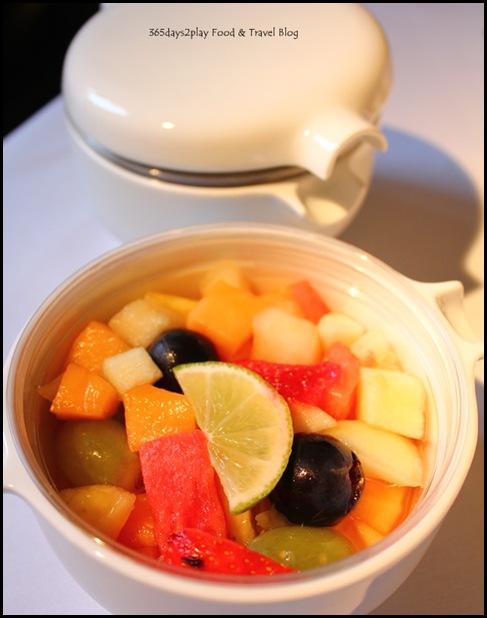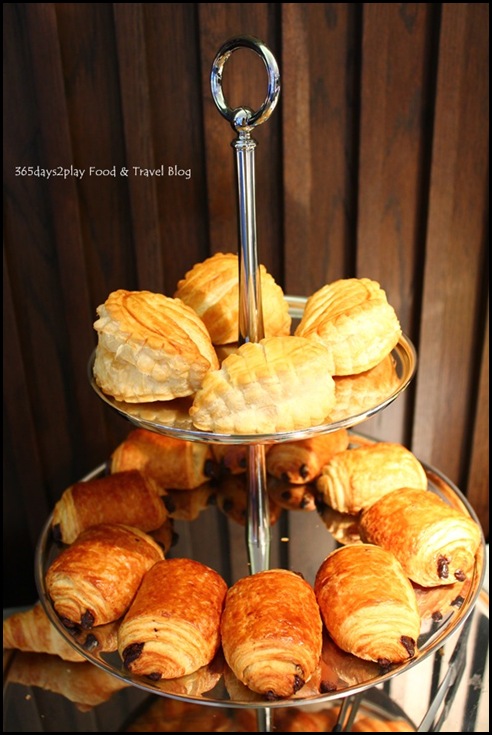 Chocolate croissants galore. You know what's better than chocolate croissants? It's chocolate croissants smothered in Nutella!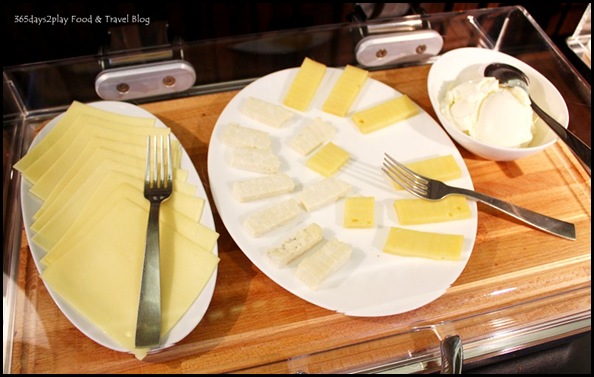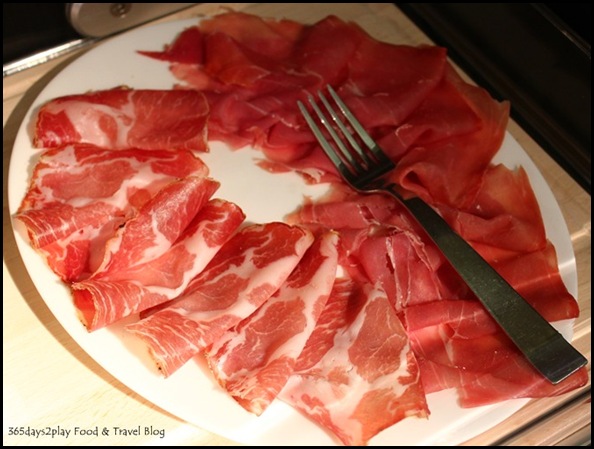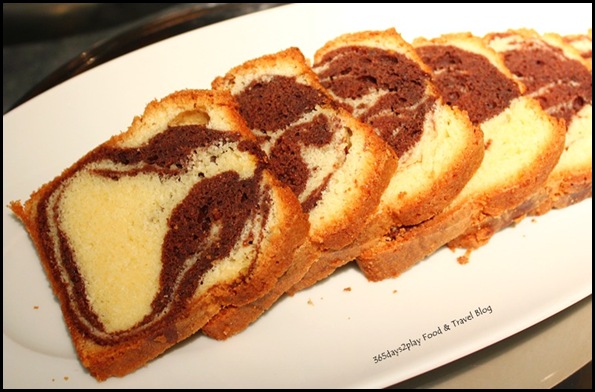 Cheese yoghurt and cured meats are a staple of every continental breakfast, but for some reason, cake is readily available too.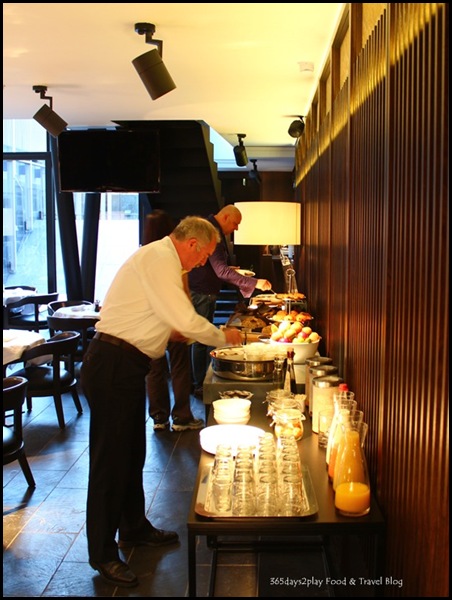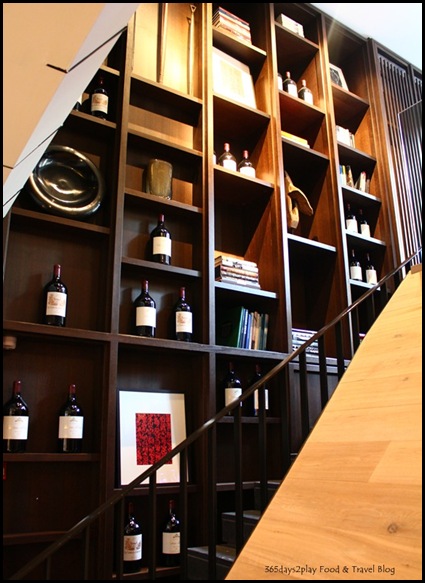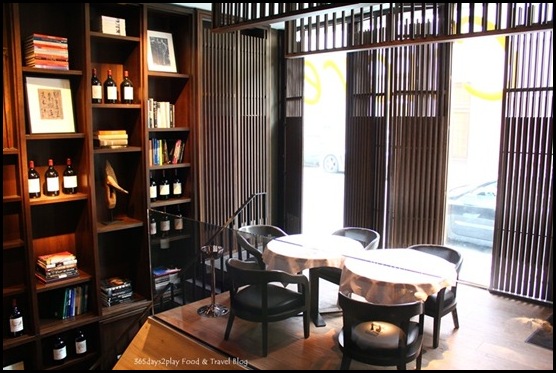 ******
Click here to read more about my honeymoon in France or join me on my travels around the world.
Add me on Facebook, Instagram and Twitter if you want to be kept up to date with the latest happenings in the food and lifestyle scene in Singapore!
******
Hotel-Restaurant Albert Premier
2a rue Albert Premier
Luxembourg L-1117. Luxembourg
Tel : +352 442 442
Fax : +352 27 449 440
Email : hotel@albertpremier.lu
Coordonnées GPS : 49° 36′ 32.9364" N 6° 7′ 6.2112" E
Longitude / Latitude : 6.11853202942012 / 49.6094362258189
http://www.hotelalbertpremier.lu/
http://www.slh.com/hotels/hotel-restaurant-albert-premier/ 
The Albert Premier is a member of the Small Luxury Hotels of the World Club. A big thank you to SLH and Albert Premier for sponsoring my stay.