Most people know about St Marc Cafe as it can be easily found in popular malls such as Raffles City or Vivocity. But have you heard of St Marc Bakery and Bar at Parkland Green ECP? I believe it's the only outlet that serves full brunch, lunch and dinner meals. At least i couldn't find information saying otherwise on their website.
Ever since I tried their signature Pasta Carbonara more than half a year ago when they'd first open, I was smitten. I was hosting some event at Parkland Green so I managed to have a mouthful, but that mouthful was so wonderfully heavenly that it has been etched in my subconscious mind since. I don't know why I haven't been back earlier, but I finally did so last week.
Truth be told, I hardly ever order Pasta Carbonara at restaurants as I can never be sure if the sauce is too thick and cloying. If I say so myself, I do make a pretty good version using Jamie Oliver's recipe, so I've always been a little risk adverse to ordering it. But I did so very much want to relive the taste I had remembered, so I took the risk this time round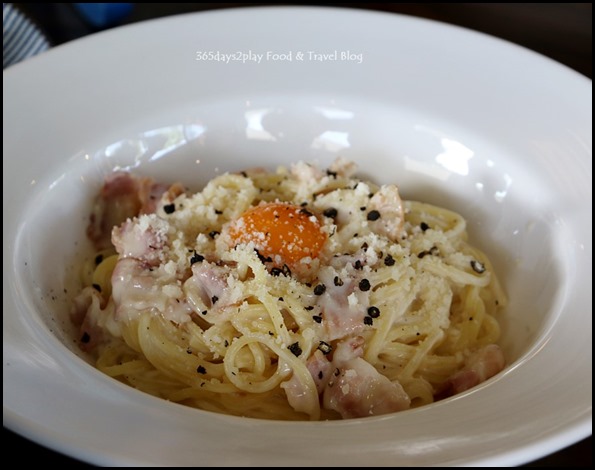 Carbonara $15.80 (Crispy Bacon, Parmigianino, Black Pepper, Egg Yolk)
The Pasta Carbonara was exactly as delicious and creamy as I had remembered. This being a Japanese version, it's slightly different from those you get from the Western restaurants. I don't quite know what goes into the sauce but it was creamy, salty, and was just full of umami. I suppose the saltiness comes from the added Parmesan cheese. I did find it a tad too salty towards the end, but I fully enjoyed the dish for the most part. Love the bouncy texture of the Japanese pasta too, they say it is textured like a mochi.