Paddy Hills is one of those cafes which serves full-fledged meals, as opposed to just pastries and coffee. With so many cafes in Singapore, more than 200 (?), gone are the days where a simple eggs benedict or an all day breakfast fry up will suffice. To have staying power in this fickle cafe scene, the focus is very much back on the quality and repertoire of the menu. Have your food Instagram friendly, but let that not be the only factor. Certainly for me at least, I would not have made the journey across from the Eastern end of Singapore to the West, if not for the promise of a unique experience. Food focussed Cafes, that's what we need more of now, and that's where you can bring your parents without them asking you "so where's the food"?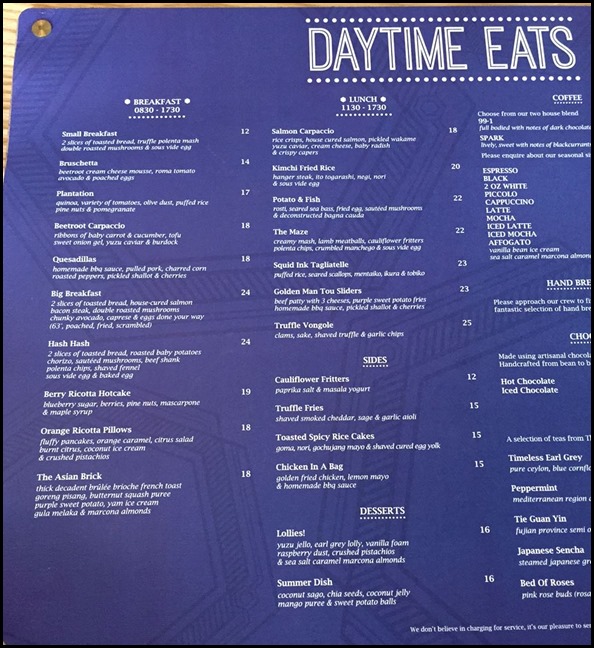 I must say Paddy Hills boasts a very interesting menu. There were so many items on the menu that I wanted to try, although being an egg fan, I did wish that they could have included their sous vide egg into more of the dishes. I'm not one for mixing sweets with savoury though. I did so very much want to try the Orange Ricotta Pillows, but what's a coconut ice cream doing in the midst of it?
The Maze $22 – Creamy mash, lamb meatballs, cauliflower fritters, polenta chips, crumbled manchego & sous vide egg.
I ordered this, mainly because of the creamy mash, cauliflower fritters and sous vide egg. And they were so good and filling enough that I didn't even touch a single lamb meatball! The creamy mash retained bits of textural chunks and had truffle oil or essence infused into it. The cauliflower fritters were delightfully crunchy and sweet. And the sous vide egg….wonderfully tender, almost like eating clouds. If you're wondering, 5 lamb meatballs are currently sitting in my freezer, waiting for the day when I will thaw them out. 2 meatballs were consumed by my mother and the Partner that day. Not bad, for the price of 1 brunch I get two meals out of it!