Paddy Hills is one of those cafes which serves full-fledged meals, as opposed to just pastries and coffee. With so many cafes in Singapore, more than 200 (?), gone are the days where a simple eggs benedict or an all day breakfast fry up will suffice. To have staying power in this fickle cafe scene, the focus is very much back on the quality and repertoire of the menu. Have your food Instagram friendly, but let that not be the only factor. Certainly for me at least, I would not have made the journey across from the Eastern end of Singapore to the West, if not for the promise of a unique experience. Food focussed Cafes, that's what we need more of now, and that's where you can bring your parents without them asking you "so where's the food"?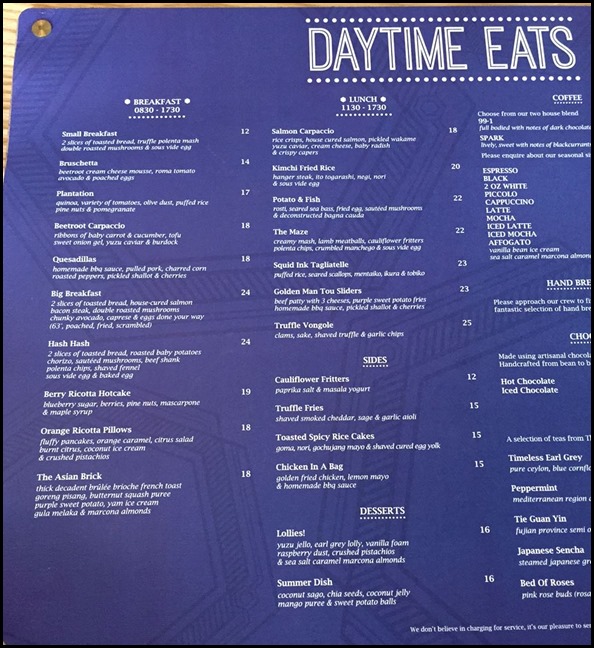 I must say Paddy Hills boasts a very interesting menu. There were so many items on the menu that I wanted to try, although being an egg fan, I did wish that they could have included their sous vide egg into more of the dishes. I'm not one for mixing sweets with savoury though. I did so very much want to try the Orange Ricotta Pillows, but what's a coconut ice cream doing in the midst of it?
The Maze $22 — Creamy mash, lamb meatballs, cauliflower fritters, polenta chips, crumbled manchego & sous vide egg.
I ordered this, mainly because of the creamy mash, cauliflower fritters and sous vide egg. And they were so good and filling enough that I didn't even touch a single lamb meatball! The creamy mash retained bits of textural chunks and had truffle oil or essence infused into it. The cauliflower fritters were delightfully crunchy and sweet. And the sous vide egg….wonderfully tender, almost like eating clouds. If you're wondering, 5 lamb meatballs are currently sitting in my freezer, waiting for the day when I will thaw them out. 2 meatballs were consumed by my mother and the Partner that day. Not bad, for the price of 1 brunch I get two meals out of it!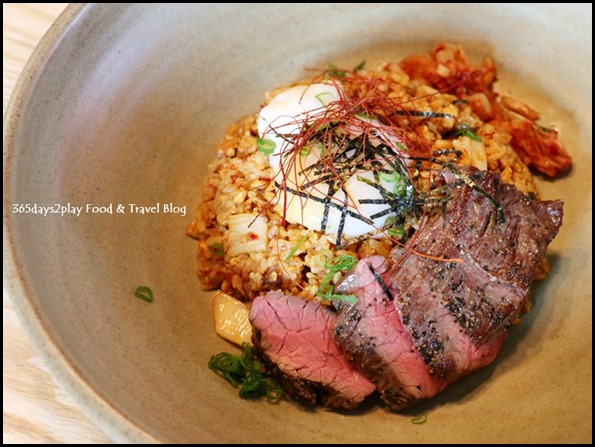 Kimchi Fried Rice $20 — Hanger steak, ito togarashi, negi, nori & sous vide egg
The Partner ordered this value for money dish. The steak was done medium rare. Seldom see hanger steak on the menu, which is one of my favourite cuts if done properly. the fried rice was not too spicy. The only thing is, the fried rice was room temperature. Pity.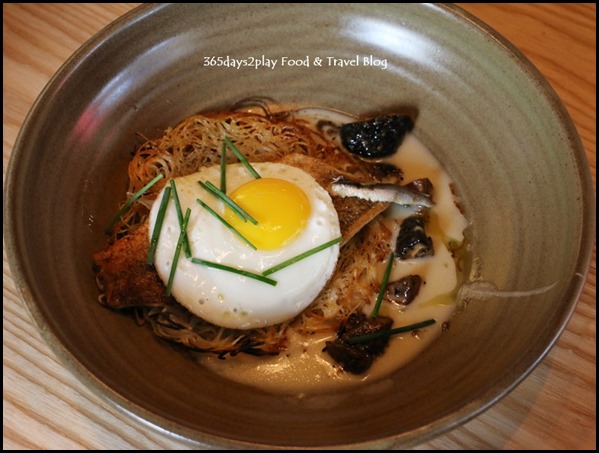 Potato & Fish $22 — Rosti, seared sea bass, fried egg, sauteed mushrooms & deconstructed bagna cauda
My father had this, and he said that both the rosti and the fish were too salty. I have no idea what bagna cauda is, much less a deconstructed version. However Wikipedia says it is a dip made with garlic, anchovies, olive oil, butter, and in some parts of the region cream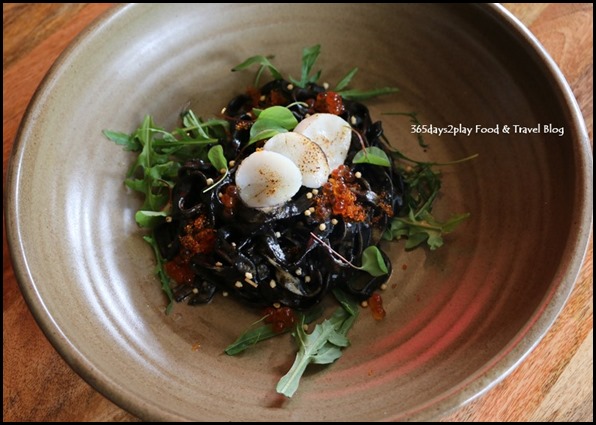 Squid Ink Tagliatelle $23 — Puffed rice, seared scallops, mentaiko, ikura and tobiko
One of the better squid ink pastas I've tasted, partly because I could only steal two bites of this! Not only is the squid ink mixed into the flour to make the pasta, more of it has been used for the sauce, rendering the flavours even stronger. Might order this myself the next time, if I ever feel brave enough to endure the long wait.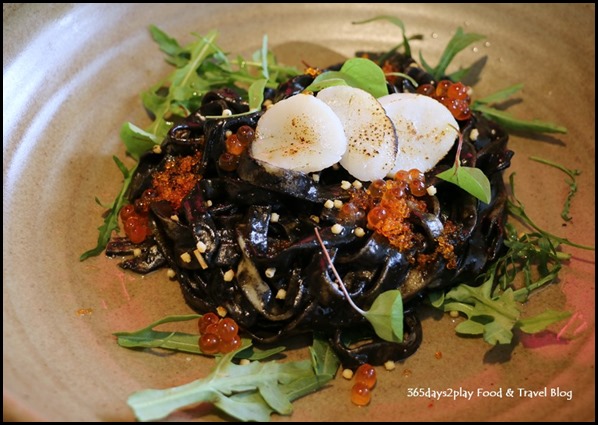 Not suitable as a first date dish though. This leaves your mouth with unsightly black stains, but is oh SO GOOD!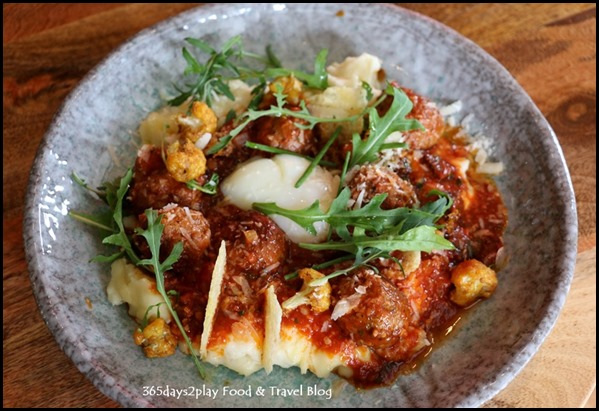 Here's another picture of the creamy mash dish that I had. Go for the $12 cauliflower fritters side dish if you're not having this dish. It was so moreish!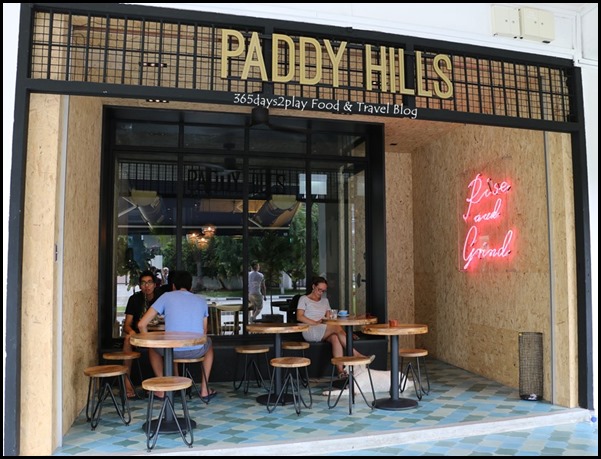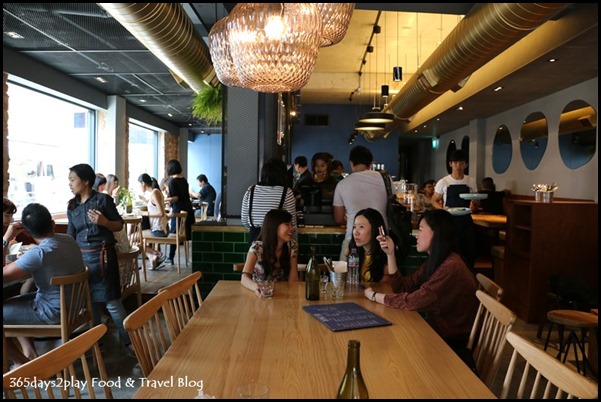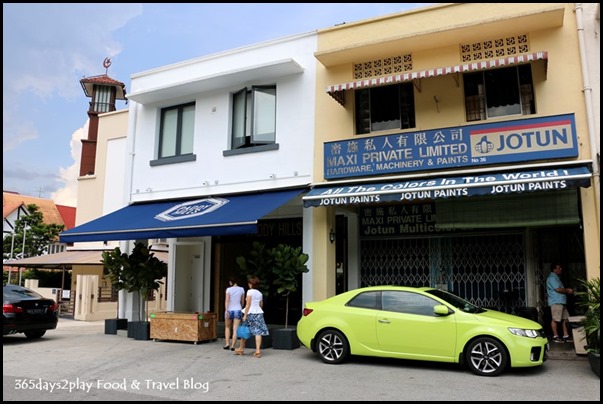 If this place looks familiar, it's because Paddy Hills has taken over the Lim Seng Lee Duck Rice which had been there for decades. I had the pleasure of dining in the real old school outlet twice.
On the whole, I think the food that Paddy Hills serves is pretty promising. Many of the dishes I would love to return to try. However, the 45 minute wait when I arrived at 1.30pm last Saturday was a huge turn off, but we couldn't do much about it as there aren't that many food choices in the near vicinity. Also, the Kimchi Fried rice arrived after 10 minutes, 2 dishes arrived around the 35 minute mark, and the final dish arrived slightly after 45 minutes.
With a system like this, it was no wonder that the wait for an empty table was also long. If all the dishes had been served together within 20 minutes, we could have been out the door as soon as we were done with the food. Instead, all of us had to wait till every single person was done, which means that we were in the cafe for more than 1 hour. Thankfully, I did not experience the rude service that many people complained about last month. In fact, the girl who served us was cheery and helpful.
---
Add me on Facebook, Instagram and Twitter if you want to be kept up to date with the latest happenings in the food and lifestyle scene in Singapore!
Read about other reviews of Cafes in Singapore
Other Food Focussed Cafes in Singapore : The Lokal, Roosevelt Cafe, My Awesome Cafe, Fabulous Baker Boy, Symmetry Cafe, The Missing Pan, The Garden Slug, Riders Cafe
---
Paddy Hills
38 South Bouna Vista Road Singapore 118164
Tel : 6479 0800
Hours : Daily 9.30am — 10pm