Day 3 of 365days2play's Honeymoon in Luxembourg, Germany & France
The Partner kindly agreed to produce the text for Strasbourg, after all, this being his honeymoon as well. I've added my own inputs, but you can tell when the paragraph exudes the Partner's vibes, it's where all the heavy history stuff appears….
Strasbourg is a lovely little city. We only had the afternoon to spend in Strasbourg after checking into our hotel, the Château de l'Ile, so we had to zoom to all the major tourist attractions in town. Did I mention that I love travelling in Spring? It only got dark around 9pm, so when I say afternoon, I really mean afternoon and evening, in the Singapore context.

What to do in Strasbourg? Apart from Strasbourg being a pretty city at a comfortable size that doesn't feel overwhelming, one good reason to visit Strasbourg is because Strasbourg is the seat of several European institutions, such as the Council of Europe (with its European Court of Human Rights, its European Directorate for the Quality of Medicines and its European Audiovisual Observatory) and the Eurocorps, as well as the European Parliament and the European Ombudsman of the European Union. It sure sounds good to tell people you've been to such a powerful city.
If there's nothing else that you see in Strasbourg, you must at least visit the Strasbourg Cathedral. The iconic Strasbourg Cathedral took nearly 300 years to complete, but once finished in 1439, it replaced the Great Pyramid of Giza to become the TALLEST BUILDING IN THE WORLD at that time! It makes my hair stand to think of it even as I am typing this. I feel a sense of wonderment how a building of such great history can coexist with modern economic interests such as the European Union offices.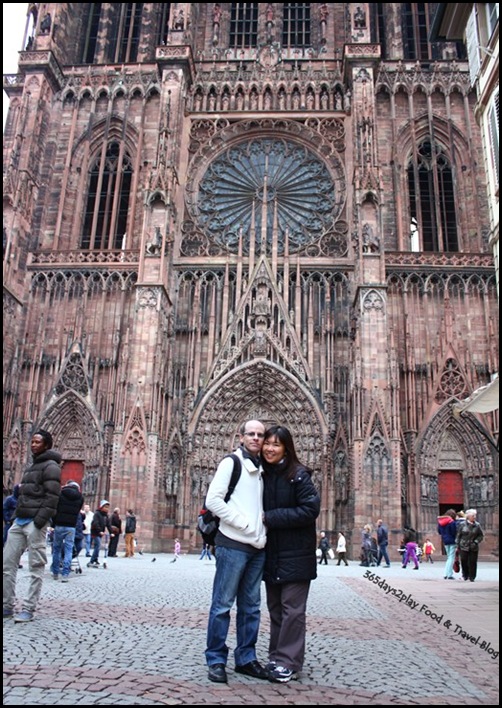 It's times like these that I wonder what it would be like not to live in Singapore, which has such a short history of only 48 years of independence (about 200 years if you include our founding years), and despite our short history, we have already razed away a significant number of buildings that our parents would have been familiar with in their childhood.