Special Promotion below….scroll down!!!
Last week, I was invited to sample Grand Park City Hall's Chinese Restaurant the Park Palace Restaurant's Chinese New Year festive menu. I had actually been to Park Palace on two other occasions over the years, for department Chinese New Year lunch as my old office used to be within walking distance. But that was at least 3 years ago so I was quite keen to go back again to sample the new menu.
Park Palace Restaurant is on the 2nd floor and has numerous floor to ceiling windows which makes dining here a cheery affair. You know how some Chinese restaurants can be, they give you the very serious and sombre feeling. Besides, natural lighting always makes for better food photography.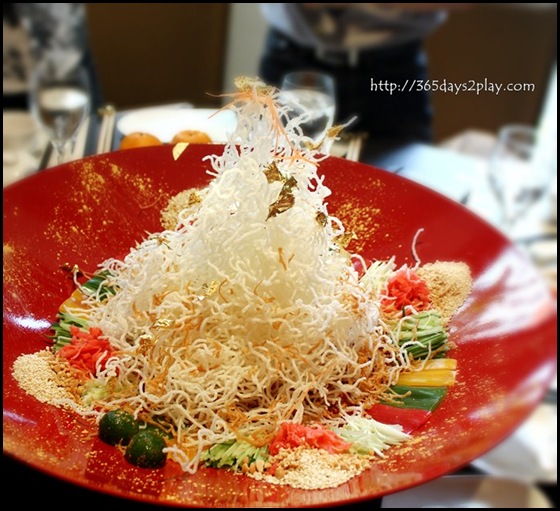 Golden Shunde Yellowtail Yu Sheng
First up, the Yu Sheng dish! If you will look at the picture closely, you will notice that this is no ordinary Yu Sheng! Instead of vegetable bits as the main base ingredient, crispy fried vermicelli is used. Well you know how everyone likes the "golden crispy ingots", in this case, practically the whole dish was crispy! Instead of the usual sweet and sticky sauce, the Yu Sheng was tossed in a special concoction of fragrant peanut oil and premium soya sauce that imparted a delicate flavour. Even the yellowtail (from the Shunde region) was a refreshing change to salmon.
I have to say, this is easily one of the best Yu Sheng I have ever eaten! This creative breakaway from the traditional Yu Sheng works! Many restaurants throw in lots of frills and fireworks, but basically, you still end up fishing out the expensive ingredients. This was one Yu Sheng where everybody cleaned their plates!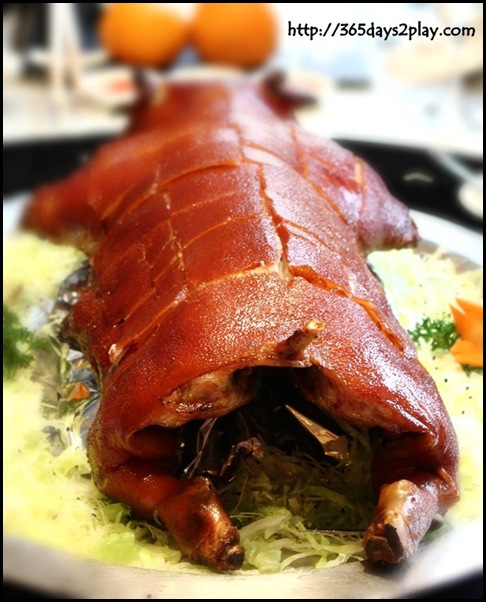 Imperial Suckling Pig (First Course)
Next up, everyone's favourite suckling pig. Sorry for showing you the pig's butt, but I thought the tail looked kinda cute, and how often do you get to see sucking pig pictures from this angle?