After a not so spectacular Restaurant Week experience a year ago at Magma restaurant, I skipped the next Restaurant Week event. I wasn't planning on going for this year's Restaurant Week either, but when Amex sent me an enticing email saying "PRORITY BOOKINGS ENDS TONIGHT!", I succumbed and clicked on the email….just to you know, check out the restaurants without really intending to make a reservation.
I was actually still mixed after perusing the list of restaurants. I asked the Partner if he would like to go and he said "OK but you decide on the restaurant", which totally didn't make things any easier. I casually told a friend who was on MSN about Restaurant Week and to my surprise he was keen to attend! Not only was he keen, he didn't mind going on a Monday night to a restaurant that listed its menu as "Surprise Menu". OK fine let's just plunge in and hope for the best! So with trepidation, I clicked "Book table for 2 at St Regis Brasserie Les Saveurs".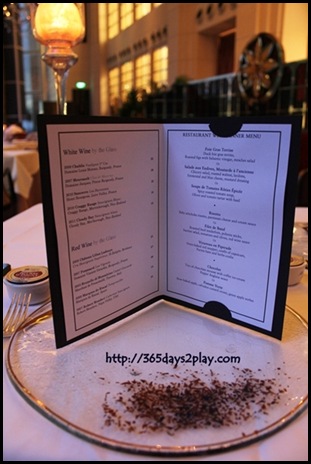 I am so glad we went for Restaurant Week cuz the meal we had at Brasserie Les Saveurs was totally fantastic. The ambience was good, the food was good, the service was good. Really I couldn't ask for more, except perhaps a little more lighting because the food photos didn't turn out too good. But then again, more lighting would have changed the mood of the place. Next time I'll bring a torch.
Normal Restaurant Set Dinners are at $35++ each, but St Regis Brasserie Les Saveurs is considered as one of the high end restaurants so an additional $20++ was imposed. Still, it's worth the money as most of the ala carte main courses are well over $40++ already.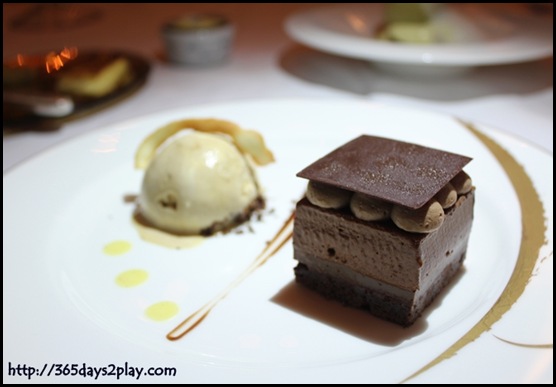 Have to start with a picture of dessert first even if I ate dessert last.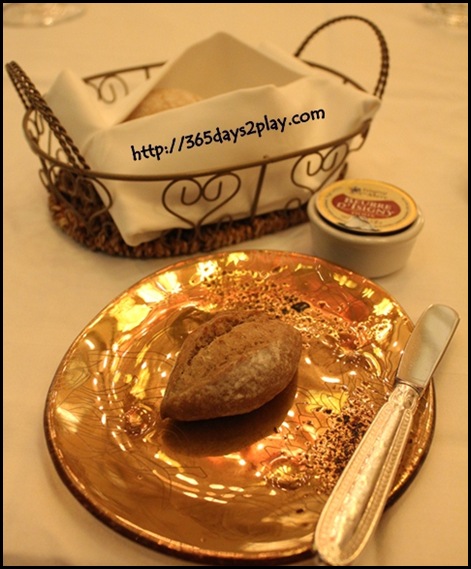 The usual bread basket served before the commencement of the meal. Bread was nice and warm in its covered basket. Love the tub of French butter provided! Decadence! My friend polished it off entirely.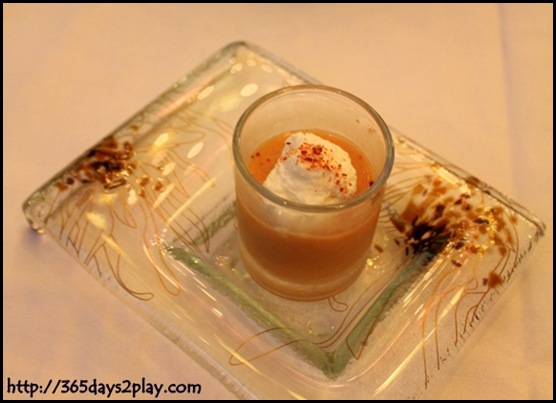 Amuse bouche of gaspacho served. Refreshing vegetable concoction with a dollop of cream. The cream is supposed to be mixed into the gaspacho but it was so lovely I couldn't stop eating it on its own.
Duck Foie Gras Terrine and Roasted Figs with Balsamic vinegar and Mesclun Salad. Heavenly melt in the mouth rich duck foie gras. Brioche was provided but I felt it was just in the way of me enjoying the terrine in all it's naked glory. I had to stop myself from finishing it all off or I would be too full to enjoy the main course. I didn't let the waitstaff clear it either until after desserts, just IN CASE. My dining companion sniggered at me for consuming so much fat. Ya lah he had the healthy soup for starters, but need I remind him that he ate the entire tub of butter?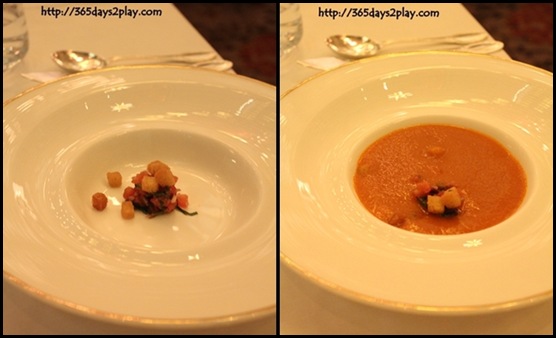 Spicy Tomato soup with olives and basil. Soup came separately from the condiments! I had a spoonful and thought it to be delightfully refreshing with a nice sour tang from the tomatoes.