After a not so spectacular Restaurant Week experience a year ago at Magma restaurant, I skipped the next Restaurant Week event. I wasn't planning on going for this year's Restaurant Week either, but when Amex sent me an enticing email saying "PRORITY BOOKINGS ENDS TONIGHT!", I succumbed and clicked on the email….just to you know, check out the restaurants without really intending to make a reservation.
I was actually still mixed after perusing the list of restaurants. I asked the Partner if he would like to go and he said "OK but you decide on the restaurant", which totally didn't make things any easier. I casually told a friend who was on MSN about Restaurant Week and to my surprise he was keen to attend! Not only was he keen, he didn't mind going on a Monday night to a restaurant that listed its menu as "Surprise Menu". OK fine let's just plunge in and hope for the best! So with trepidation, I clicked "Book table for 2 at St Regis Brasserie Les Saveurs".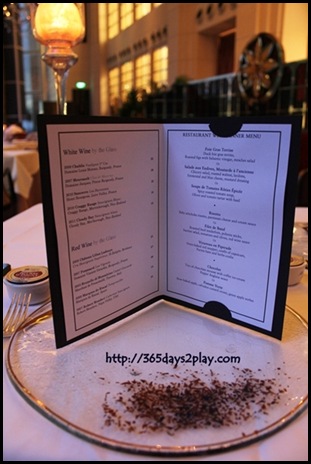 I am so glad we went for Restaurant Week cuz the meal we had at Brasserie Les Saveurs was totally fantastic. The ambience was good, the food was good, the service was good. Really I couldn't ask for more, except perhaps a little more lighting because the food photos didn't turn out too good. But then again, more lighting would have changed the mood of the place. Next time I'll bring a torch.
Normal Restaurant Set Dinners are at $35++ each, but St Regis Brasserie Les Saveurs is considered as one of the high end restaurants so an additional $20++ was imposed. Still, it's worth the money as most of the ala carte main courses are well over $40++ already.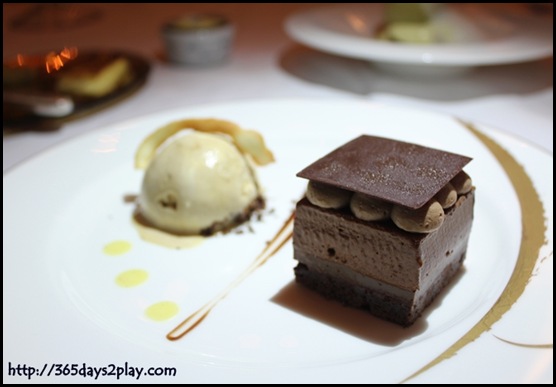 Have to start with a picture of dessert first even if I ate dessert last.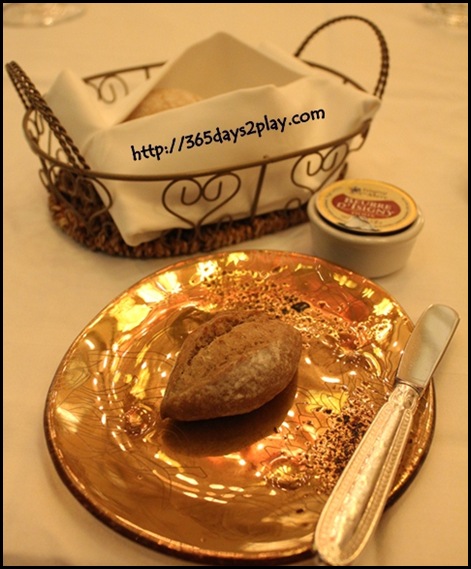 The usual bread basket served before the commencement of the meal. Bread was nice and warm in its covered basket. Love the tub of French butter provided! Decadence! My friend polished it off entirely.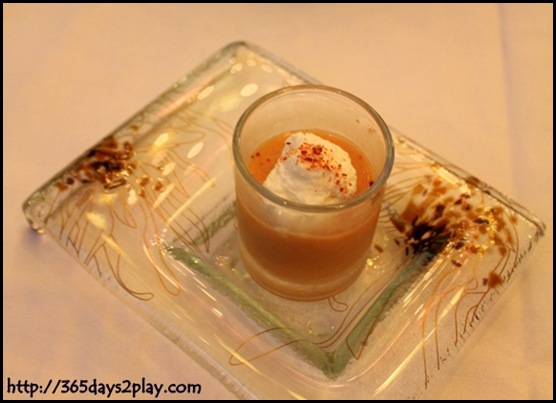 Amuse bouche of gaspacho served. Refreshing vegetable concoction with a dollop of cream. The cream is supposed to be mixed into the gaspacho but it was so lovely I couldn't stop eating it on its own.
Duck Foie Gras Terrine and Roasted Figs with Balsamic vinegar and Mesclun Salad. Heavenly melt in the mouth rich duck foie gras. Brioche was provided but I felt it was just in the way of me enjoying the terrine in all it's naked glory. I had to stop myself from finishing it all off or I would be too full to enjoy the main course. I didn't let the waitstaff clear it either until after desserts, just IN CASE. My dining companion sniggered at me for consuming so much fat. Ya lah he had the healthy soup for starters, but need I remind him that he ate the entire tub of butter?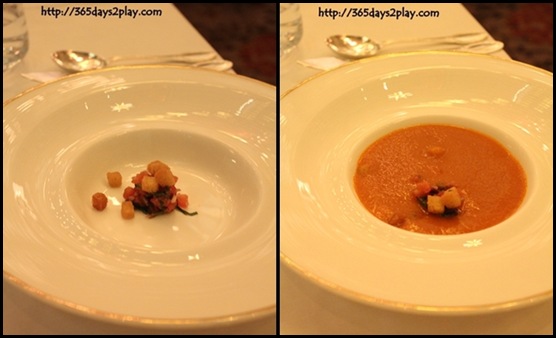 Spicy Tomato soup with olives and basil. Soup came separately from the condiments! I had a spoonful and thought it to be delightfully refreshing with a nice sour tang from the tomatoes.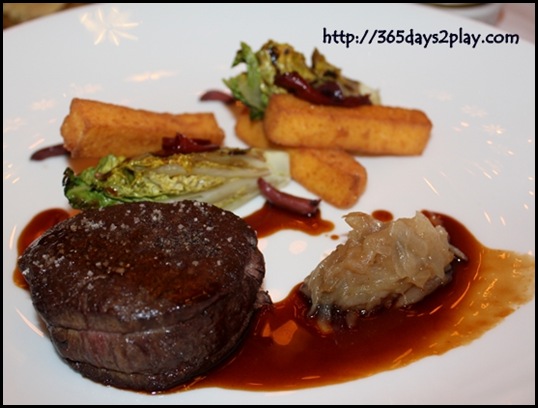 Roast beef tenderloin with polenta sticks. Beef was tender, juicy and very tasty. No complaints at all. I also liked the polenta sticks very much. I don't see polenta sticks on restaurant menus very often, but they are lovely! Kind of like eating mash potato that is fried crispy on the outside and still fluffy on the inside, but not so fluffy that there is no bite.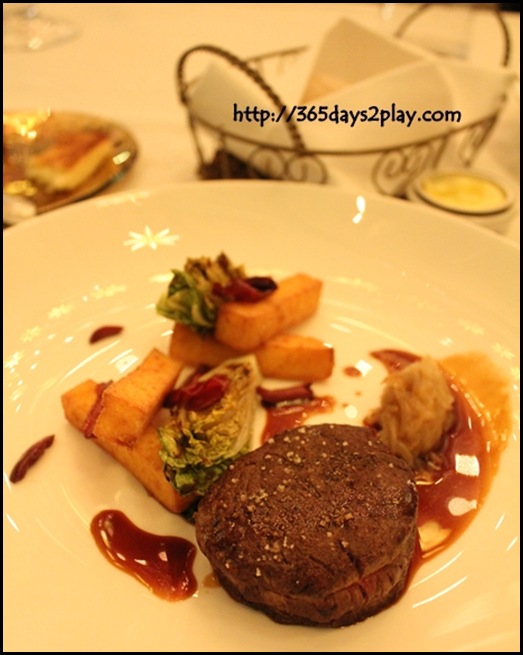 This picture was taken without a flash, and the picture before that was also taken without a camera flash but with the aid of my iPhone torchlight! Is that hilarious or what? I would normally cringe at doing such LOW CLASS things in a HIGH CLASS restaurant but really, I had no choice! And you know what? The minute I did that, as well as used flash in some instances, all the other diners who had their DSLRs did the same thing! See I was being helpful by paving the way….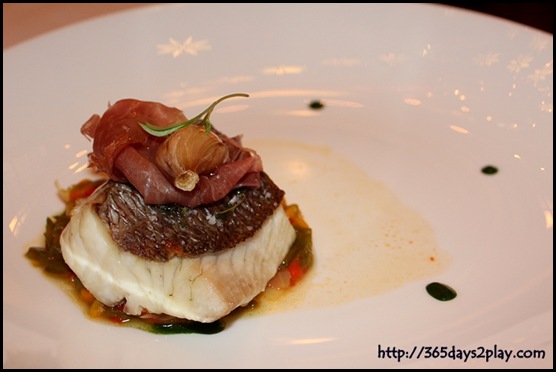 Oven-baked red snapper, confit of capsicum, parma ham and herbs coulis was what my dining companion had. He claims that he has never been to a French restaurant before, and had the impression that French food meant miniscule portions of food served on huge plates. Luckily the main course he ordered changed his mindset. While the plate was indeed huge, augmented by the fact that the fish was placed on the side, with 3 dots of sauce to further reaffirm the size of the darn plate, the fish itself was also sizable and filling.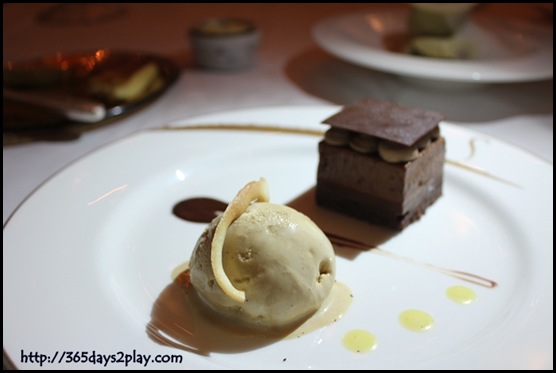 Coffee ice cream with trio of chocolate mousse cake. Coffee ice cream was fantastic. Very rich tasting, every mouthful a wonderful experience. I realise I particularly like non-airy ice creams, aka ice cream that has more liquid. I don't mind that it melts faster, to me that means that it is real. I tackled the ice cream 1st to make the most of it before proceeding to demolish the chocolate mousse cake. Definitely a cake for a chocolate lover. Thick and rich chocolate base with a small amount of light mouse at the top. Very good combination.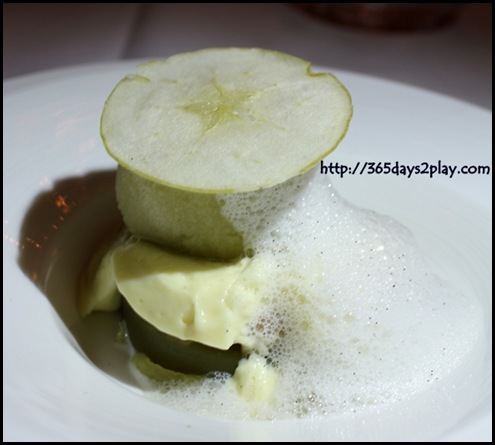 My dining companion had this Slow-baked apple, calvados custard cream, and green apple sorbet, which I believe he enjoyed very much.
We arrived at 7pm and left at around 930pm. Asians who are used to walloping their food down as if there was a prize for the person who finishes first may baulk at spending so much time over a 3 course meal. But I can assure you that if you are able to take it slowly, relax and really take time to savour every morsel, the meal would be so much more enjoyable! In monetary terms, I spent $55+++ for 2.5 hours of enjoyment, which of course included leisurely bouts of conversation with my dining companion. Money well spent in my opinion. Ever since I found out that the French spend 3 hours or even 5 hours over dinner, I've endeavoured to do the same and I've never looked back.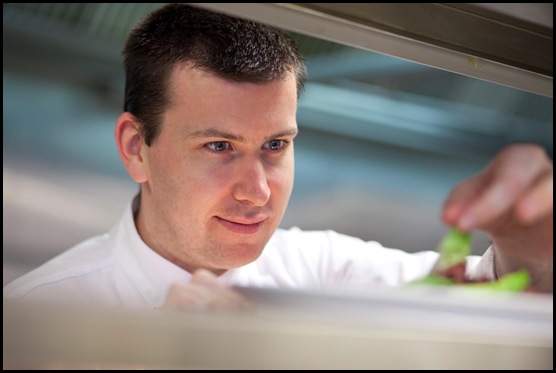 I can't wait to go back to Brasserie Les Saveurs again. Kudos to Chef de Cuisine Alexandre Lozachmeur for the wonderful meal.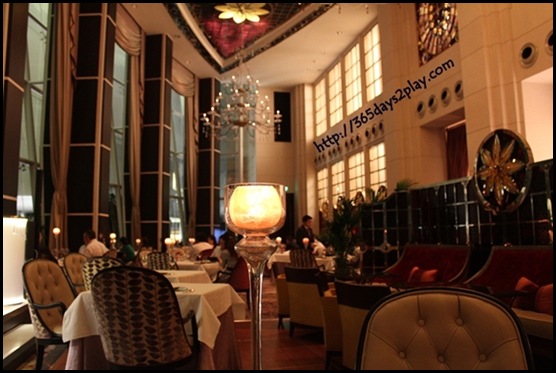 *The next day, I did find out that we weren't served the coffee/tea that was part of the set menu. That was a bit of a boo boo on their part and they've since invited me back for complimentary coffee. Perhaps I will if I'm dining there again sometime soon.
Find out more about Restaurant Week Singapore.
Brasserie Les Saveurs at The St. Regis Singapore
29 Tanglin Road Singapore 247911
Telephone : (65) 6506 6888
http://www.stregissingapore.com/BrasserieLesSaveurs