I have known about this place for the longest time and on several occasions, almost made it here. One huge stumbling block is the location, Spruce is pretty off the beaten track, and unless you know of its existence, you are almost unlikely to chance upon it. It seems though that lots of people know of Spruce, and think of it as the place to see and be seen.
Well so a few weeks ago, after making sure I'd checked Google Maps in advance, we made our way there. The place looks really cosy. I love cafes and restaurants nestled amongst greenery. Allows me to escape the concrete jungle and forget that I am in Singapore. Unfortunately, while the place looked inviting, it was so noisy! It must be due to the structure of the place, noise seems to bounce around even though the cafe isn't even full. It's worse if you sit in the air-conditioned room, then you get the cooking smells as well. I kind of developed a headache over the course of my brunch, and as a result, had to cancel plans for the afternoon.
Prices are not cheap here, be warned.
Spruce British Brekkie $18 — Came with 2 eggs, Cumberland sausage, mushrooms, bacon, tomato and a dish of watery baked beans. Also provided were 2 huge slices of bread, not shown in the picture. While the food tasted quite alright, I liked the Cumberland sausage in particular, I did think the breakfast to be quite over priced. For $12, I could have gotten about the same at Epicurious at Robertson Quay, and I'm sure there are many other places that charge less for this amount of food.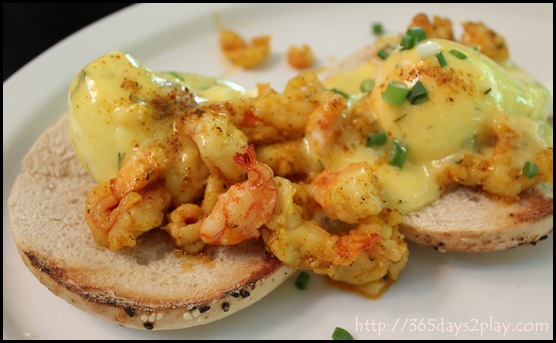 Cajun Prawns Eggs Benedict $25 — If it looks small, let me assure you that it is.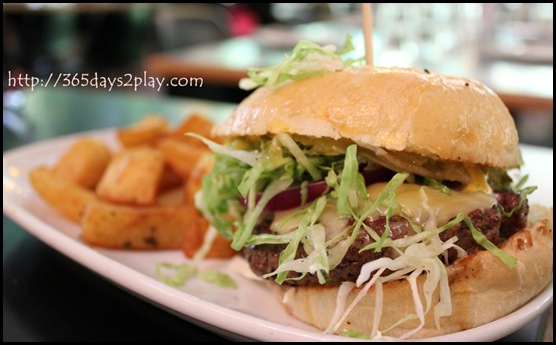 Spruce Signature Burger $17 — Potatoes seen in the background were nice. They were fluffy on the inside and slightly crispy on the outside, and they were nicely spiced too. On the contrary, the patty in the burger tasted like plain minced meat with no hint of spice or herbs to enhance its flavour. The burger I had at SoHo7 near City Hall was so much better and half the price!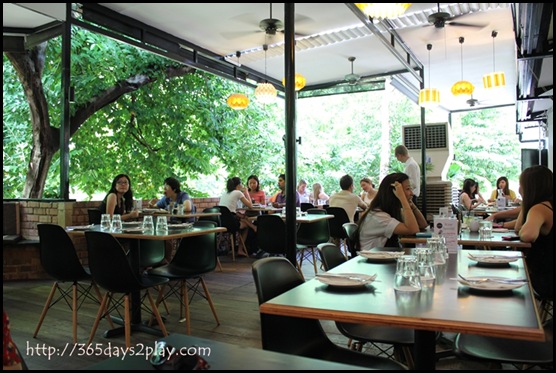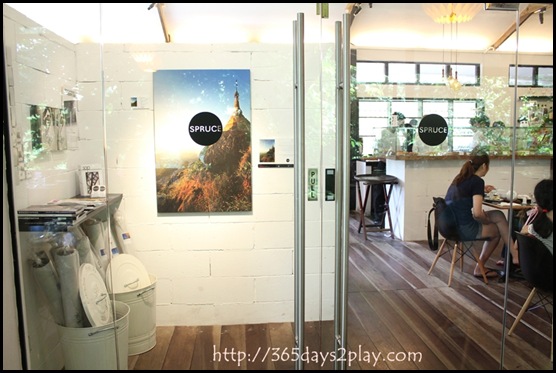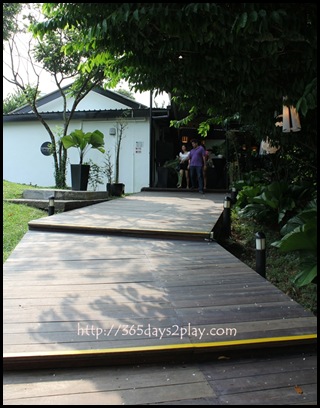 Was pretty crowded when we got there around 2pm on a Saturday. I wonder if the place is overhyped, because all 4 of us thought that once is more than enough. It's sad because the place has such potential. I hope they get a better chef and relook their menu prices as well.
Do note that on weekends, they serve brunch until 2.30pm. After that, they serve high tea starting only at 3pm, so if you want a cooked meal, be sure to come earlier.
Spruce — Restaurant, Bar, Bakery
320 Tanglin Road, Phoenix Park, Singapore 247980
PH: 6836 5528
Directions – http://www.spruce.com.sg/location.html