The Disgruntled Chef has always had a soft spot in my heart not just because of the wonderful meal I had there many years back, but also because it was one of the first few restaurants I blogged about when I first started this website. It was also around the time when I started to pay more attention to where I dined, and food quality. When I look back at the photographs, they look hideous! I hope to think that I've improved since then.
Even though I haven't managed to revisit The Disgruntled Chef, I've always kept it under my radar. So it was exciting to know that they have just opened a younger sibling called The Disgruntled Brasserie, situated at The Club Hotel on Ann Siang Road on Oct 16. Since February 2017, they have been offering a revamped menu created by newly appointed Chef de Cuisine Desmond Goh. And for fans of communal dining, you'll be happy to know that the concept of small and large sharing plates is still going strong.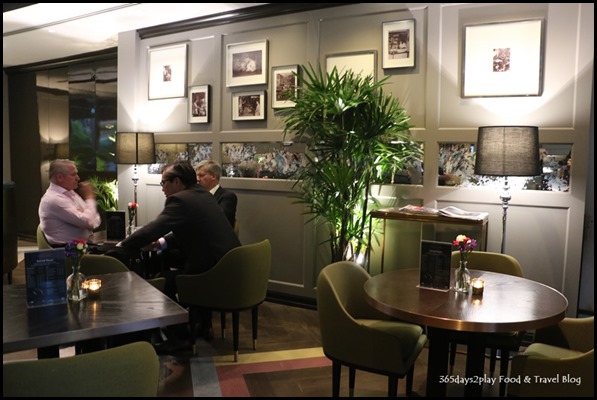 The Disgruntled Brasserie is supposed to be a more informal and cheaper version of The Disgruntled Chef. The food is definitely more casual, but I'm not too sure about the decor. The Venetian leather banquette and booth seats, the muted greys and mirrors make the restaurant look posher and seem more expensive than it intends to be. Btw those mirrors are no ordinary mirrors but vintage-inspired and individually tarnished and illustrated by UK artist Ruth Parker.
Home Cured Salmon (Horseradish buttermilk, pickled cucumber, marinated avocadoes) $16++