The Disgruntled Chef has always had a soft spot in my heart not just because of the wonderful meal I had there many years back, but also because it was one of the first few restaurants I blogged about when I first started this website. It was also around the time when I started to pay more attention to where I dined, and food quality. When I look back at the photographs, they look hideous! I hope to think that I've improved since then.
Even though I haven't managed to revisit The Disgruntled Chef, I've always kept it under my radar. So it was exciting to know that they have just opened a younger sibling called The Disgruntled Brasserie, situated at The Club Hotel on Ann Siang Road on Oct 16. Since February 2017, they have been offering a revamped menu created by newly appointed Chef de Cuisine Desmond Goh. And for fans of communal dining, you'll be happy to know that the concept of small and large sharing plates is still going strong.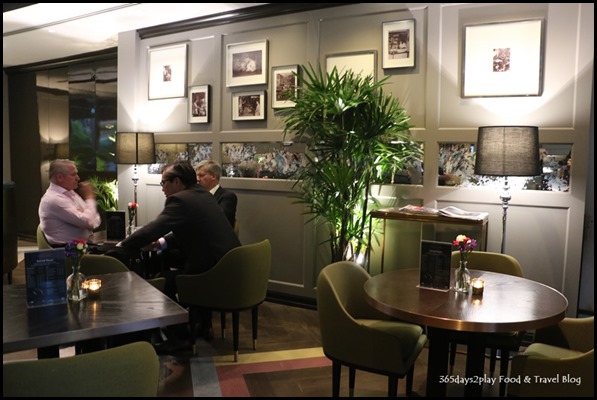 The Disgruntled Brasserie is supposed to be a more informal and cheaper version of The Disgruntled Chef. The food is definitely more casual, but I'm not too sure about the decor. The Venetian leather banquette and booth seats, the muted greys and mirrors make the restaurant look posher and seem more expensive than it intends to be. Btw those mirrors are no ordinary mirrors but vintage-inspired and individually tarnished and illustrated by UK artist Ruth Parker.
Home Cured Salmon (Horseradish buttermilk, pickled cucumber, marinated avocadoes) $16++
Escargot Tarte Flambee (Lardon, onions, creme fraiche, persillade) $16++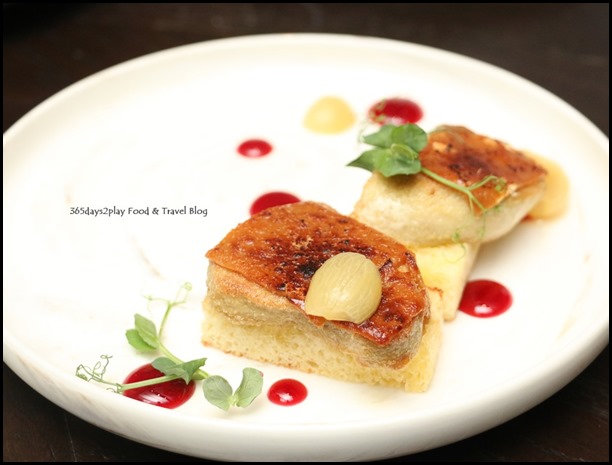 Foie Gras & Peanut Butter Miso (Blackcurrant gel, poached grapes, brioche) $18++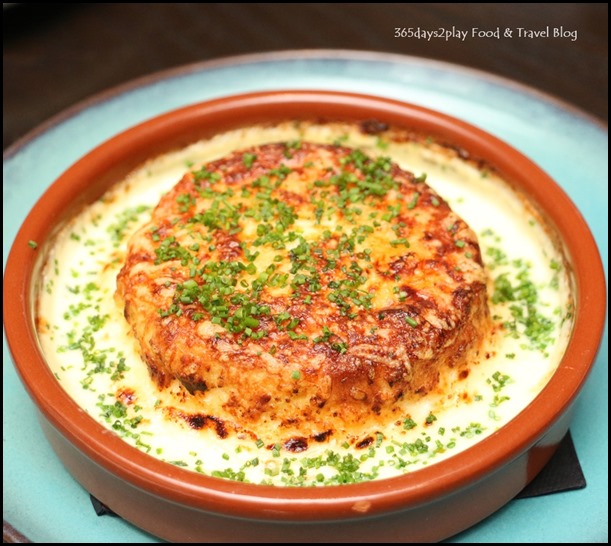 Gruyere Cheese Souffle (Caramelised onions, chardonnay fondue) $16++
My favourite of the 4 appetisers we tried was the home-cured salmon. I don't think I've ever had cured salmon swimming in sauce, but the slightly tangy buttermilk sauce complemented the salty salmon perfectly. There was also a nice textural contrast between soft salmon vs crisp beetroot.
I usually love foie gras, but in this case, I felt that the peanut butter miso overwhelmed the foie gras. I wasn't able to detect the creamy richness that is associated with good foie gras. What a shame.
Both the escargot tarte flambee and the gruyere cheese souffle received mixed reviews at our table. I for one thought the tarte flambee was too tough and chewy, where as the Partner enjoyed the numerous overlapping flavours. The first few bites of the cheese souffle were very good. It was undoubtedly very cheesy in flavour and had an airy texture. However, it's definitely not something you can finish on your own because the richness of it becomes cloying after a few bites.
But that's the beauty of dining at The Disgruntled Brasserie because the dishes are meant to be shared in the first place.
Homemade Squid Ink Pasta (Squid ink pasta, crab meat, shrimps, chilli) $28++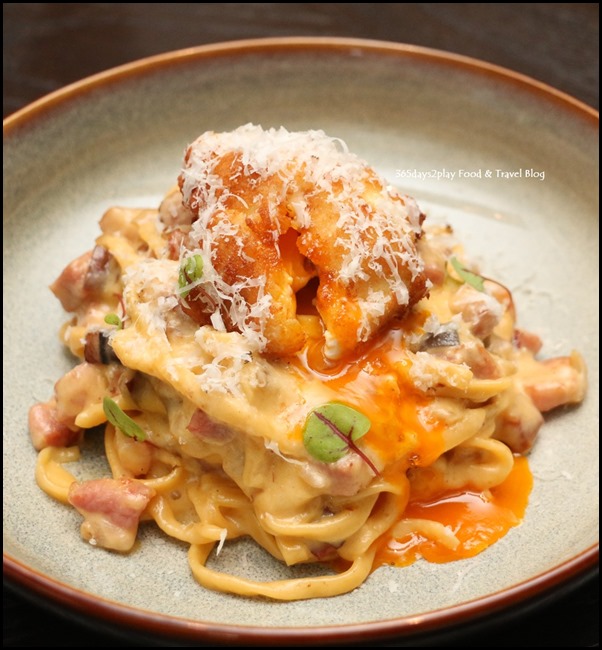 Carbonara Taglierini (Streaky back bacon, farmer's smoked bacon, kurobuta ham, parmigiano reggiano crusted egg) $24++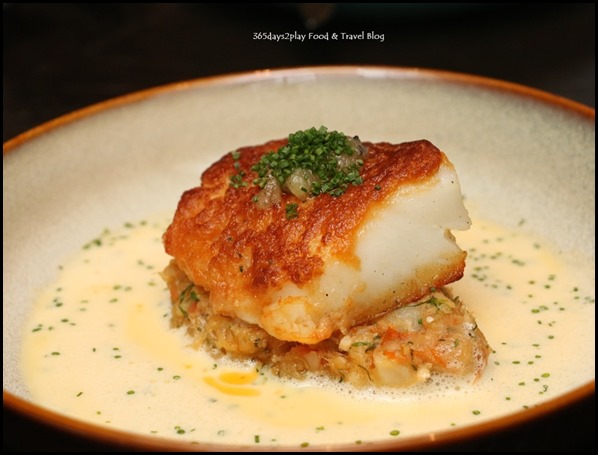 Chilean White Cod (Salted cod brandade, Remy Martin VSOP scampi butter, lemon confit, normande sauce) $38++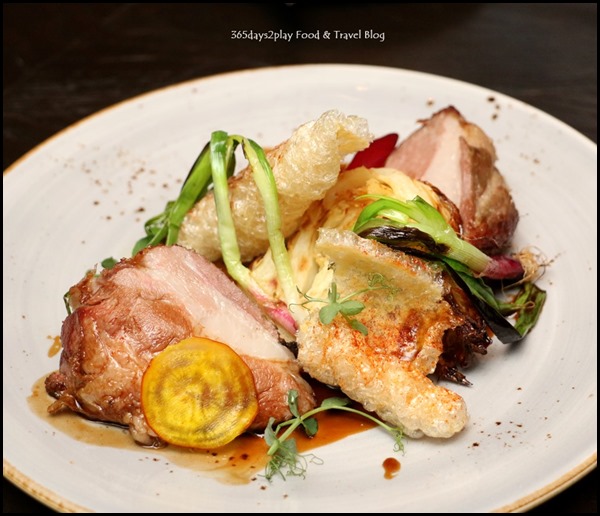 Iberico Pork Collar (Caraway milk poached caramelised cabbage, Jerusalem artichoke puree, grilled scallions,star anise jus) $32++
My favourite of the mains was the squid ink pasta. A well-executed dish, it had a balance of great flavours from the seafood components, and extra kick from the added spice. If I had to finish an entire mains by myself, this would be the dish. Another good one was the Iberico pork collar. A tender cut cooked just right is hard to go wrong, and the accompaniments were tasty too. The only thing I felt could be dispensed with was the crispy skin, which made the dish unnecessarily heavy. But then again if you're not eating the entire dish on your own, you might appreciate those crispy bits, as you would the peanuts and pickles in a Chinese restaurant.
I think you know what I'm going to say about the Carbonara Taglierini…. once again too cheesy! Chef Desmond Goh certainly likes his cheese!  If you don't mind the cheese overload, you have to go past the ham overload, 3 different types! If this sounds like heaven to you, go for it, poached egg thrown in for good measure. This is probably a dish that you either love or loath. This might just be the dish for you on the saddest and loneliest of days when you need a lot of comforting. The truth is I loved the 1st few mouthfuls, and then had to surrender, given the amount that we were eating that night.
Lastly, the cod fish. The fish itself didn't have that much flavour but thankfully the sauce was tasty.
Baileys Creme Caramel (Remy Martin cherry compote, cocoa rice crisps, kahlua ice cream) $18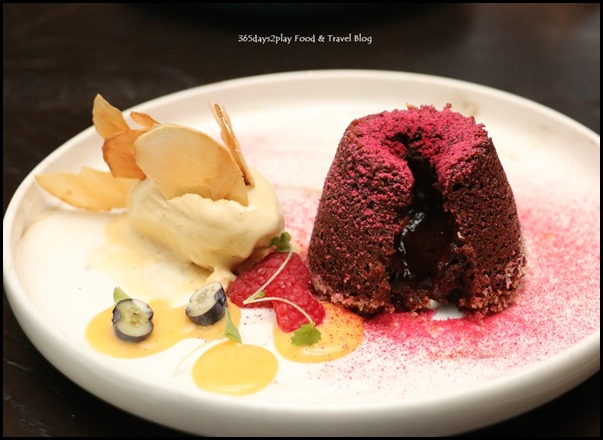 Chocolate Fondant (Creme anglaise, pistachio ice cream) $18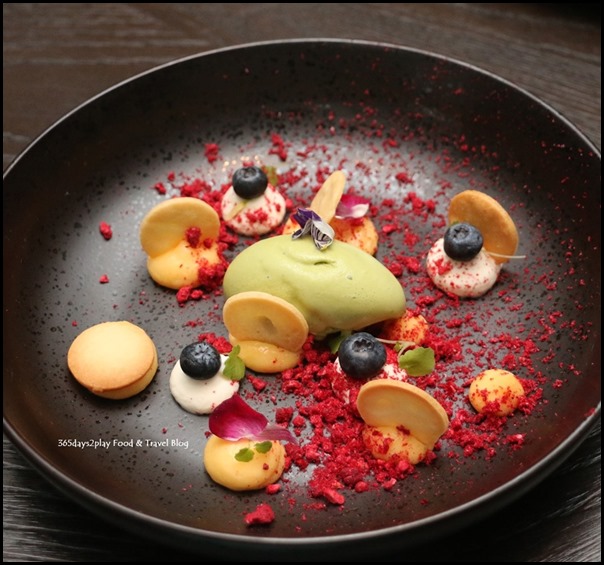 Lemon Curd (Biscuit, wildberries, vanilla chantilly cream, shiso leaf ice cream) $16 
Surprisingly, the chocolate fondant was the least of my favourites, but only because the other 2 desserts were better. The chocolate fondant as you can see from the picture, would have done better to have a molten core, although it was still delicious when paired with the ice cream. On the other hand, I loved the lemon curd dessert. After a heavy meal of numerous creamy dishes, this really perked up the taste buds although it was a tad on the sweet side. The Bailey's Creme Caramel was also tasty and I particularly loved the Kahlua ice cream. Interesting addition of cocoa crisps, which added texture to the dish.
---
Add me on Facebook, Instagram and Twitter if you want to be kept up to date with the latest happenings in the food and lifestyle scene in Singapore!
Other restaurants in the Tanjong Pagar/Chinatown area
---
The Disgruntled Brasserie
28 Ann Siang Road Singapore 069708
Opening Hours (Last Order):
MONDAY — SUNDAYS
Breakfast :7:00 AM – 1030 AM (last order)
Lunch : 11.30AM – 2.30 PM (last order)
Hi-Tea: 3.30 PM – 5.30 PM (last order)
Dinner: 6.30 PM – 10.30 PM (last order)
Tel: +65 6808 2184
Fax: +65 6808 2189
E: bookings@disgruntledchef.com
http://disgruntledchef.com/outlet/club