Met up with a good friend of 12 years to go try out The Disgruntled Chef the other day. After all these years, she's still so passionate about teaching. As she put it, it is indeed a blessing that she has found her true calling, and so early on in life. We had a good time chatting and catching up.
The ambience of the place is quite nice. The lighting is low and soothing, which makes for a very romantic setting suitable for lovers. And that's in addition to the sharing concept too. There are some booth like seats but those look like they are reserved for parties of 4. I had originally imagined The Disgruntled Chef to be a really casual looking restaurant thanks to the rather casual name, plus the fact that they employ the communal eating concept here. But really, with the wine glasses on all the tables, plus the low lighting, it looks like an upscale restaurant instead.
As for the communal sharing concept, there are 20 Small Plates on the menu, each about $15 – $20. They are small enough such that each person can easily polish off at least 2 plates worth of food. You could also order the Big Plates, which are entree-sized dishes. We decided to go for the Small Plates so that we could sample more dishes.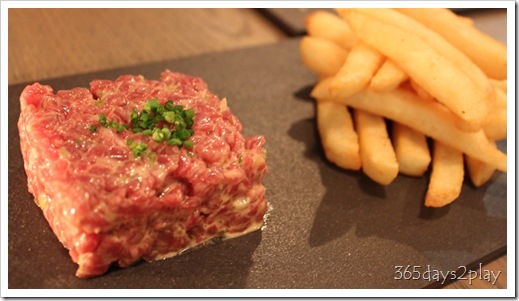 Steak Tartare with soft Quail Egg and fries – $16
I don't believe I've tried Steak Tartare before, or at least not in this quantity. I have to say it was damn delicious. From the minute the beautiful square of raw meat was placed in front of me, I could hear it calling my name. The taste was divine. If only I just didn't have to share!
I wonder if a lot of people out there have a problem with eating raw meat, because I certainly am not in this category. In fact, the raw look of the meat appeals to me very much…And I don't think of myself as eating raw meat, I just think of it as eating really tasty meat!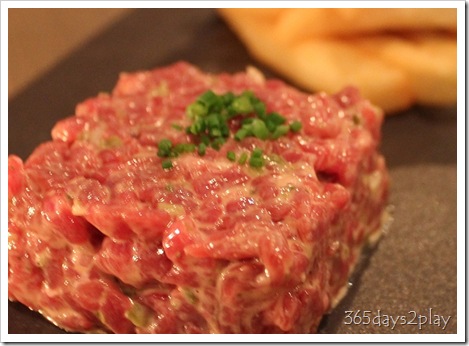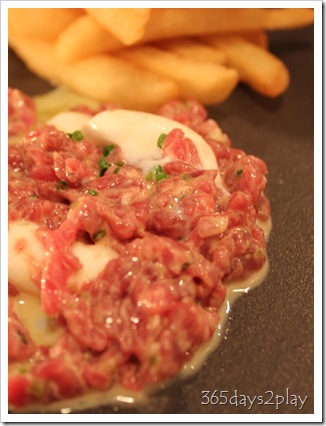 There's the quail's egg which is to be mixed into the steak tartare
Runny quail egg with juicy steak….ohhhhhhhhhh!!!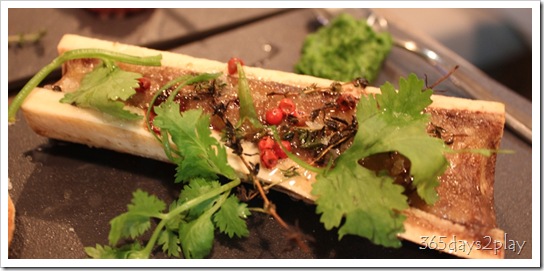 Baked Bone Marrow with persillade & sour dough toast – $14
This was also very delicious. The bone marrow was soft, fatty and oh so tasty! Once again, I wish I had the whole thing to myself! I had a hard time trying to make sure I didn't scoop out more than 50% of my allocated portion or I might incur the wrath of my friend, who was also enjoying the dish tremendously. This was served with bread. The greenish thing in the background was the Persillade, which is a mix of parsley and garlic. Imagine bread with lots of garlic, everyone loves garlic bread right? Now top that off with fattening bone marrow. Can things get better than that?
Curried mussels with sourdough toast – $16
This was also very nice. Don't expect some really spicy local curry though, this is more like Ang Moh curry. This was a little hard to share. I wish they'd given us bowls so I could slurp down the curry!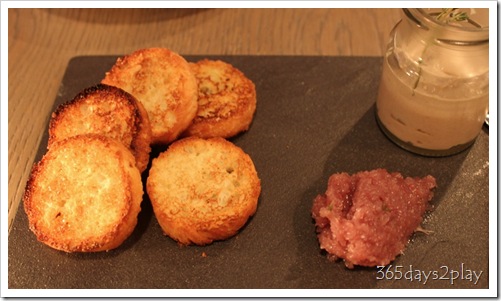 Chicken Liver Parfait with red onion marmalade & Brioche toast – $14
The Liver Parfait's in the chicken essence bottle thingy. This one had a texture like pate, but had the strongest pate taste I've ever encountered. I loved it very much, but my friend only managed to eat 1/4 of it. They should have given us more than 6 pieces of toast though. Luckily we had a lot of bread from the other dishes so we used those to finish up the parfait.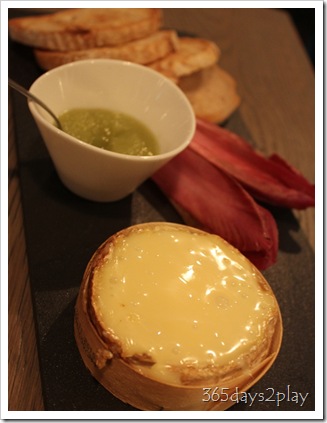 Baked Camembert Fondue with chicory, toast & apple sauce – $18
This was a little bit of a let down, especially after having tried the other dishes. At $18, I thought it was way too pricy for something I could just pop in the oven myself. Also, the Camembert was pretty mild, so the plain bread wasn't exactly the best delivery vehicle in this case. The apple sauce in the bowl was nice, and lifted the flavours somewhat, but I didn't order this dish just to taste apple sauce.
Conclusions: The food is really good. I've described them in detail above, so I shan't elaborate again here.
However, there were a few things that kinda made me wonder if I would return again.
1. Beware what you choose. We only realised that we'd chosen 4 dishes out of 5 that come with bread. Nothing wrong with that, but on hindsight, it felt like it was a big bread feast, with many delicious toppings to choose from.
2. The pricing wasn't exactly expensive, yet it was neither cheap. Our bill came up to approx $87 after tax, which meant that we spent about $45 each on "appetisers".
3. The sharing system felt a bit cumbersome at times. Eg, the curried mussels and the oozy cheese, not a very simple thing to share if you don't want double dipping.
4. The style of the food required a lot of work on our part. It wasn't a scoop and shovel into your mouth thing. There was a lot of "effort" required to scoop stuff onto the bread, and add the garnishing. Ok it's not a lot of effort if 1 or 2 dishes are like that, but when all are like that, it's a little overwhelming.
Still, because the food is so nice and unique, I think I'll still take the Partner to come try the place out. But, it won't be some place I come to relax after a hard day's work.
The Disgruntled Chef
26B DEMPSEY ROAD
SINGAPORE 247693
T: +65 64765305 F: +65 64765306
E: BOOKINGS@DISGRUNTLEDCHEF.COM