At first glance, 4 year old IKYU might strike you as a modern Japanese bar, thanks to its heavy use of metallic furnishings, and even heavier metal chairs. However, the traditional basics of serving quality fresh food exquisitely plated still runs supreme here. IKYU is helmed by the affable Executive Chef Takuma Seki or Seki-San, who at age 41, has had more than 20 years of culinary experience, most recently being Chef de Cuisine of Hide Yamamoto at Marina Bay Sands.
I was glad to be invited to partake in their $98 per pax 5 course Niigata Food and Sake Pairing menu that will be available until 14 June 2015. The menu pays homage to various techniques that have originated from the Niigata Prefecture, such as the use of Wappa-meshi, Hegi Soba and the Le Lectier pear of Niigata. Interesting to note that Niigata boasts 96 sake breweries, as compared to say 30 plus in Kyoto. I am told it is due to the water.
I have been to a number of wine pairing dinners, but never before a sake one, hence I had to bring my alcohol(ic) expert along.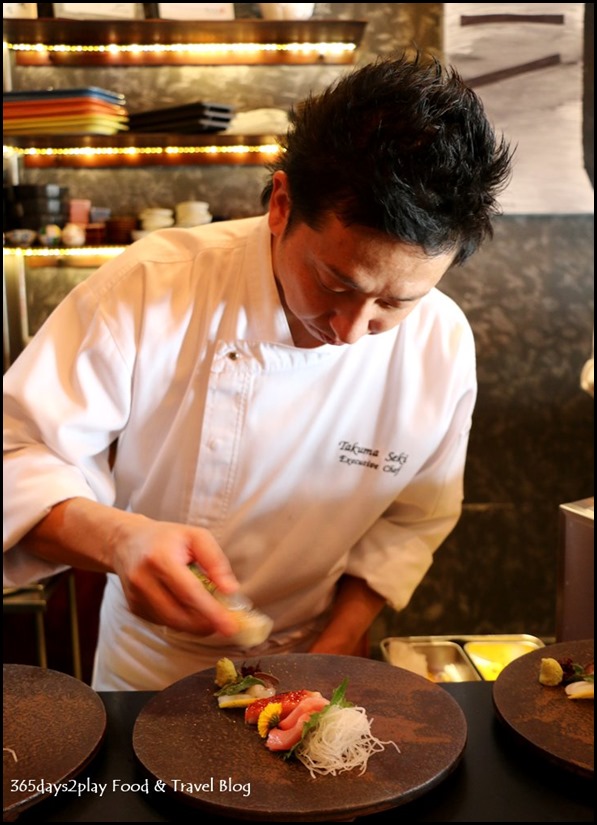 Seki-San was born in Niigata, hence the lovingly curated menu. Here, Chef Seki is preparing our first course for the day, the sashimi in 3 forms. If you can, grab the seats by the sushi counter. Chef Seki is a hilarious guy and very approachable!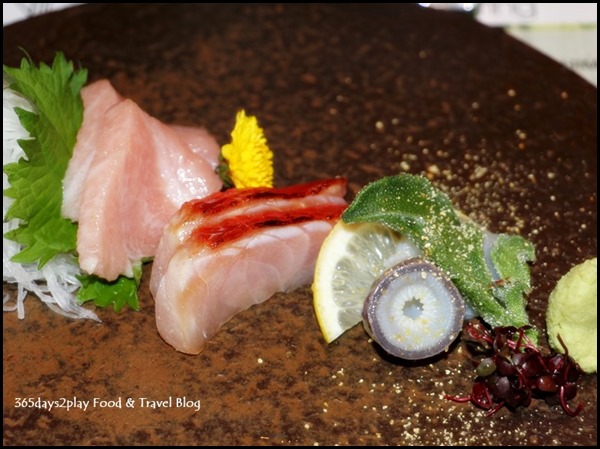 Nihonkai sansyu sashimi aka 3 types of Sashimi
We started off with the octopus sucker on the right, which is possibly my 1st time eating octopus sucker of this size. You would think that it would be of a slimy and somewhat soft texture as most small octopuses tend to be, but this was actually bouncy, bordering on crunchy. A very interesting texture that I may not have yet encountered. Above it is the ice plant, which also has a very firm texture. Think black fungus but maybe firmer.