Ever since our first visit to 40Hands back in October soon after it opened, I've been thinking about those delicious sandwiches we had there. We had no luck last week when we drove through the Tiong Bahru area. 40Hands was jammed packed to the gills. On Friday, we tried again and got lucky. We were there just after 1pm so some of the early lunch hour people were just leaving. Interesting that there were quite a few office types there. The nearest offices must be at least 10 minutes walk away?
Anyway, 40Hands now boasts extra seating capacity. What was once a window, has now turned into a glass door leading into a recessed area with more seats. Foodwise, there are more sandwich choices, such as Salt Cod Fish Mash sandwich and Curry Chicken sandwich. Can you believe it, they even have Tau Sar Pau! This is quite funny considering the fact that the owner of the cafe is Australian! Better still, Xin MSN votes this Tau Sar Pau as the best pau in Singapore! Doesn't come cheap though, each costs $2.50. Alas, I didn't realise they had Pau when I was there on Friday or I would have tried it just for the novelty of it.
These are what we had at 40Hands. We chose different sandwiches from those we tried the last time. I have to admit, the sandwiches were not as great tasting as those from our 1st visit. Maybe the staff are rushed due to the lunch hour crowd. Or maybe it was easier to have everything perfect last time when only a few sandwich choices were offered. Thankfully, the coffee was as great tasting as the 1st time.
All sandwiches are around $9 and coffees are about $5. 40Hands does not charge service charge and GST. And if you have a HSBC card, you get a 10% discount! Yippeeee!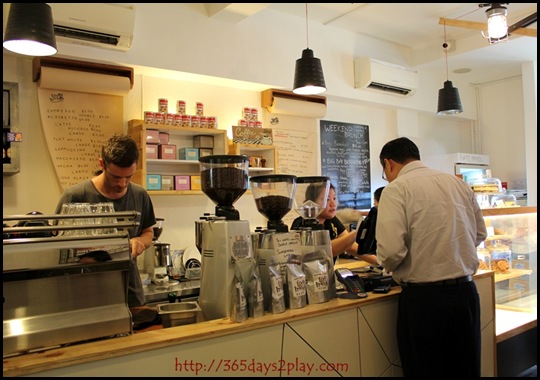 There's the owner Harry Grover mulling over whether the Rosetta Art has just the right amount of leaves in it.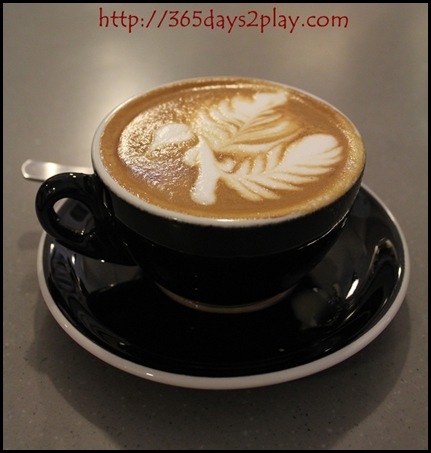 There's 2 rosettas, or ferns, or whatever the name is as we ordered a double shot.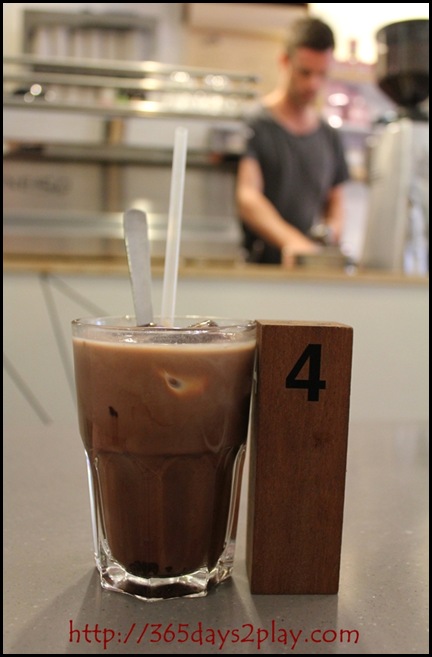 Iced Chocolate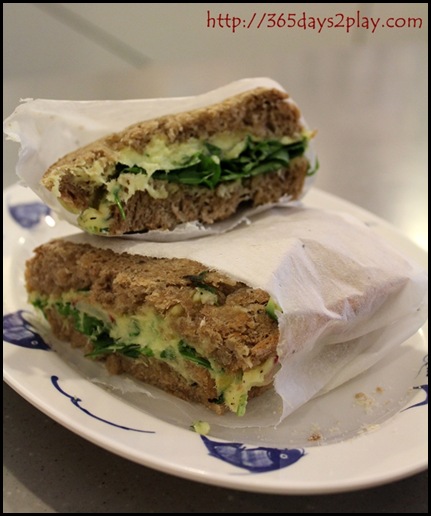 Salt Cod Fish Mash — The fish is literally mashed up into a pureed texture. I couldn't really taste the cod flavour and in fact if you'd asked me to guess, I wouldn't have realised it was fish.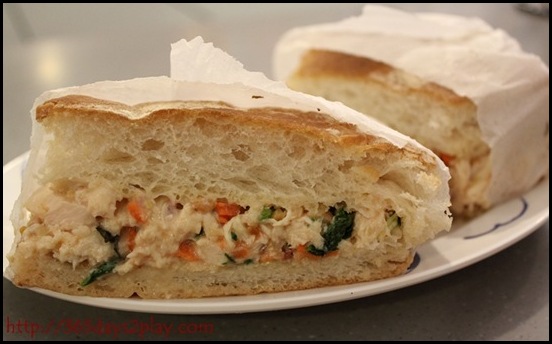 Thai Chicken — For some reason, the sandwich was served cold. There was also a puddle of water oozing out from the sandwich onto the plate, which made me wonder if the sandwich was previously in the freezer and had not been properly warmed. Nevertheless, the Partner doesn't like hot sandwiches so he enjoyed the sandwich.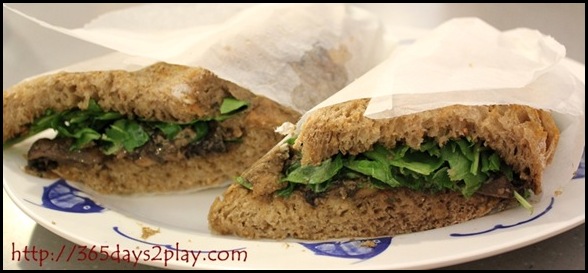 Truffle Mushroom — This sandwich would be perfect for mushroom lovers. There's loads and loads of them stuffed into the sandwich. I didn't quite appreciate the texture of the mushrooms though as they were mixed together with a mushy sauce thing. It's like eating really thick and chunky mushroom soup, which I love, but just not in a sandwich format.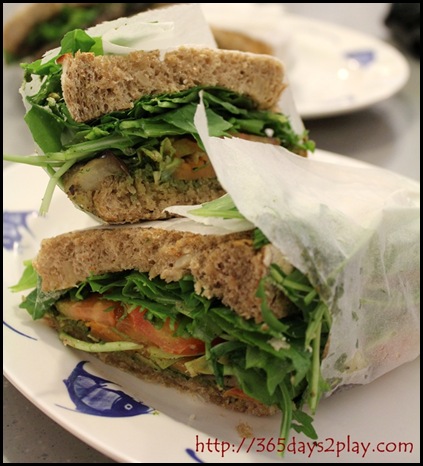 Vegetable Stack — This has got to be the healthiest sandwich there. It's chock full of vegetables! You have to like rocket leaves/arugula cuz there's lots of it in here.
See my previous review of 40Hands
Forty Hands (40 Hands)
78, Yong Siak Street (Tiong Bahru) #01-12
Tel: 6225-4623
Hours:
Tuesdays: 8:30am to 6:30pm Wednesdays and Thursdays: 8:30am to 10pm Fridays and Saturdays: 8:30am to 11pm Sundays 8:30am to 6:30pm CLOSED MONDAYS
Email: info@40handscoffee.com
Website: http://www.40handscoffee.com Facebook
Directions on how to get to Forty Hands (It is about 10 minutes walk from Tiong Bahru MRT station but unless you're familiar with this area it is easy to get lost. Definitely check the map before you go there)