At first glance, 4 year old IKYU might strike you as a modern Japanese bar, thanks to its heavy use of metallic furnishings, and even heavier metal chairs. However, the traditional basics of serving quality fresh food exquisitely plated still runs supreme here. IKYU is helmed by the affable Executive Chef Takuma Seki or Seki-San, who at age 41, has had more than 20 years of culinary experience, most recently being Chef de Cuisine of Hide Yamamoto at Marina Bay Sands.
I was glad to be invited to partake in their $98 per pax 5 course Niigata Food and Sake Pairing menu that will be available until 14 June 2015. The menu pays homage to various techniques that have originated from the Niigata Prefecture, such as the use of Wappa-meshi, Hegi Soba and the Le Lectier pear of Niigata. Interesting to note that Niigata boasts 96 sake breweries, as compared to say 30 plus in Kyoto. I am told it is due to the water.
I have been to a number of wine pairing dinners, but never before a sake one, hence I had to bring my alcohol(ic) expert along.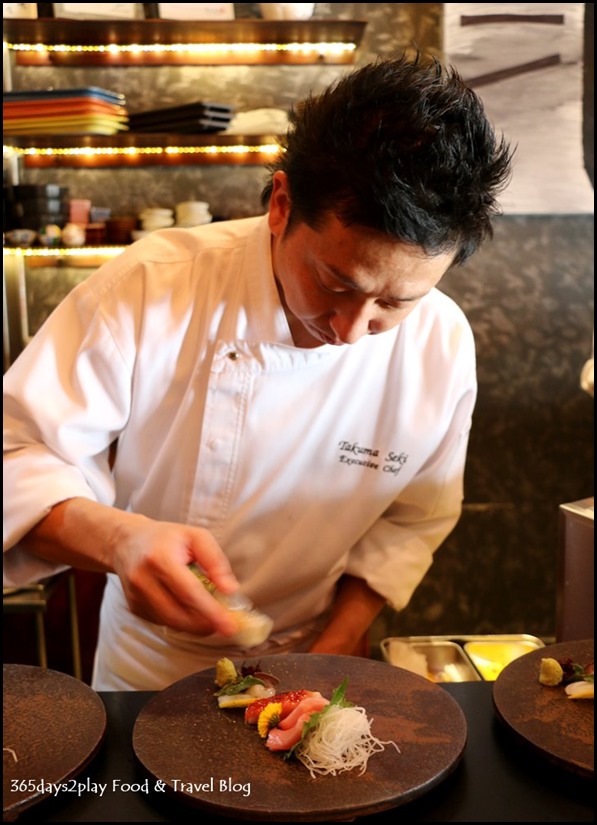 Seki-San was born in Niigata, hence the lovingly curated menu. Here, Chef Seki is preparing our first course for the day, the sashimi in 3 forms. If you can, grab the seats by the sushi counter. Chef Seki is a hilarious guy and very approachable!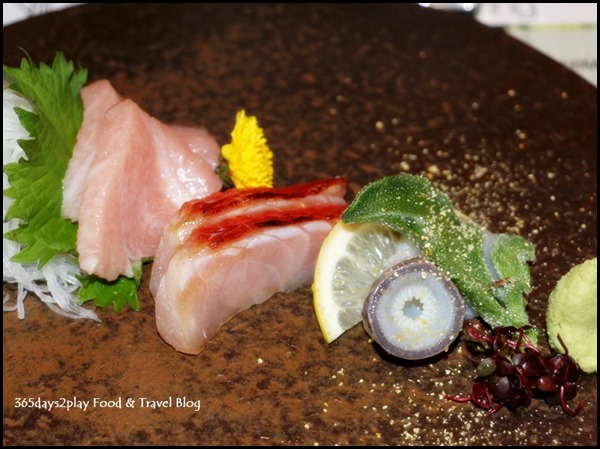 Nihonkai sansyu sashimi aka 3 types of Sashimi
We started off with the octopus sucker on the right, which is possibly my 1st time eating octopus sucker of this size. You would think that it would be of a slimy and somewhat soft texture as most small octopuses tend to be, but this was actually bouncy, bordering on crunchy. A very interesting texture that I may not have yet encountered. Above it is the ice plant, which also has a very firm texture. Think black fungus but maybe firmer.
The red snapper, with its ever so slightly grilled top, was possibly the sweetest red snapper sashimi I have ever tasted. And as for the tuna belly, well, to those who are familiar with its full-on melt in the mouth divinely fatty taste, this needs no further description.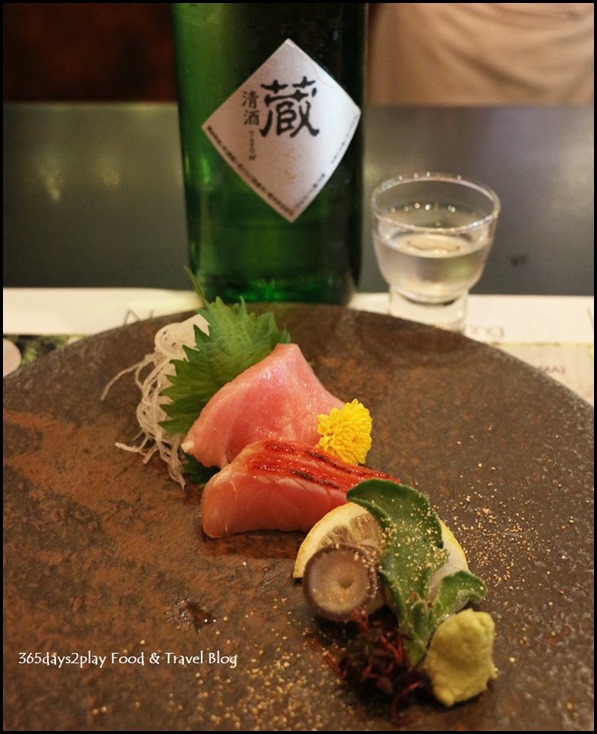 Kura Jyunmai GinJyo (Ichishima)
Sake Notes : A medium sake that was sweeter than expected with a wonderful taste. Since it was sweet I was surprised how well it paired with the sashimi, the salty soya sauce and wasabi. The sake was so nice it would be quite drinkable on it's own. Interesting fact : The Ichishima Sake brewery is 200 years old!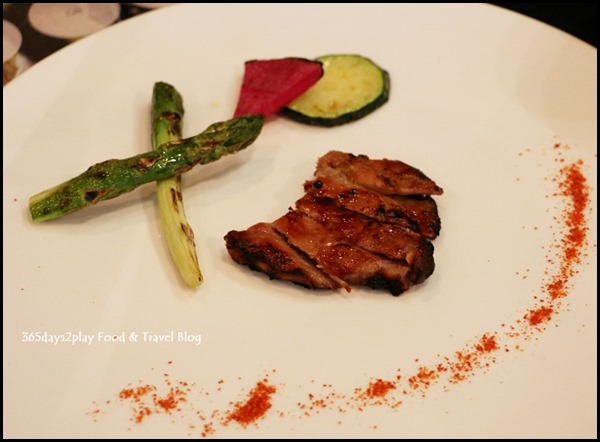 Kanzuri Pork (Charcoal Grilled Pink Pork marinated in Red Chilli Niigata Style & Vegetables)
Tender slices of Kagoshima pork charcoal, first marinated in Kanzuri chilli pepper before being charcoal grilled. This Kanzuri chilli pepper is no ordinary chilli and not easily found. It originates from Niigata, and the traditional way of making it is to leave the salt-pickled chillies exposed on snow and later fermented for 3-6 years with ingredients such as rice koji and yuzu rind. No wonder the slices of pork were extra umami! Heat wise, it's still very tolerable for a Singaporean.
Special shout out to the grilled vegetables which in my opinion were stars of the dish as well. The grilled daikon (the red slice) was amazing, so sweet and even had a hint of sweet potato. Why is it that I've never encounter grilled daikon before when it's such a lovely way of eating it?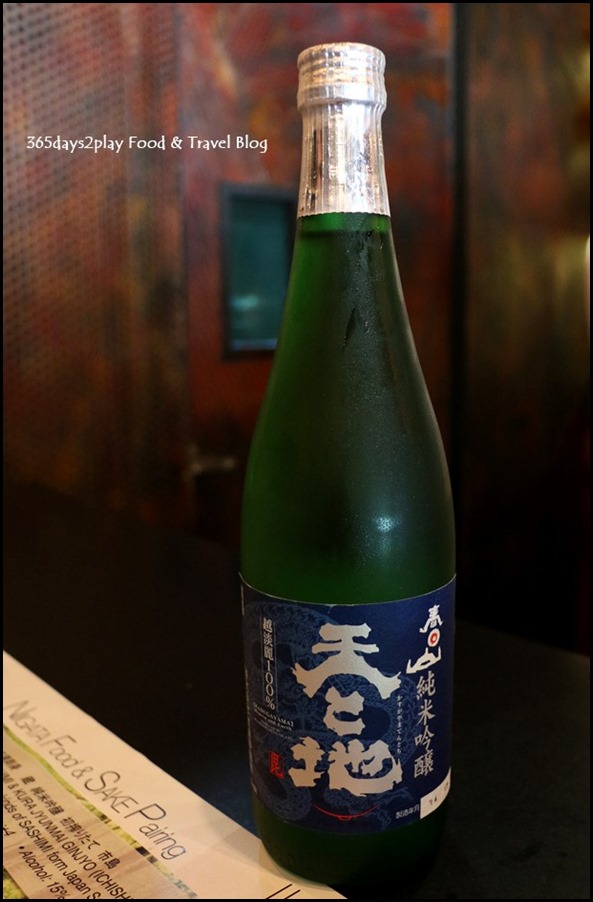 Jyunmai Ginjyo Ten To Chi (Musashino)
Sake Notes : Medium dry with a stronger but pleasant aftertaste then the first sake. It went well with the pork and would pair well with most foods given its well balance flavour.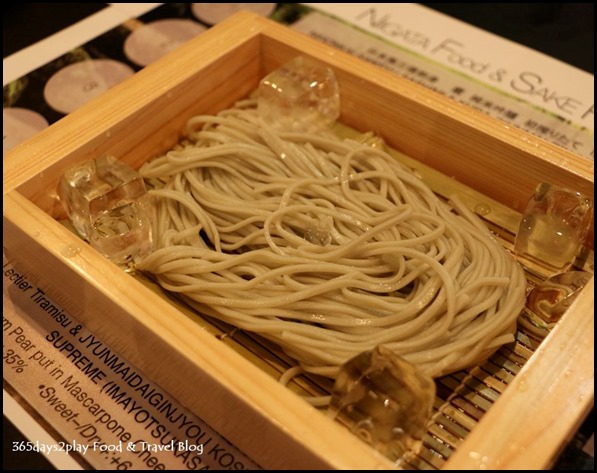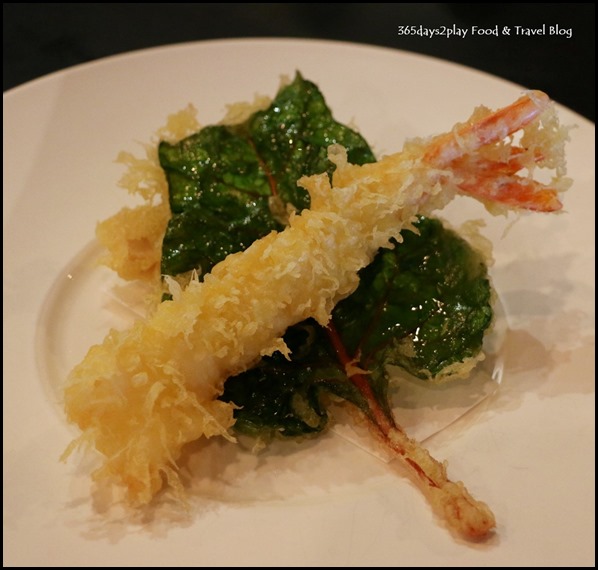 Hegi Soba — Chilled buckwheat noodle Niigata style served with seasonal tempura
You may have heard of Cha Soba and Shin-Soba, but have you heard of Hegi Soba? This is Soba that is flavoured with funori seaweed, and yes, originates from Niigata. And apparently, it's also a Niigata thing to serve the soba in a wooden box, as the box helps with freshness, flavour and is more hygienic.
I found the soba tasty, refreshing and with a firm bite. However, the highlight for me was the tempura prawn. It was SO GOOD! Although it wasn't piping hot after suffering a little from my lengthy photo-shoot due to the low lighting, it was still stunning! I can't quite put my finger on it but it must be a combination of the still light and crispy tempura and succulently sweet giant prawn. Even the thin as a paper tempura vegetable leaf tasted great.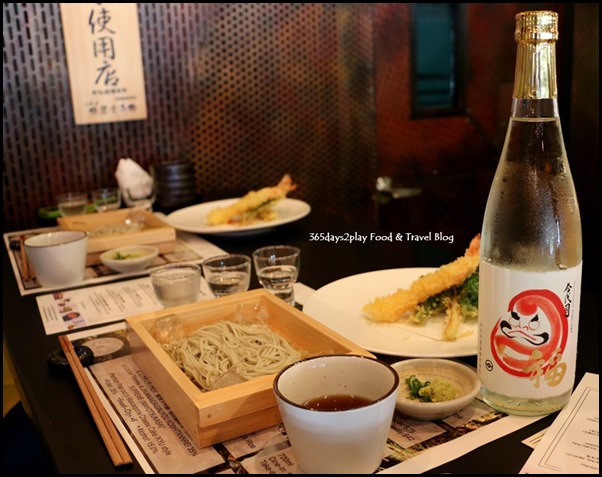 Furtune Junmai Gold Leaf (Imayotsukasa)
Sake Notes : Medium sweet sake with gold leaf inside. Easy to drink and complemented both the chilled soba and the wonderful tempura.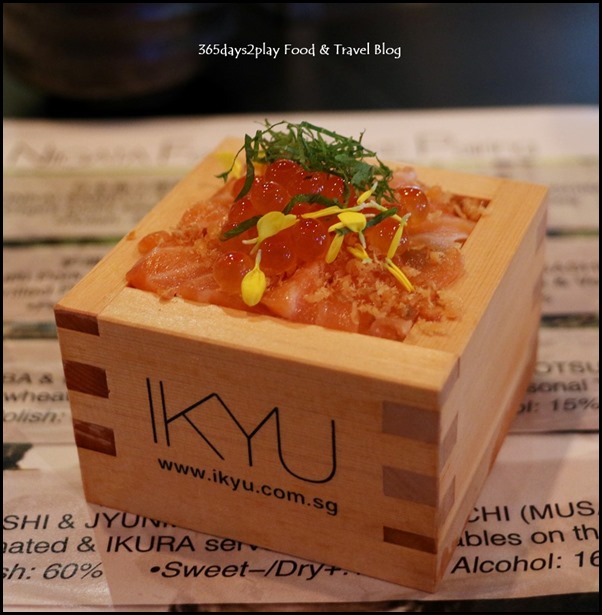 Wappa-Meshi (King Salmon marinated & Ikura served with vegetables on Niigata Rice
Cooking food in boxes is a Niigata specialty hence the inclusion of this salmon don with Ikura on Niigata Rice. It was a bit of a fumble to get to the rice given the size of the box but we were rewarded for our efforts with the sweet Niigata Rice.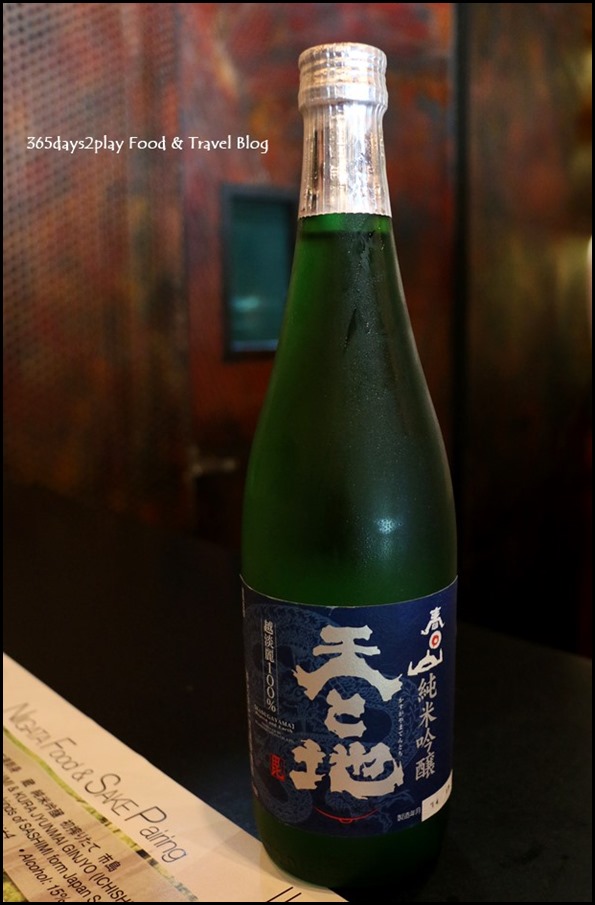 Jyunmai Ginjyo Ten To Chi (Musashino)
Sake Notes : Second sake of the day from Musashino brewery. Medium sake and although not as sweet and the first and third sake we tried, this one seemed to have a fruitier flavour.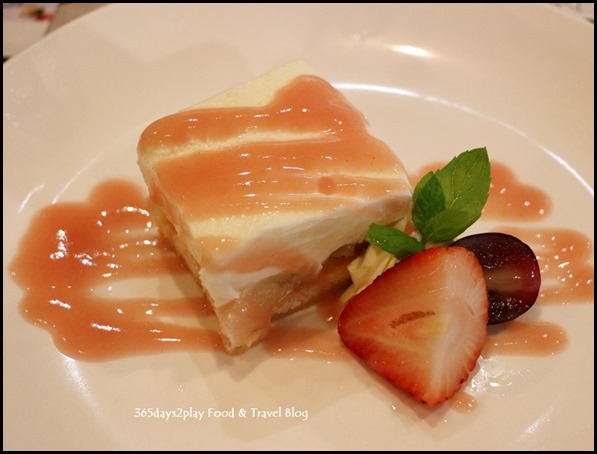 Le Lectier Tiramisu (Premium Pear in Mascarpone Cheese Cake IKYU style)
Traditional Tiramisu is made with lots of espresso, but Chef Seki has come up with his own version of Tiramisu by replacing the espresso with Le Lectier pears from Niigata as the sweetening liquid. At first bite, this reminded me more of a soft cheese cake rather than a tiramisu. I love the bursts of sweetness in the midst of the creamy mascarpone cheese, and the pears seem to hint of a peachy flavour too.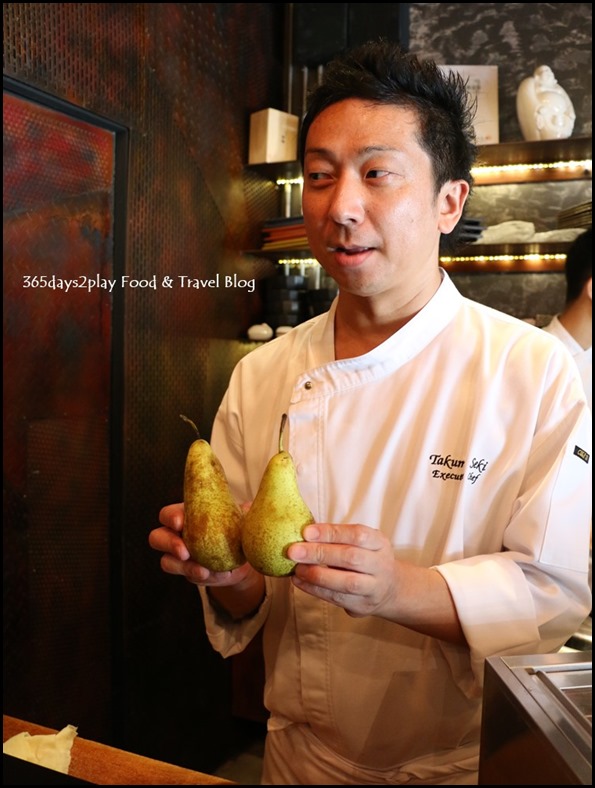 These are the Le Lectier pears which are famous for their smooth texture and fragrance.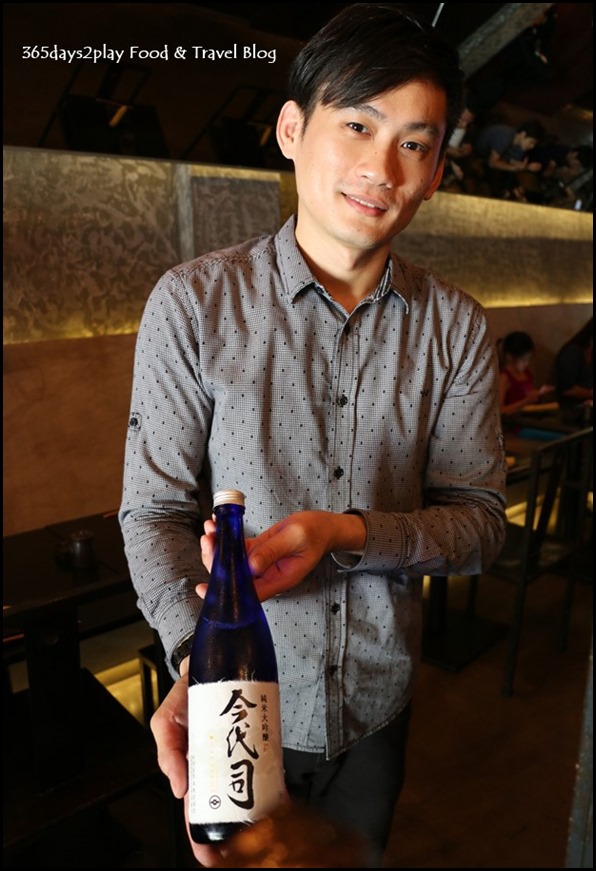 Jyunmaidaiginjyou Koshitannrei 35% supreme (Imayotsukasa)
Sake Notes : The sweetest sake of the day and another that was very easy to drink. Unlike dessert wines which are usually sweeter then the desserts they are paired with, this sake is sweet at first taste but after sampling the tiramisu, the sake tasted a little dryer. The more dessert I ate the more sake I wanted to drink as I was enjoying the sweet/dry combination.
Btw, the sommelier in the picture was the former Mr Sarawak. Ladies he is still available!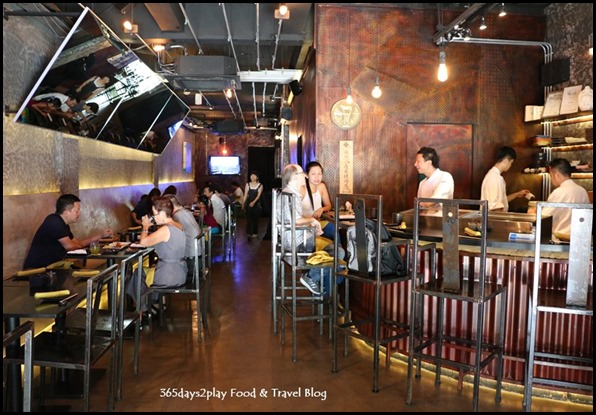 The Niigata Food & Sake pairing will run until 14 June 2015. Check it out!
---
Add me on Facebook, Instagram and Twitter if you want to be kept up to date with the latest happenings in the food and lifestyle scene in Singapore!
---
IKYU
5 yong siak street, singapore 168643
telephone: 6223 9003
email: ikyu@ikyu.com.sg