After the demise of my favourite cafe, the Corduroy Cafe, at Vivocity, I was suitably depressed upon the discovery that the replacement was not to be another cafe. Yes, the Queen & the Mangosteen is formally open, the latest British Pub in town. Not that I know of many others. I have heard of Irish Pubs though.
Anyway, as the Mangosteen happens to be my favourite fruit, and because of the nice decor, we decided to explore the place. 2/3 of the seating is actually Al Fresco, and when I went there for an early dinner at 5pm, most of the people were sitting outside anyway.
There isn't very much in the food menu, about 2 pages to be exact, and you better be a big fan of fries, because they sure serve a ton of it. I ordered my most favourite British dish, Breaded Scampi, mushy peas and fries, while the Partner ordered a Sirloin Steak. Regrettably, for $20, the Scampi was not enough to fill me, and I had to have 1/4 of the steak as well. The dish was nice though, I think mainly because Scampi is hard to be bad, but it wasn't spectacular. The flavour of the steak was nice, but it was overdone despite our order of Medium Rare. I've always wondered where to find Scampi in Singapore, and now I know where to find Scampi in Singapore!
The next table ordered Mini Burgers. Those look really nice and cute. 3 mini burgers but they look as big as 1 entire burger combined. I might order those the next time. I'd still like to go again. The atmosphere is nice and relaxing and I really wanna try out those mini burgers.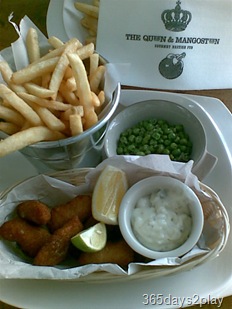 Behold the 10 Breaded Scampis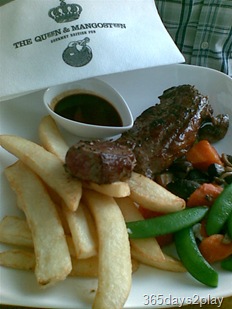 The Sirloin Steak.
They have bar seats, elevated seats as well as bench seats. Indoor is table seating.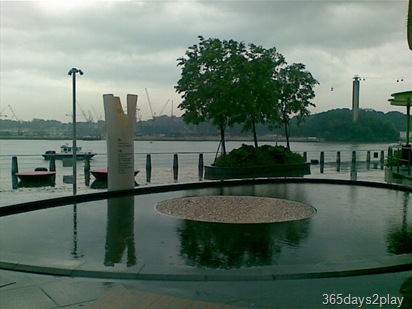 The peaceful view. Will look pretty when the casino is up.
Feb 22, 2009 @ 16:03