I think I might have mentioned before that I have a soft spot for cafes and restaurants with quirky names? Tell me if you don't think that the Queen & the Mangosteen sounds cool. The Queen & Mangosteen is a modern interpretation of the quintessential British gourmet pub with a whimsical flourish. Rumour has it that the mangosteen was reputedly Queen Victoria's favourite fruit. Hey whaddya know, the mangosteen is my favourite fruit too!!!
There's something about a place being known as a "pub". I think in the Singaporean culture, we think of pubs as sleazy places where good people don't go to. It's not the same case in the UK. After watching Jamie Oliver and Gordon Ramsay on TV, I've come to realise that families can go down to the pub for dinner. It just happens to be a place where you can also get alcoholic drinks.
Ah well, despite me saying that I like quirky names, this is only the 2nd time that I've been to the Queen & the Mangosteen. The 1st time being just after they opened a few years ago. Do you recall before this, in its place was Corduroy Cafe? I loved going to the Corduroy Cafe, it had such a nice ambience, and you had to walk past a long display of tasty jams and cakes! Wish the Corduroy Cafe was still around!
Anyway, my colleagues and I went down to the Queen & Mangosteen last week to celebrate someone's birthday. After perusing the menu, most of us got the set-lunch as the prices were almost similar to the ala carte menu but with an additional soup/dessert and drink thrown in.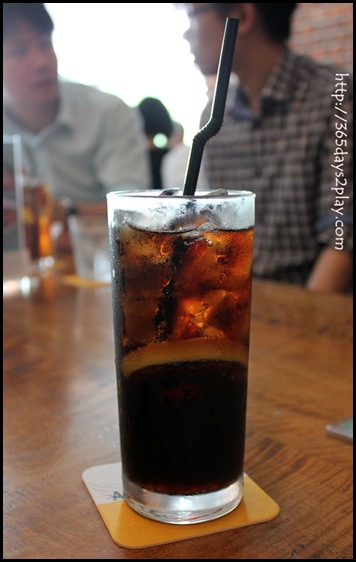 Free-flow of coke! Not that I need free flow coke. One glass is more than enough for me per meal.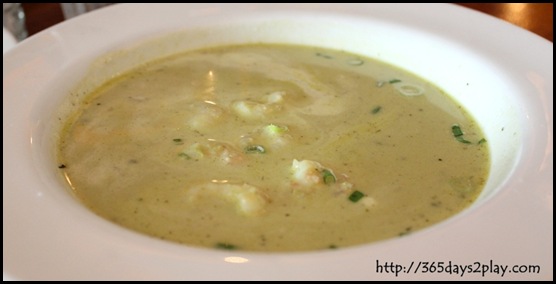 Green pea and scampi soup — This was the soup of the day. Everyone chose this except for me. The soup colour may put you off, but based on the slurps and grunts of approval, everyone enjoyed the soup very much. There were chunks of scampi (prawns) in it too. Darn, I regretted not ordering this!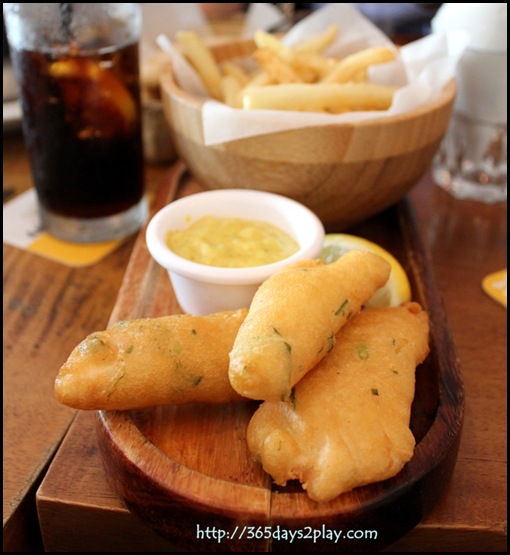 I had the fish and chips with their home made curry sauce. The fish is pretty good. It doesn't taste oily and goes well with the curry dip. Only grouse is, 3 pieces isn't really enough to fill you up if you didn't already have the green pea soup! The fries were also very good. Crispy on the outside and fluffy on the inside.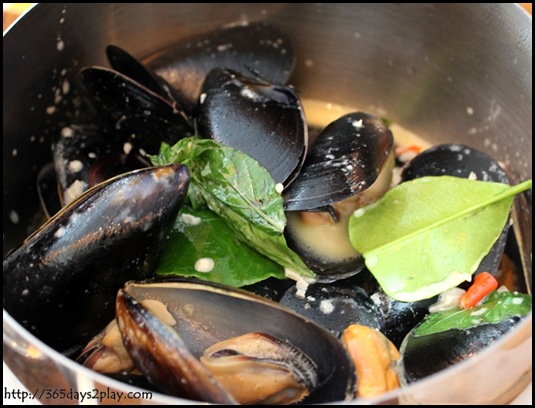 My colleague didn't get the set lunch. Instead she ordered this pot of mussels in thai curry sauce with crusty bread. I managed to snag 2 mussels from her and I tell you, the broth was AMAZING! There's a hint of Asian spice flavours to it so it's even better than the usual mussels in wine. I could have slurped up the entire pot of broth if I'd ordered this! I bet the restaurant knows how good the broth is that is why bread is also served on the side. The mussels were also very fresh tasting to me, although it seems in the end, my colleague had to discard 5 mussels as they were unopened. I'm definitely coming back soon to try this dish again. Not cheap at $30+.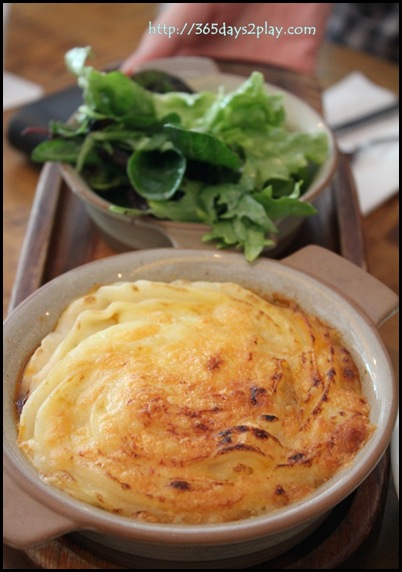 Cottage pie (beef) — Not sure how this tasted but I don't think my colleague had any complaints.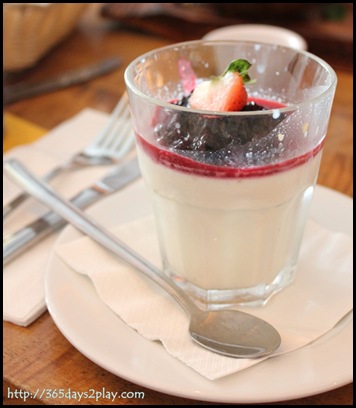 Ok this was the ickiest thing of the lot, and alas, it was my order! Instead of having a soup from the set lunch, I chose to have the dessert of the day. It happened to be panna cotta which is something that I like. I had in mind something like this from Gunthers, but obviously Gunther's is in a far different league. I should have known better. Even the presentation itself was a failure. Look at the icky liquid covering the sides of the glass! Well I suppose the only good thing is that if you like the flavour of this panna cotta, there is lots of it to enjoy.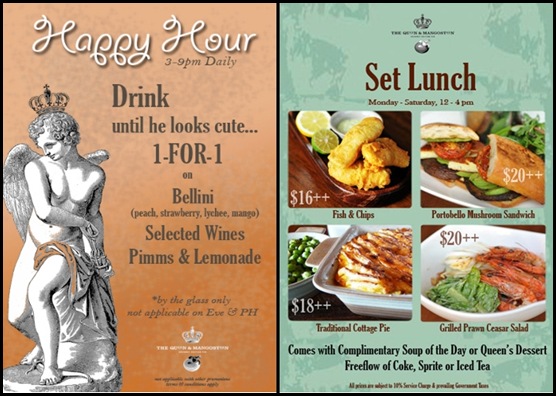 Drink until he looks cute! Don't you think that is so cheekily creative? I've a good mind to gather some of my male friends for a drink now. Ha. And I'll pay if it works.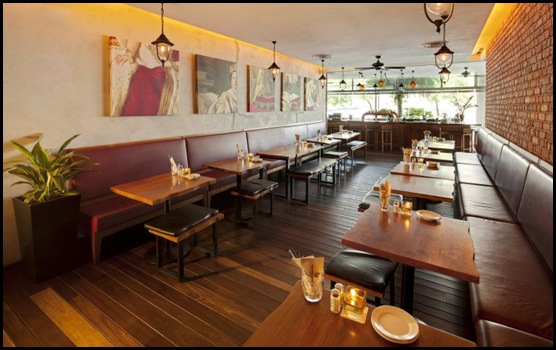 Here are some more pictures I took off the Queen & Mangosteen's website. As you can see, there is indoor seating as well as outdoor if you so choose.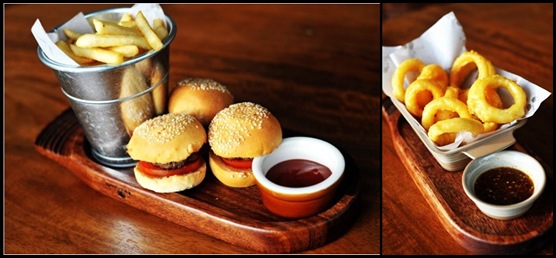 I tried those mini burgers the 1st time I went there. Pretty good and definitely pretty cute.
The Queen & Mangosteen
#01-106/107 Vivocity 1 Habourfront Walk, Singapore, Singapore 098585
Mon – Thu:11:00 am-11:00 pm
Fri – Sat:11:00 am-1:00 am
Sun:11:00 am-11:00 pm