When we first saw Smiths Authentic British Fish and Chips moving into Tanjong Katong, we were quite excited. I know there are loads of places that serve fish and chips, but here was a shop, a standalone fish and chip shop mind you, that was proclaiming its authenticity, obviously we were excited about it. Having been to the World Famous Fish and Chip shop in New Zealand, I had high expectations for Smiths' Fish and Chips. Did you know that fish and chips are the most popular form of fast food in New Zealand, more popular than McDonalds, KFC etc?
After Smiths opened, I chanced upon a couple of reviews that weren't very positive. Add the fact that the cheapest fish and chips at Smiths will set you back by at least ten dollars, the need to visit Smiths became less compelling. Alas, find ourselves at Smiths we did 2 weeks ago, when the cafe next door which we wanted to go to was full. Smiths was packed, so we had our hopes up.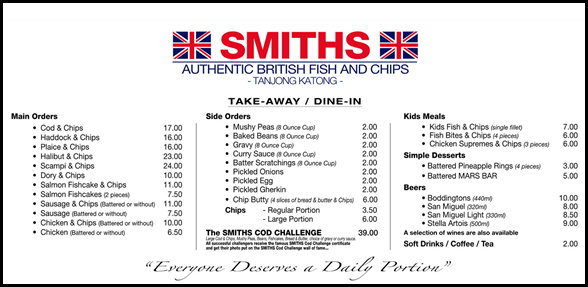 It was quite interesting to find that they have scampi and chip butty, which are things that are probably quite foreign to most Singaporeans. For the record, I love scampi. Scampi looks and tastes like prawns, but when I was in the UK, every single wait staff I asked said it was a fish. Wikipedia says it is a type of lobster. As for chip butty, that is a chip sandwich, ie chips in between slices of bread……..best not to know that these exist.
I ordered the Cod & Chips $17 while the Partner ordered the Dory & Chips $10. The Cod fish was quite terrible. It was tough, dry and totally lacking in flavour. Cod is one of my favourite fish (I am very fussy with fish) but if I hadn't personally ordered the cod myself, I would not have known that the piece of fish I was eating was cod, the most expensive item on the menu!!! I wonder if the cod had been sitting in the warmer for a long time until it had become dry, if most people order the cheaper options…
On the contrary, the Dory fish tasted much better. It was juicy and flavourful and I wish I'd ordered that instead and saved 7 bucks, and so did the Partner because he had to relinquish half his lunch to me.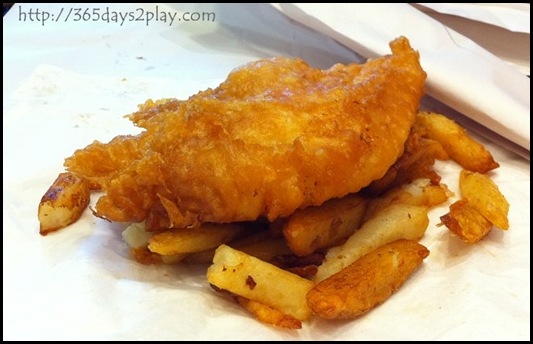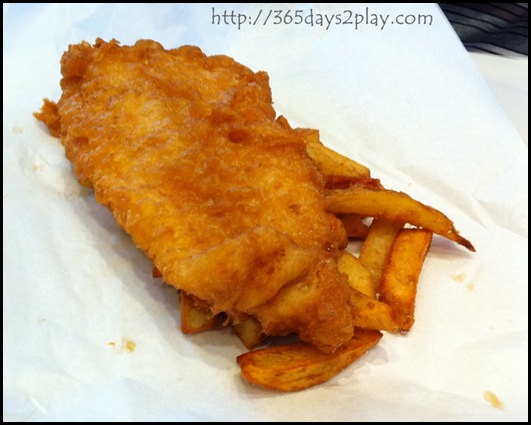 I have to say, these fish and chips are darn oily. They don't come with the mushy peas either, you have to pay $2 to get some. You have to pay $2 to get some gravy too. The batter is pretty thick, so if you're on a diet, this is really not the place for you. But, if you're not on a diet, the batter is quite tasty. In fact, you can pay $2 to get more "batter scratchings"…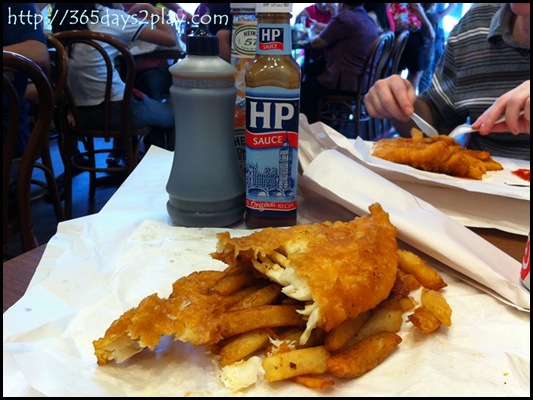 HP sauce or vinegar to go with your fish? It's common to have fish and chips with vinegar in the UK and in NZ. Smiths also provides tomato sauce. You won't find chilli sauce here. I tried.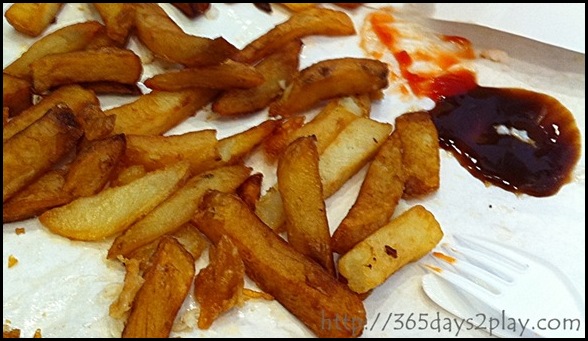 I would possibly give the fish another chance. But Smith's chips were probably the soggiest chips I have ever eaten. If only I could order the Dory fish on its own without the side of chips.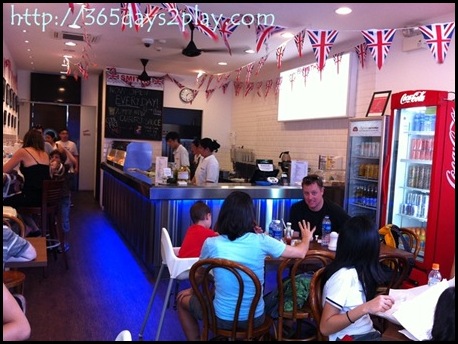 On the whole, I think the prices are too high for a non-restaurant setting, for the quality of food served and for the portion size.
***Photos all taken using the iPhone 4***
Smiths — Authentic British Fish and Chips
230 Tanjong Katong Road,
Singapore 437018
ECP – Exit 11
Directions to Smiths Fish and Chips
Tel :9639 8348
http://www.smithsfishandchips.com