[Media Invite]
Are you a lover of chocolate? Or desserts? If you are, you will want to check out The Courtyard's new and improved Chocolate Buffet. It's not just any o spread of chocolate desserts, new elements have been added to up the excitement factor.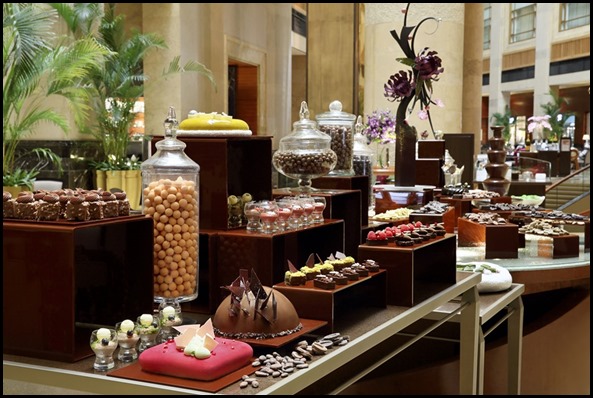 First up, the Chocolate Buffet now offers a small selection of savoury food. Hands up those of you who feel intimidated over the idea of having to plough through a ton of decadent chocolate? We all love chocolate of course, but as adults we also know there is a limit to how much of the same thing we can consume before we reach the dreaded "palate fatigue". Now, you can take a break from the decadent chocolate items with savouries like Cocoa and Spice-rubbed Baby Pork Ribs or Salmon Mini Quiches. You could also treat it like a light dinner too, if you don't want the inconvenience of having to separately eat dinner prior to the Chocolate Buffet.
For the serious chocolate lover, you won't want to miss the Valrhona Tasting Table, where 12 varieties of chocolate in bite-sized coins of varying cocoa percentages are available so that you can savour the chocolate unadulterated.
There is even a made to order plated chocolate dessert at the Live Nitro Station. Here, liquid nitrogen is used to freeze the ingredients such as chocolate sponge, crumble, espuma and meringue, which will be hidden under a chocolate sphere for you to dramatically break open.
Oh, do not miss out on the Hot Chocolate Trolley because that's what happened to me as it was hidden behind the Live Nitro Station! This is where you can create your own hot chocolate from 6 types of Valrhona chocolate and spices such as cardamom, chilli and anise.
And of course, the actual Chocolate Buffet spread of various desserts using chocolate in one way or another. Think cakes, macarons, tarts, shooters and the chocolate fountain. Scroll down to see more pictures of the spread and cute photos of the toddler stuffing his face with chocolate éclair.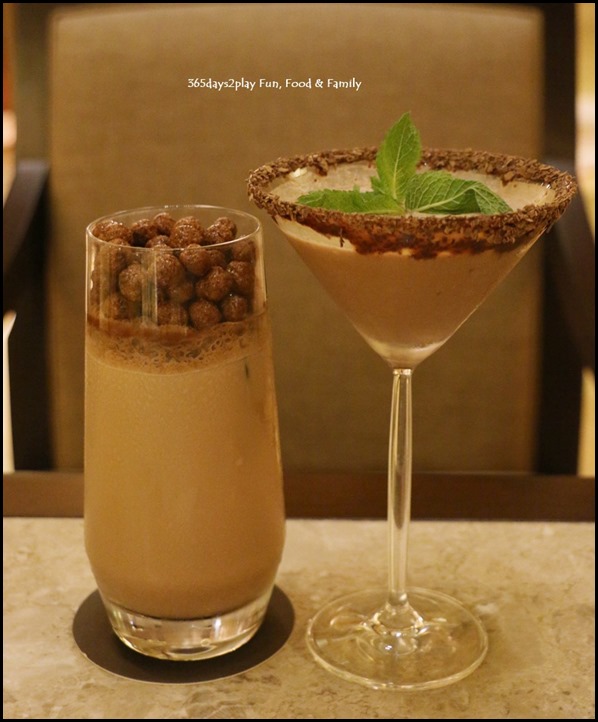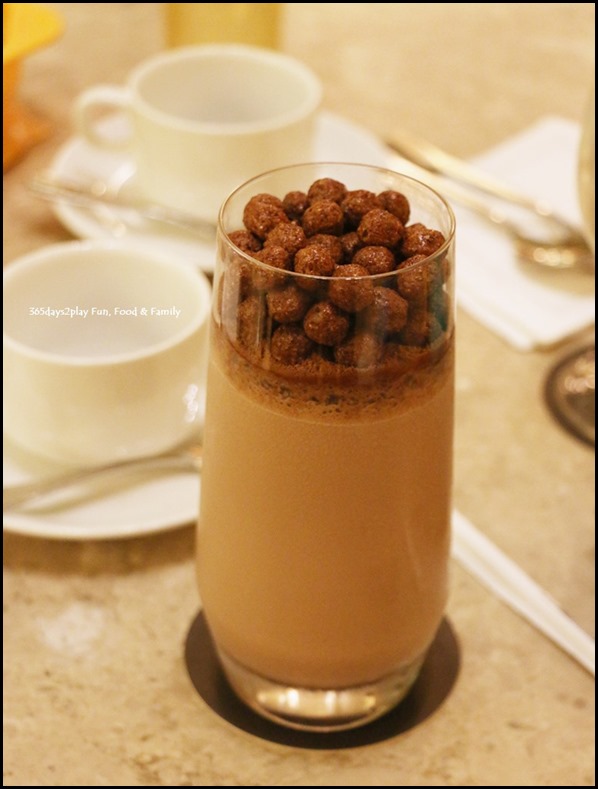 We started off our buffet with this Milo Zero mocktail and the Mile Zero cocktail specially created for Fullerton Building's 90th Birthday. The former is made from fresh milk and milo powder and topped with lots of Milo cereal crunch balls while the latter is a vodka and bailey's concoction. I only tried the mocktail and I must say this drink was one of the highlights for me. Apart from looking so deliciously thirst-quenching, it tasted so good. It tastes more like iced-chocolate topped with milo powder, rather than a pure milo drink, but I was told that apart from the milk, only milo was added. Still, the combination worked very well and don't be surprised if you see me at Fullerton again just for this drink, as it's also available on the ala-carte menu. Btw both the cocktail and mocktail are add-ons to the buffet at $15 and $9 respectively.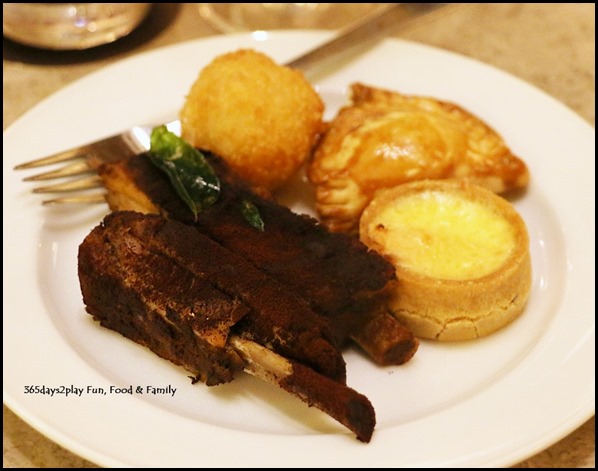 Of the lot, my favourites were the salmon quiche and the spice-rubbed baby pork ribs. Although I don't find it necessary to also have chocolate in the savouries, the way the chef has done it, the chocolate does complement the food. I went back for seconds.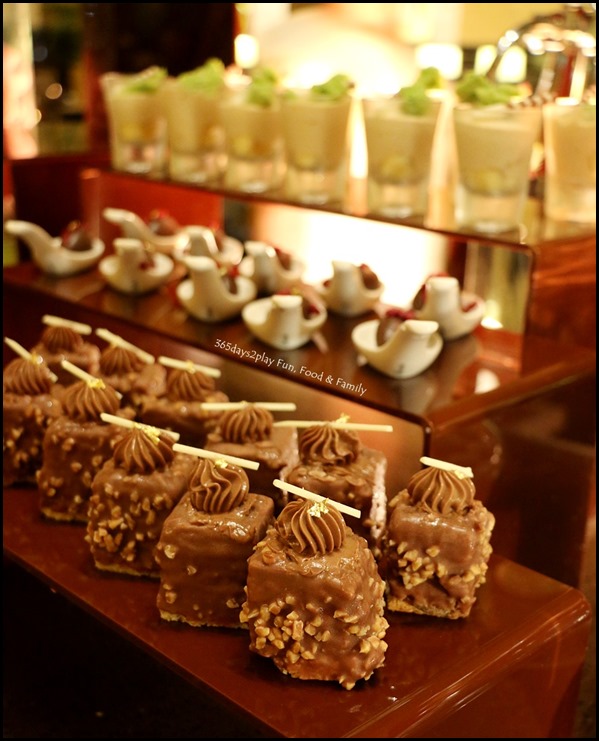 Oh these Snickers are so rich! Be warned that if you attempt to finish this entire piece yourself, you may not have space for a lot more of the other items.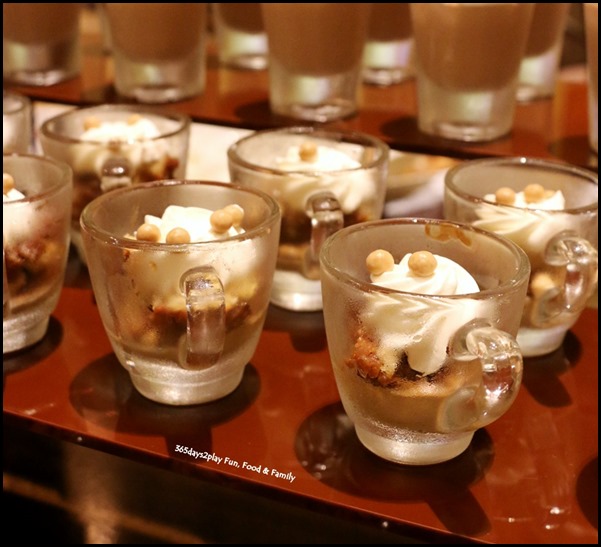 Light and creamy assorted shooters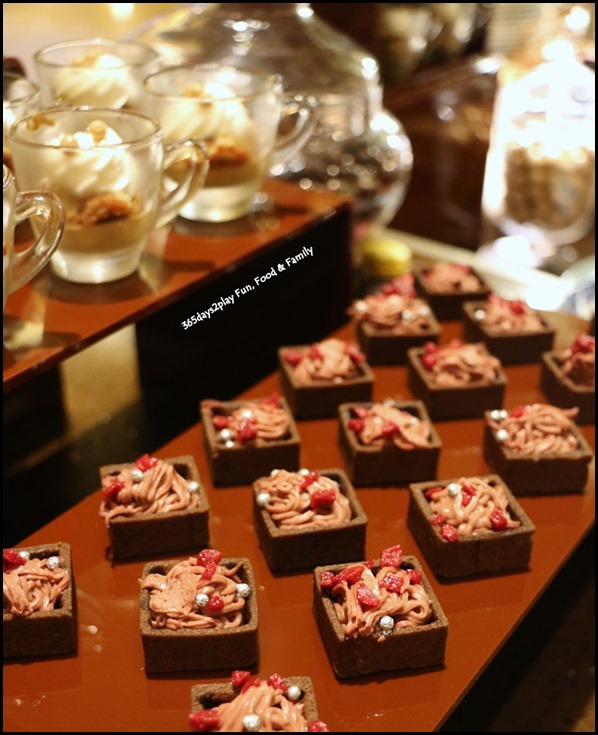 I liked the tart bases, they were crispy and very chocolatey.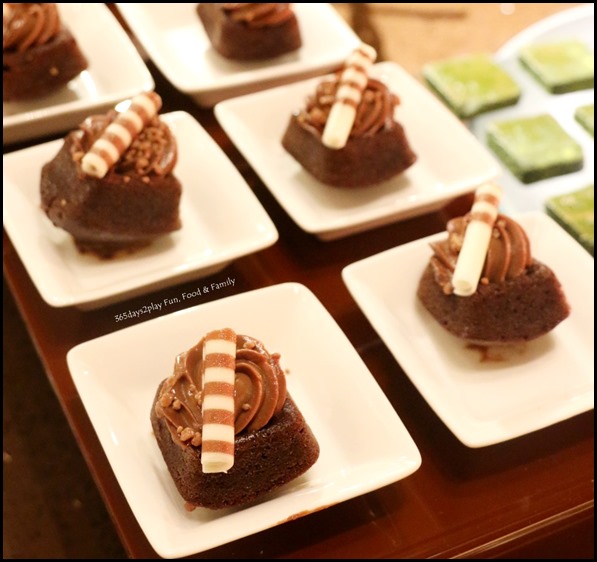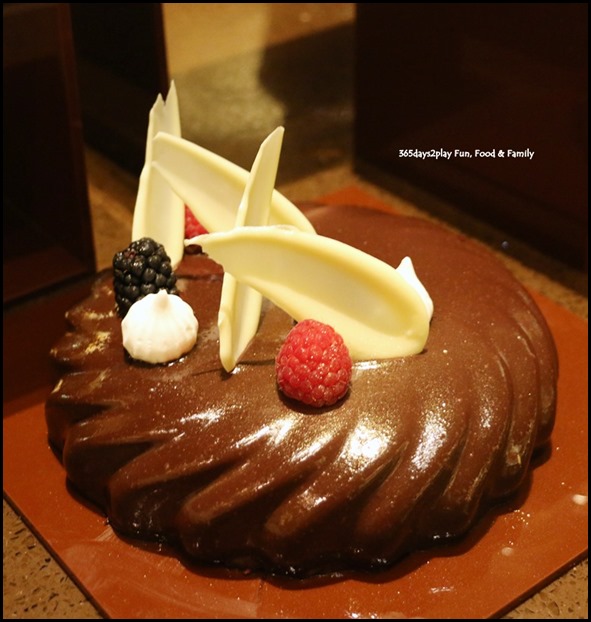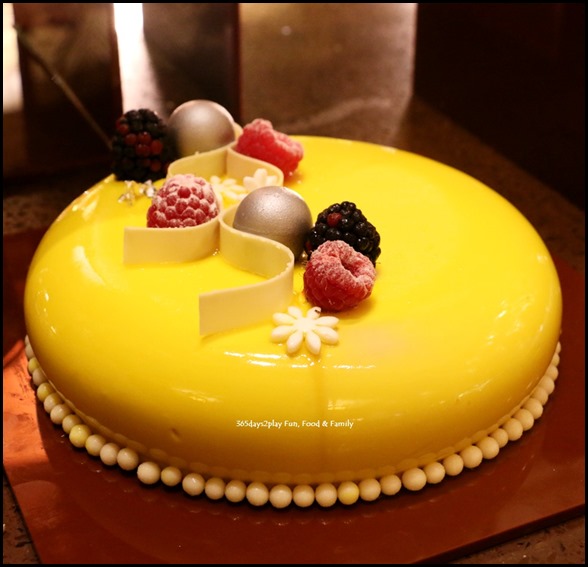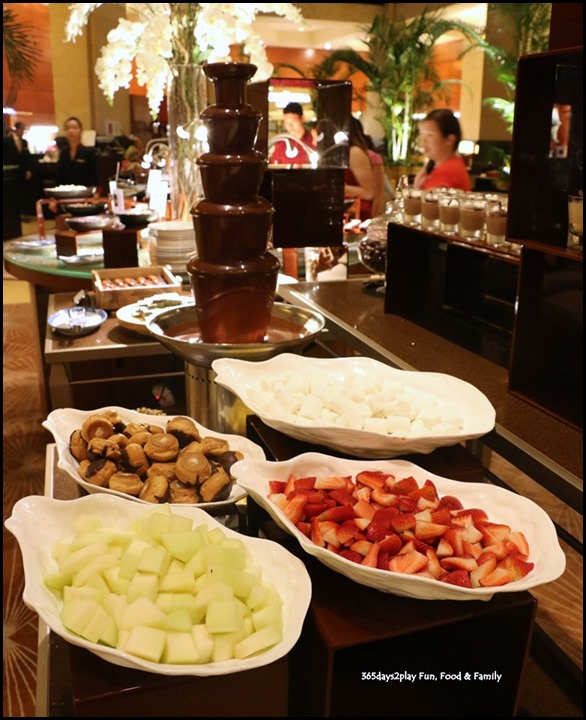 The must-have at every dessert buffet, the chocolate fountain! But I didn't go for it because seriously, no space! I went for the fruits as palate cleansers and the chocolate eclairs!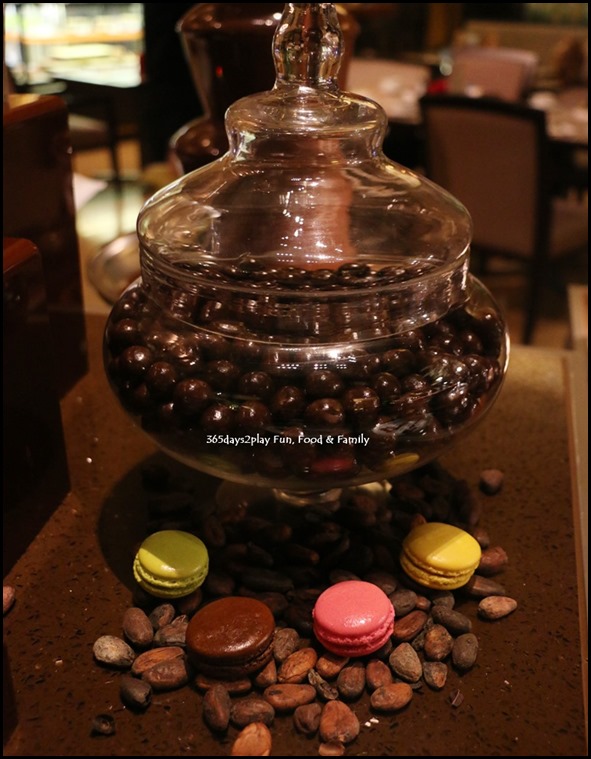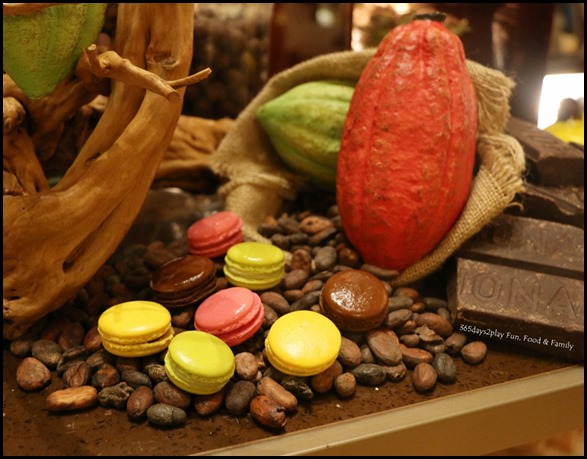 The macarons here are lovely. Super crispy and light shells, sandwiched together by a thin layer of cream. Even baby liked it, but then again that's needless to say.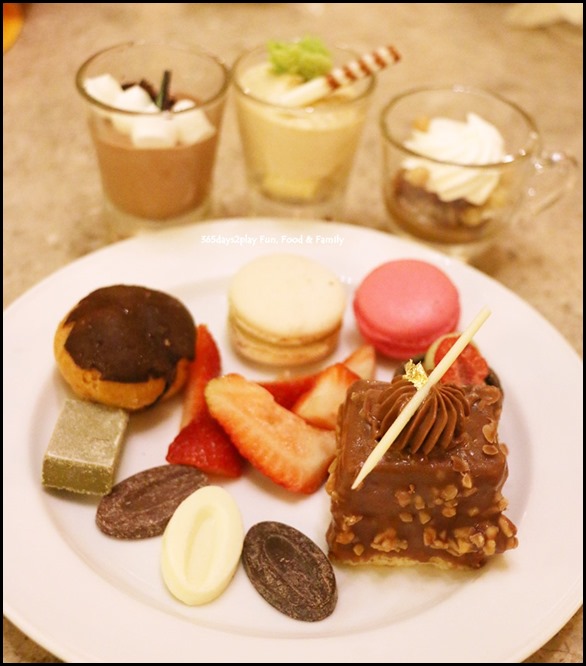 Oh my….this was just 1 helping….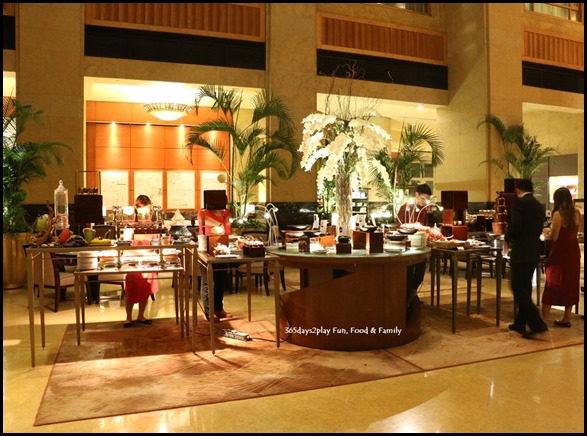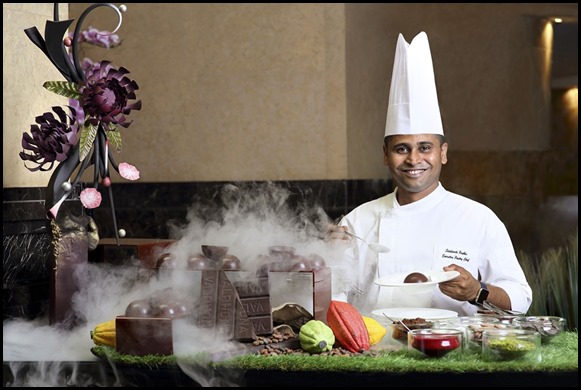 The Live Nitro Station where you can get your frozen chocolate plated dessert. Mine was half cold, half room temperature for some reason though.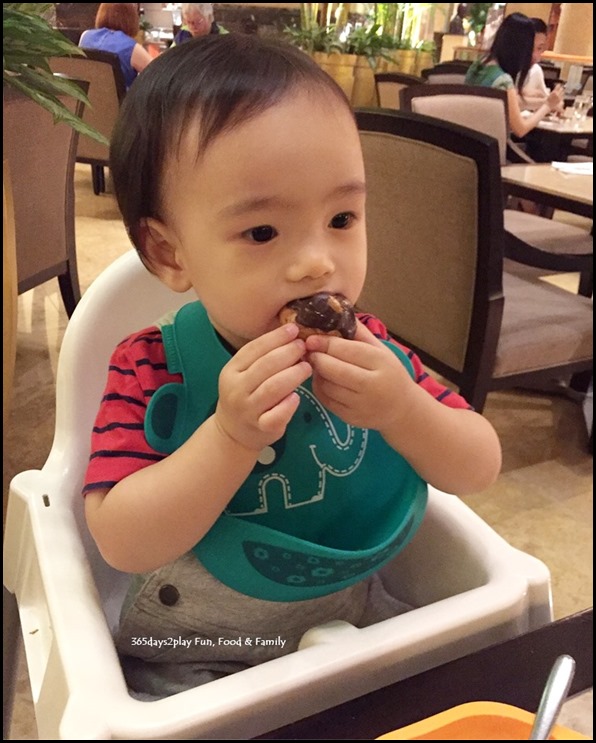 First time eating an éclair. At first I wondered if he would like it. I guess there's no doubt that he did!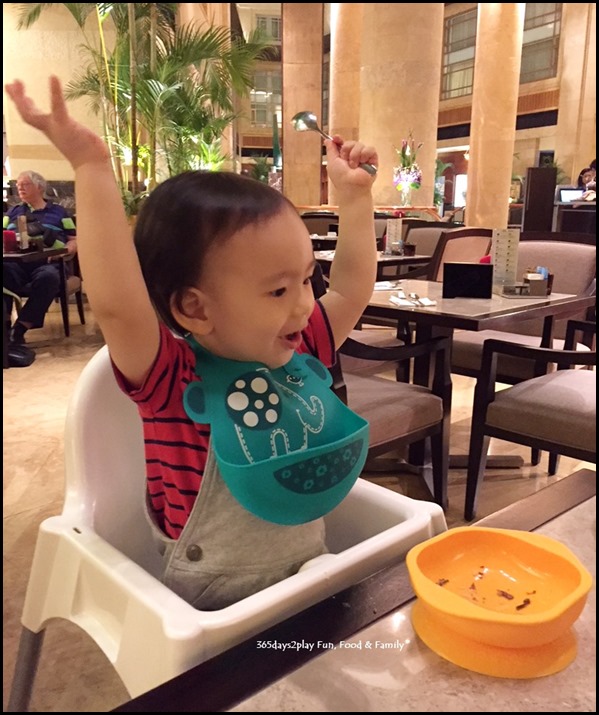 Finished!! Not sure why he's so happy though. Did we say we were going to refill his bowl?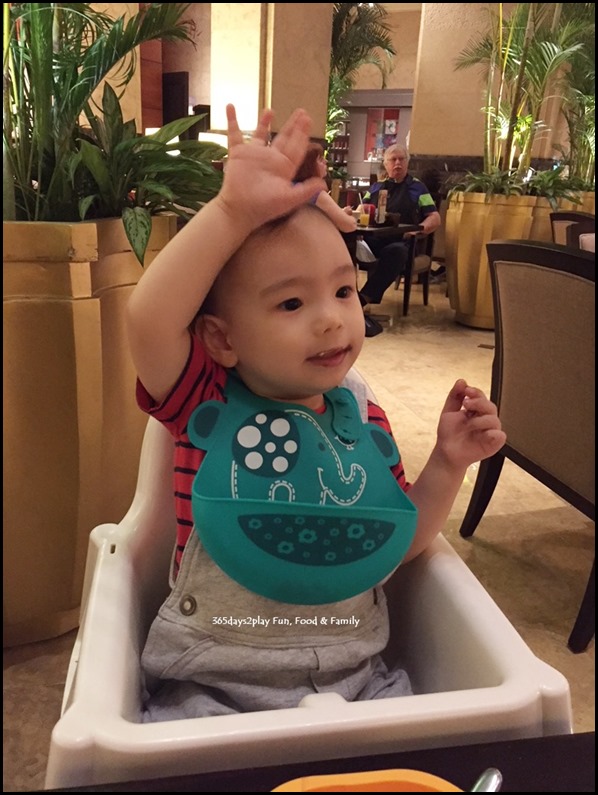 More please!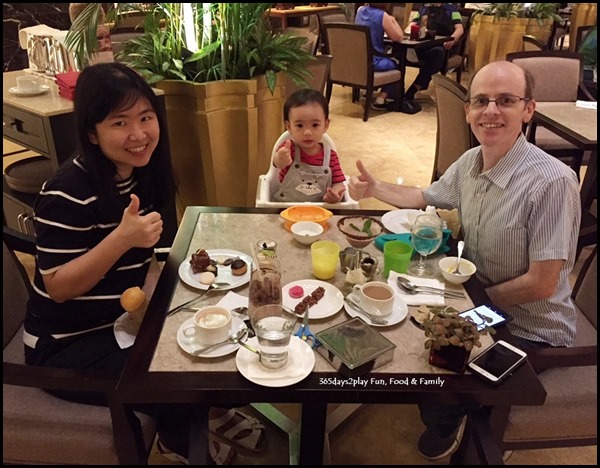 Thumbs up to a great Saturday evening! The chocolate treats were all delicious, and it was a pity we simply had no space to try every single thing. If there's anything that needs to be improved, perhaps some lighter cakes with no cream (eg chiffon cake), and more familiar favourites like tiramisu and black forest cake. My favourite all-round chocolate cake (when I'm not eyeing a more decadent one) has got to be the black forest cake. Love the sponge, and the sweet cherries that help to break the monotony.
---
Add me on Facebook, Instagram and Twitter if you want to be kept up to date with the latest happenings in the food and lifestyle scene in Singapore!
Get reviews of other Fullerton Hotel F&B outlets
---
THE FULLERTON HOTEL SINGAPORE
"‹1 Fullerton Square Singapore 049178
T: +65 6733 8388
The Courtyard's Chocolate Buffet
Every Friday and Saturday | 8pm — 11pm
Adult $45++  | Child (6-11yrs) $22++
https://www.fullertonhotels.com/the-fullerton-hotel/chocolate-buffet.html
Chocolate Buffet Full Menu
Reservations