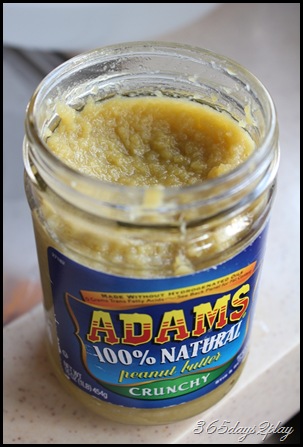 After all that round island kaya sampling I did this month, I decided to make my own just to see if I could stand up to the big boys. Because you know they always say nothing beats home-made.
Despite many people labelling kaya making as laborious and difficult, I actually found it surprisingly easy. All I did was to whisk 5 eggs, 1 packet of coconut milk and 200gm of sugar in 1 bowl. That took less than 5 minutes. The next step was to transfer the liquid into a pot and gently simmer on the stove while stirring non-stop. I also added a few strips of pandan leaves for aroma and colour. The Kaya is ready when it has reached your desired consistency. Some like watery kaya while others like theirs thick.  The kaya you see in the picture above (I put it into my empty peanut butter jar so don't be confused) was the result of 45 minutes of simmering and stirring.
EASY PEASY!
OK easy enough, but laborious admittedly. Still, if you manage to get your fire really low, or if you have a double boiler, you only need to stir periodically. Kaya burns easily due to the sugar content. Also, the constant stirring is to prevent the mixture from getting so hot that the eggs turn into hard boiled bits.
The recipe definitely needs some fine tuning though. It was just a little too sweet for me, so I would reduce on the sugar the next time. My mother said it lacked the eggy aftertaste, so perhaps 2 more eggs? And maybe coconut cream instead of coconut milk, for a richer kaya. But still, it was wonderful, and definitely better than any cheapo kaya you can procure at the supermarket. I put a big blob of the kaya onto some cream crackers and they were superb.
Try it everybody! Make your own kaya at home! Surprise your friends with your very own kaya (cheaper than store bought presents!)