As I mentioned in an earlier post several months back, there is indeed a dearth of cheap and good places in the East Coast Park area to have a cuppa and a snack when hunger pangs strikes at night. I mean there is only so many times you can go to McDonalds, and the East Coast Park McDonalds happens to be particularly dirty thanks to the sand and mud brought in by the beach goers.
On the previous occasion, we'd originally agreed to go to Old Town White Coffee, but we made the mistake of veering into Starbucks, where we encountered the $5 coffee, and the nondescript muffin. This time round, Old Town White Coffee it was.
Old Town White Coffee is famous for its White Coffee (obviously…..) but they also have Old Town White Tea for teetotallers. The Old Town flavour is distinctly different from that of Yakun and Killeney Kopitiam. The coffee we ordered was really strong and intense. In all aspects, it probably was a good cup of coffee, but I think I happen to prefer the more Singaporean type of coffee, if there is such a thing.
The Old Town White Tea on the other hand, was really terrible to me. No amount of sugar I added could mask the nastiness of the taste. Maybe it is an acquired taste, of which I think I will never acquire. The manager was kind enough to offer to change the tea to another freshly made cup of coffee at no extra charge.
One's Tea and one's coffee but the colour seems to be the same huh.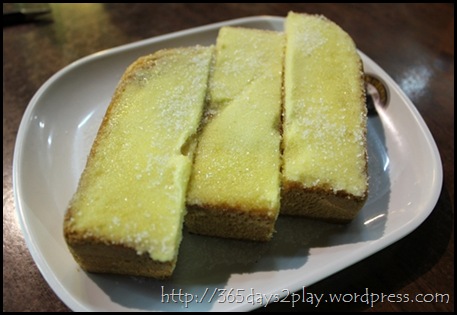 We substituted the Kaya Butter Thick Toast for Butter Sugar Thick Toast, which also cost the same $2.50. Thought it was rather expensive even though the bread is larger than other coffee joints. I'm 99% sure the yellow spread wasn't butter though, which is quite bad because I have a policy not to eat margarine. I still stand by my opinion that ToastBox serves the best butter sugar toast.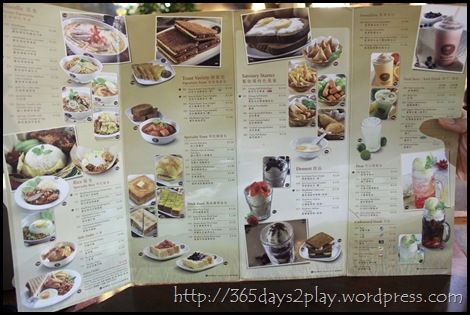 Old Town White Coffee is like the Killeney Kopitiam chain, where you are able to get local meal delights such as Old Town Rendang Chicken Rice $8.50,  Hainanese Chicken Chop with Flavoured Rice $8.80 and Ipoh Chicken Hor Fun $6.20. They also seem to have a large selection of non traditional drinks like soda floats.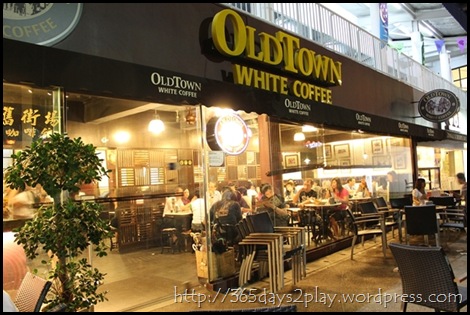 Old Town White Coffee outlet at Big Splash Singapore
Old Town White Coffee
Blk B, Unit #01-04/05 Big Splash, 902 East Coast Parkway, Singapore 449874
Tel:+65 6344 4404
Mon — Thur & Sun : 8am —11 pm, Fri — Sat : 8am — 12am
Also available at Bukit Timah, Cineleisure, Far East Plaza, Jurong Point, Suntec City and Toa Payoh