Having exhausted all our dining options around the City Hall area, we decided to explore the Tanjong Pagar area today. The Chief Technology Officer (henceforth known as "CTO") had laid down the gauntlet to find an interesting place to dine at at Craig's Road, and so Craig's Road it was.
Office workers who work near the Tanjong Pagar area are really lucky because there are so many hole-in-the-wall type of eateries here! From Tanjong Pagar MRT station, we turned down numerous side streets, from Tras Street to Wallich Street to Duxton Hill and finally Craig Street (yeah we took the long way). So many eateries, Korean, Thai, Japanese, Western, Pub Grub! I gotta come back here again soon to explore the restaurants we walked past!
In the end, after the roundabout walk, we said that's it, we're stopping at the next one, and so we plopped ourselves into Pink Dining & Bar. It's a really casual eatery, whose selling point is to provide healthy yet great tasting meals under $20.
Pink Dining and Bar's menu really features a whole assortment of popular dishes, tweaked to make them healthier. Apart from employing healthy cooking methods such as baking instead of frying, they use low-calorie butter spray instead of butter. The desserts are all made without sugar. There's even this flourless, butterless and sugarless chocolate brownie!!
I think all those calorie watching people out there would love this place. For me, I don't watch calories per se, rather, I go for natural foods. If sugar has to be substituted with a chemical additive, and butter with margarine, then give me sugar and butter any day.
Despite all the healthy spiel, which can make foodies skeptical as to the taste of the food, I must say that we enjoyed our main courses very much.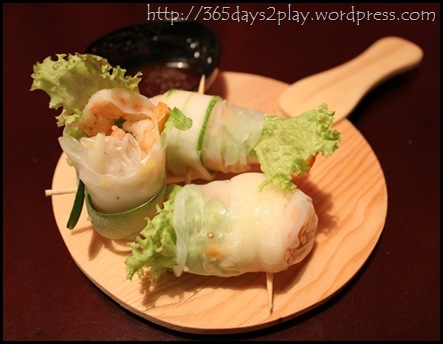 We ordered the Prawn Rolls. We both felt the Prawn Rolls were rather bland despite the succulent prawns and the spicy sauce accompaniment. Somehow the rolls lacked oomph and the taste of the raw vegetables overwhelmed the prawns.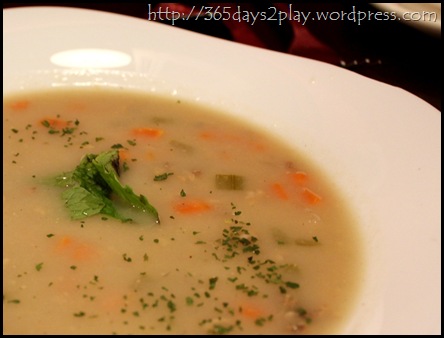 Low Fat Clam Chowder — Not the thick, heavy and hearty types that are found in certain establishments. This was nice and light, pretty tasty, but once again, lacked oomph. Maybe this is as good as it gets if you want healthy low-fat food.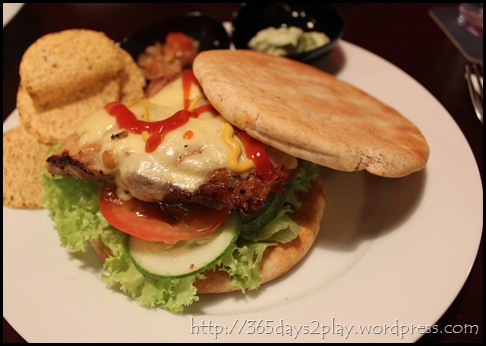 The main courses were where we felt the restaurant really showed its prowess. The Crazy Chicken Burger I had was very nice, given the fact that the chicken was oven-baked. The special brown sauce used paired well with the crisp cucumber and tomatoes. Even the bread was good.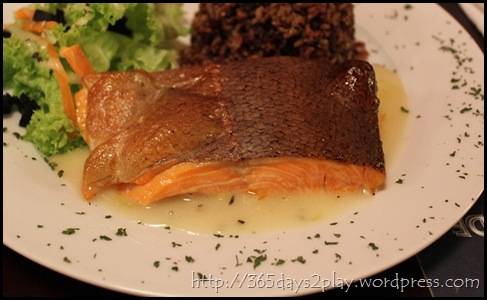 This Baked Salmon was the highlight of our entire meal. I really regretted not ordering this even though the Chicken Burger was also good. The huge serving of salmon was super yummy! The flesh was flaky and juicy and cooked to the right doneness. You will be surprised how many top notch establishments ruin a good salmon by overcooking it! The salmon skin was also praiseworthy, being super crispy, adding an extra kick to the already delicious salmon flesh.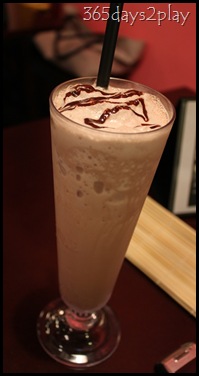 Unfortunately, the CTO didn't like the Chocolate Indulgence drink, complaining that it was not chocolatey enough. I believe whey was used instead of milk to make it low-carb.
On the whole, we had a good meal thanks to the main courses. Personally, I would skip all the desserts because I think some things are just not meant to be altered, even if in the name of health. So you can't always have your cake and eat it. But I would definitely return, just for that heavenly salmon!!!
Pink Dining and Bar
4 Craig Road, Singapore 089664 (just off Tanjong Pagar Road)
Tel: 6222 5007, Fax: 6222 9311
Opening Hours : Monday — Sunday, 11 am — 12mn