Living in the East, I was really in two minds as to whether to accept this invitation to try out a new Tonkatsu restaurant at JCube in Jurong. Mention Jurong to us Easties and it's akin to telling us to travel to Malaysia! Well almost. So I had really high expectations of Ginza Bairin, and to cut the story short, I have to say Ginza Bairin does a mean Tonkatsu!
Ginza Bairin boasts an illustrious 85 year history. Established in 1927 by Nobukatsu Shibuya, Ginza Bairin was the very 1st Tonkatsu restaurant ever launched in Ginza Japan. And get this, it appears Ginza Bairin "invented" the Katsu Sandwich decades ago, when there was a severe shortage of rice after World War II. Today, it is helmed by Masaya Shibuya, the great grandson and 3rd generation owner of Ginza Bairin.
I didn't know about all this before I tried the dishes and I was thinking to myself, wow this is pretty good. I mean the place looks pretty casual, maybe slightly better than a fast food outlet, yet the food was vastly different!
***Special promotional teaser right at the bottom of this post. Don't miss it!***
Special Katsudon (1958/Apr) – $16.50
The Special Katsudon was one of the dishes we tried. You don't even need to eat it to tell that it is more unique than the usual Katsudon because instead of just pork and omelette, there is a sunny side up waiting for you too! Why I have not come across any other restaurant doing Katsudon this way baffles me because now I think I'm ruined for all Katsudon without sunny side ups!
Needless to say, the additional egg incorporated more flavour to the already flavourful dish. The pork was very tender and juicy, without tasting oily as Katsu don can sometimes be due the batter. The rice was also piping hot and fluffy. Is it any wonder that this dish was awarded the No1 Donburi in Japan?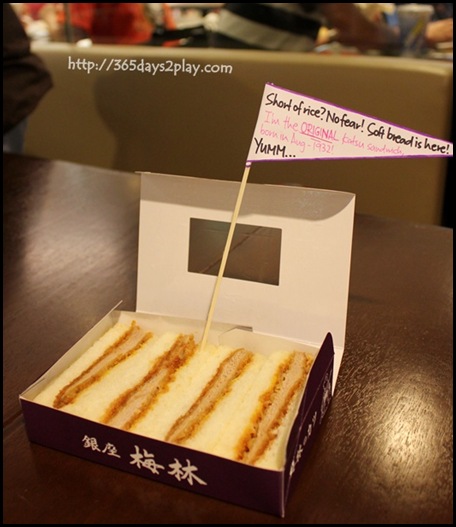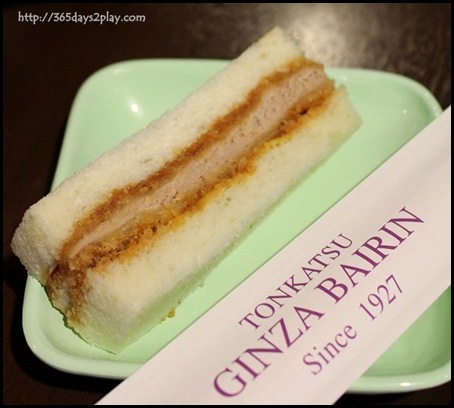 Tonkatsu Sandwich – $9.10
I was in the midst of eating this when I was told that Ginza Bairin was the creator of the Tonkatsu Sandwich just after World War II. I nearly choked when I heard that because how often are you eating in a restaurant which claims to be the "inventor/creator" of a particular food?
This was my 1st time eating a Tonkatsu sandwich. As with the other dishes featuring the breaded pork, the pork was tasty and tender. I love the sweet Tonkatsu sauce, which is made with a special blend of spices, vegetables and apples to help bring out the natural sweetness and robust flavours of the pork. The bread was soft, like Gardenia bread but thicker.
While the Tonkatsu Sandwich tastes nice, and is surely a good idea for people eating on the go, as the slices are neat and can be put in the mouth easily with one hand, I can't help comparing this sandwich to the traditional more "Western" kinds which will have vegetables to make it a more healthy meal. The Tonkatsu Sandwich seems on the small side and I doubt I would be full after eating just this.
Black Pig Katsu Curry – $17.50 (100g)/$19.70 (140g) with Ala-carte Topping: Ebi Fry – $3.50/pc and Cheese Pork – $3.80/pc
If you have calorie space to spare, you might want to consider this dish. Only Kurobuta pork loin is used. I'm salivating as I write this because this was also a very delicious dish. For the 1st few bites, you are hit by the crispy panko covering, and then by the juicy and fragrant slices of black pig. The combination is really heavenly, and that's not all because there's still the curry, which adds a slightly spicy dimension and also helps to cut the greasiness a little.
If you have $$ to spare, do get the Cheese Pork too. Ooey gooey melty cheese in the middle of meat, it is comfort food at its best for me.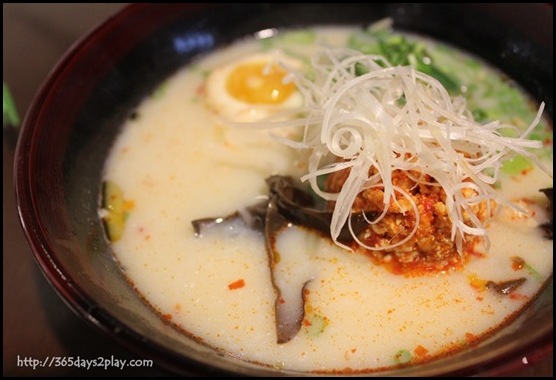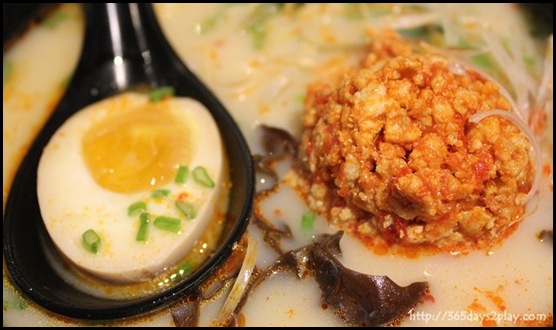 Spicy Tonkotsu Ramen – $15.50
A word of warning for those who can't take spiciness, this is one fiery cauldron. I was warned so I sipped a little of the broth first without stirring in the chilli minced meat. I liked the broth very much, as it had the type of flavour that keeps you coming back for more. The minced meat was pretty forgettable though, more of a novelty in the dish in fact. The noodles were also not Q enough for me. But I did like the soup very much, both before and after stirring in the chilli.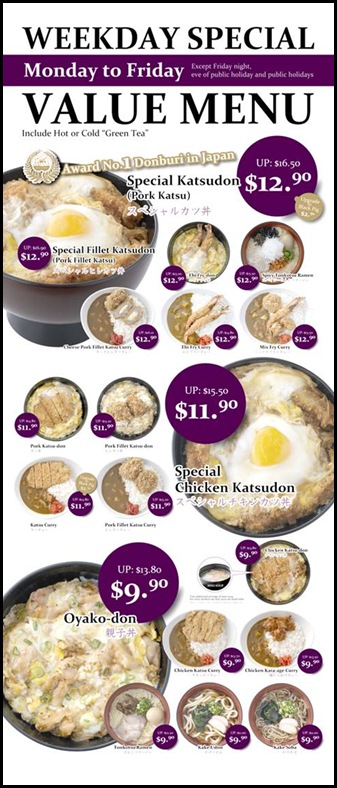 ***SPECIAL DEAL for 365days2play readers!***
With every purchase of the special weekday set, you get to enjoy a FREE ala cate topping of Chicken Kara-age! All you have to do is shout "I LOVE 365days2play, Ginza Bairin Ichiban!" This special promotion is on till the end of July! This is only on at the JCube outlet!
Oh btw, a word of warning. Ginza Bairin is a very casual sit down restaurant. It doesn't even have walls, you can pop your head up and look over to the other restaurants, kinda like how the Raffles City basement restaurants are. Because of this, you may find the prices are on the high side for a restaurant as casual looking as this. Also, prices at Orchard Ion are slightly higher than that of the outlet at JCube.
Ginza Bairin Jurong JCube
#B1-K05 JCube
2 Jurong East Central 1
Singapore 609731
11.30 —10pm
Tel : +65 6684 3378
Ginza Bairin Orchard ION
2 Orchard Turn, Ion Orchard
B4-39/40/41/42, Singapore 238801
11am — 10.30pm
Tel: +65 6509 8101