For those who have been having some trouble thinking of what to do this weekend, you may be glad to know that the Farmer's Market organised by The Pantry is on again tomorrow at Loewen Gardens Dempsey. It used to be once a month but now they've increased it to every 1st Saturday and 3rd Saturday of the month from 8:30 am to 2 pm. It's great fun. You'll get to sample a lot of fresh produce, gourmet meats, cheeses, wines, jams, breads, cakes and more. Go hungry and bring your wallet!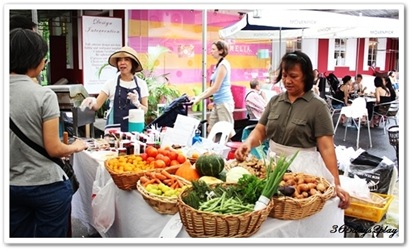 Click here to read my review on the Loewen Gardens Farmers' Market as well as see the pictures I took in June 2010.
Address: 75 Loewen Road, Singapore 248844
How to get there (courtesy of The Pantry's website): via Dempsey Road, follow signs to Loewen Cluster. Easiest access is from Tanglin Road. Turn into Ridley Park towards Tanglin Village. Road becomes Loewen Road. Loewen Gardens is on your right in Block 75-81. Free Parking! Click on this link for a map on how to get to the Farmers Market.
It is not possible to walk in from the main road (ie Tanglin Road) because it would probably take 20 minutes or more and it is steeply uphill!