Canele is finally back at Raffles City again. In fact, most of the restaurants and eateries are now open, except for the bit next to the the original fountain where Out of the Pan used to be. The basement is so changed it is like being in a completely different mall altogether. Some old names are still here, such as Cedele, Aerins, The Pizza Place and Teahouse The Asian Kitchen, with new decor and layout. There are a lot of new takaway stalls: — Best Fries Forever, Chewy Junior, Awfully Chocolate, 1A Curry Puff and Potato Depot to name a few. You won't go hungry when you are at Raffles City Shopping Mall, that you can be sure.
Anyway, back to Canele. They have this maroon pink decor going on, which looks quite nice. The lampshades they have all over the place look pretty and makes the place feel special. And they still have the huge glass counter with different coloured macaroons displayed neatly and all calling out your name. It's so distracting!
Menu-wise, it seems the same as before so I knew exactly what to order.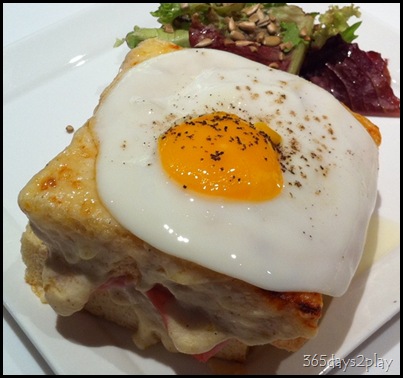 Croque Madame $13.50 — I used to like this dish, but now I feel that I am just eating empty calories with very little nutrients. It's basically bread drenched with lots of cheese and a few slices of ham.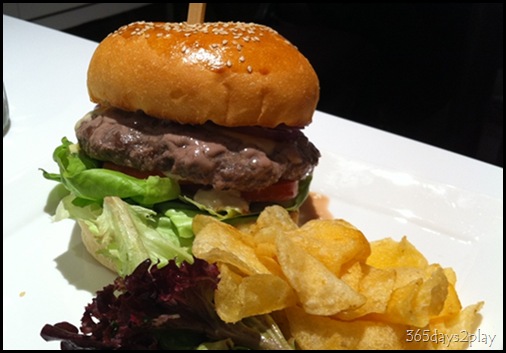 Canele Cheese Burger $15.50 — The burger was nice but pretty average. The chips were great though. Based on the texture, it seems the chef sliced and fried these potato chips onsite instead of getting them from a packet.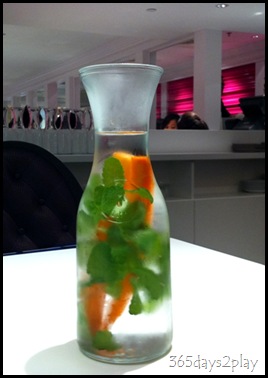 Mint and carrot water is complementary