After our first visit to DB Bistro Moderne at Marina Bay Sands Shoppes, we were so pleased with the experience I brought my parents there again 1 week later to celebrate my mother's birthday.
Dinner was more expensive than brunch, and my pockets were visibly lighter after the meal. Nevertheless, it was a delightful evening with good food. Service was also impeccable and our server who is from Korea, went out of her way to attend to all our questions and requests.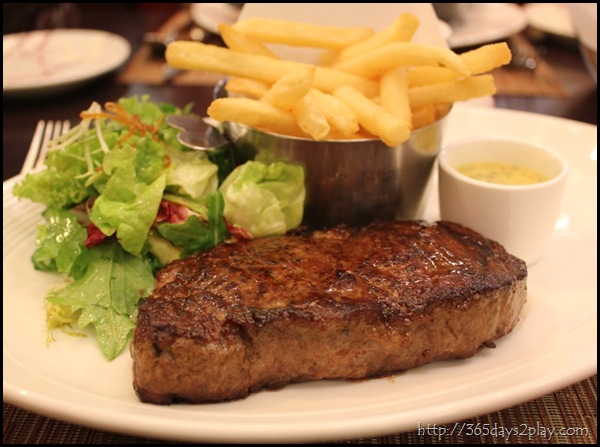 Steak Frites (10 oz Grilled Sirloin, Mesclun Salad, Pommes Frites, Sauce Bearnaise) $42 — The steak was juicy, tasty and cooked to the right level of doneness that I requested. I felt the sauce Bearnaise to be a little bland. On the whole, I felt that the entire dish was just too heavy a combination. Sauce Bearnaise is chock full of butter, plus the steak, and the fries, it was just too much oil for a meal. Perhaps I have something against steak frites. I tried steak frites a few weeks back and once again thought it to be overwhelming.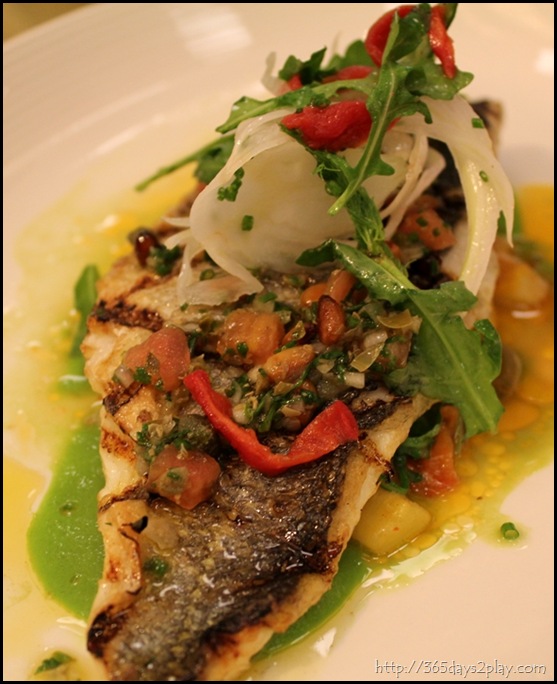 My father ordered the special fish dish of the day which was off the menu. Our server recommended it as DB Bistro Moderne had just received a fresh batch of the seabass. It was an excellent recommendation as the fish tasted so fresh and flaky. The combination of sauces and vegetable garnishings paired very nicely with the fish. A non seabass lover like me liked it and that's saying a lot.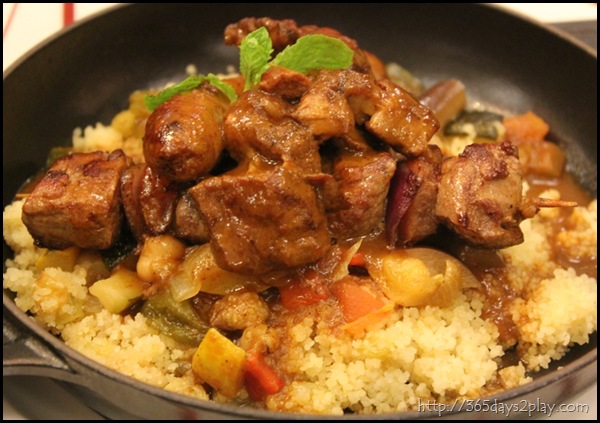 Lamb Couscous (Grilled Brochette, Merguez, Moroccan Vegetables, Lamb Jus) $35 – My mother had this dish of couscous with lamb skewers. The meat was very tender. The juices of the lamb and the sauce were absorbed into the couscous, making each mouthful explode with a variety of flavours. I loved the couscous and helped my mother to polish the whole pan clean. To summarise, DAMN GOOD.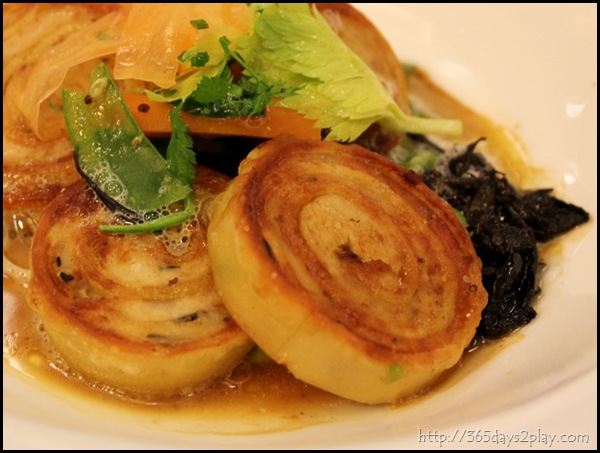 Alsatian Rabbit "Fleishnecke" (Baby Spinach, Black Trumpet Mushroom, Grainy Mustard Jus) $28 — This was also partly the reason why we chose to dine at Daniel Boulud again. I don't believe I've ever come across any restaurant offering Rabbit until we went to DB Bistro Moderne. When the Partner saw that, he just had to try it out. It's fairly common enough in New Zealand I believe, but definitely not in Singapore, although this may change given that it's the year of the rabbit?
This dish is basically minced rabbit meat rolled up in pasta into a wheel-like shape. I can't say I have much experience in eating rabbit, but I thought the wheels to be quite dry and slightly tough. The Partner said it was fine though, but for me I just can't stand anything that is tough and dry. Flavours wise, rabbit doesn't seem to have a very strong flavour. If you told me it was chicken or pork, I would have believed you. Still, it was interesting and I definitely want to try more rabbit again sometime in the future.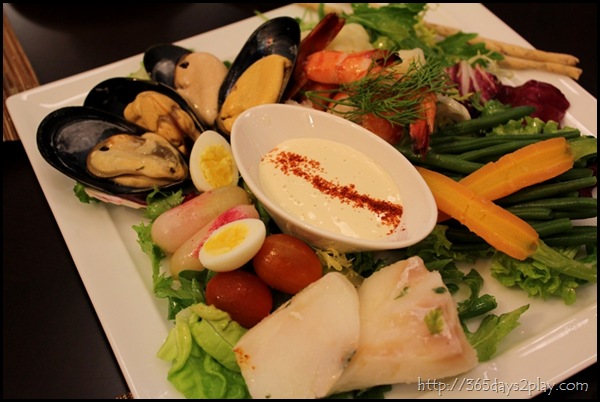 Aioli Provencale (Olive Oil Poached Cod, Shrimp, Mussels, Sweet Garlic Dip, Quail Eggs, Crudités) $26 — We ordered this as a starter and I would definitely recommend this if you're dining in a group at DB Bistro Moderne. It's good enough for 4 or even 5. The poached cod tasted fantastic in particular. The vegetables were also fresh. Great starter especially if you're having a heavy main course. Also loved their special garlic mayo dip, which added an extra oomph to the healthy vegetables.
Clafoutis tout chocolate (warm flourless chocolate cake) with vanilla and chocolate ice cream $15 — Thought we should also try out the dessert to round off the meal but it was a let down. The chocolate cake was quite below expectations. It was rather dry, and the centre was just moist, but not oozy like what I was hoping it to be. For this price I'm sure I can find chocolate cake twice as good as this.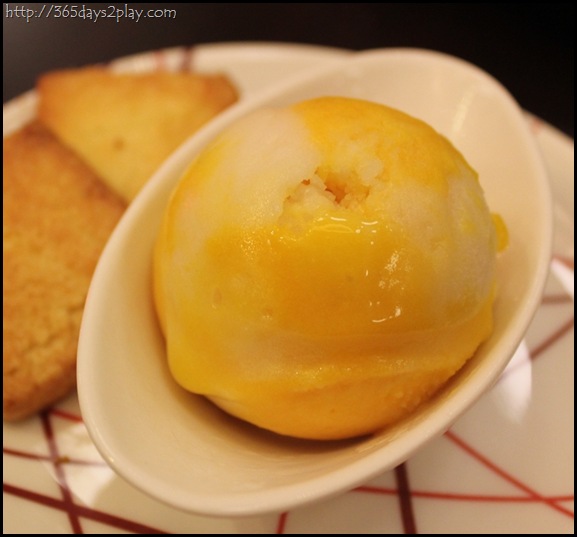 We'd asked for the chocolate ice cream that comes with the chocolate cake to be changed to the mango-guanabana sorbet. They agreed but forgot, so we got an extra mango-guanabana sorbet on the side as well!
Once again, the complementary bread basket didn't let us down. Really like the breads here. My favourite is the mini baguette, which must have loads of butter in it because it tasted so wonderful and satisfying. If you finish the bread, DB Bistro Moderne will offer you more. I always wish I can have my fill of the tasty bread but saving space for the mains seems to be the proper protocol… 🙁
When we were there, they also offered us cheese puffs. These were great as well! A crisp texture and a cheesy taste, what's not to like about it?
Read about my 1st visit to DB Bistro Moderne for brunch
Daniel Boulud DB Bistro Moderne
10 Bayfront Avenue, Singapore 018956 (Directions to Marina Bay Sands)
Monday — Friday
Dinner : 5:30pm — 10.30pm
Saturday and Sunday
Brunch : 11am — 2.30pm
Dinner : 5:30pm — 10.30pm
Telephone: +65 6688 8525
Dress Code: Smart Casual