Watami is another one of those Japanese casual restaurants so prevalent in Singapore. Their special niche is that they offer up quite a number of interesting hot pots. They also have some Korean dishes such as Bi Bim Bap! The restaurant at Raffles City is pretty big, but you don't find it cavernous, as it kinda occupies a long and narrow strip, previously occupied by Kushiya. It's right next to Din Tai Fung. I find the lighting a bit too stark bright. As you can see, my photos have suffered due to the harsh lighting.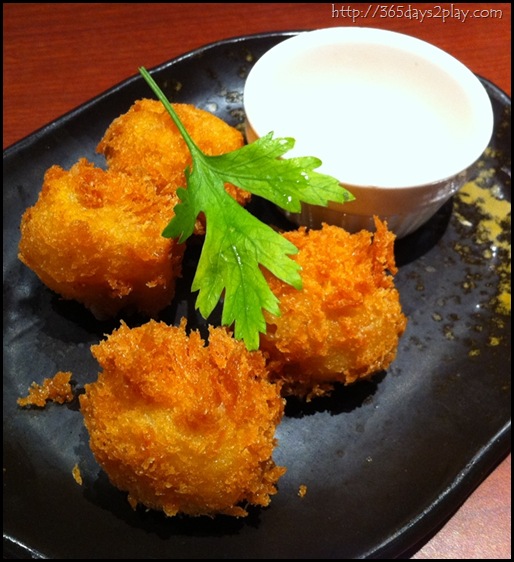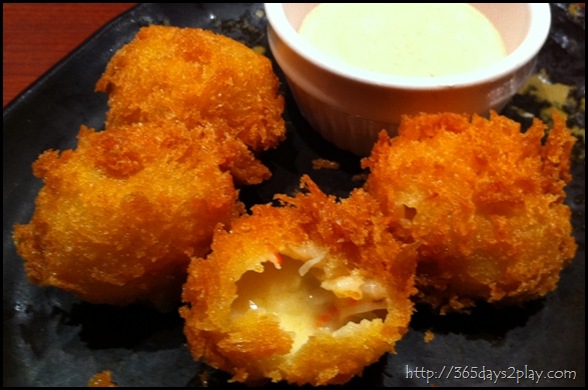 Cream Croquette Balls $6.80 — These came piping hot and were so delicious. I loved the creamy inner core while the outer shell was crispy. They were excellent while hot. Unfortunately I left 1 on the plate while I devoured my mains. When I got back to it again, the inner core had sort of mushed together with the outer skin such that it was no longer liquidy inside.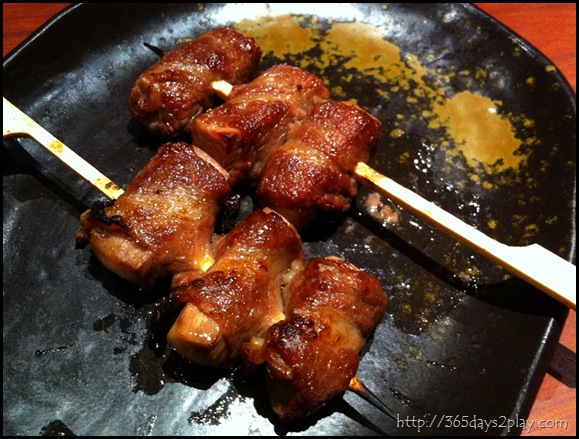 Gyu Eringi Kushi $4.80 — Mushroom stems wrapped in thin beef slices. Very tasty and the mushrooms had a good crunch. I wonder who first developed the idea to wrap meat or bacon around mushrooms. Seems to be a match made in heaven.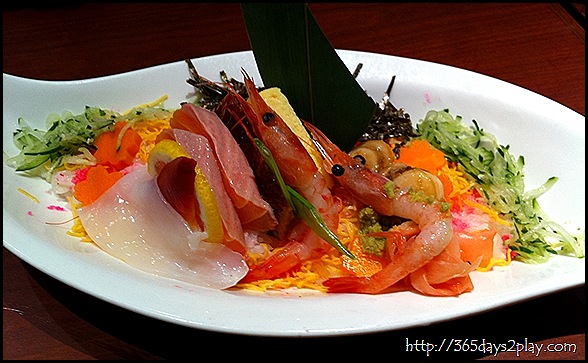 Mixed Sashimi Rice $13.80 — This was an absolute star. Firstly, the sashimi rice was flavoured with some sweet vinegar so it was more tasty than usual. Just eating the rice alone without anything else was already quite fabulous. 2ndly, they were quite generous with the amount of seafood provided. There was salmon, squid, sweet prawn, egg and something else which I forgot. Absolutely loved the prawns, they were so flavourful and I could just taste the strong "sea" flavour in them. Still dreaming about it now actually. If there's one thing wrong, it's that I would have liked just a little bit more rice since it was so nice.
Unagi Pot rice $12.80 — The Partner ordered this. The waitress asked us if we minded waiting 25 minutes. It was a bit long but we said okay. After 15 minutes, they brought out this contraption. We thought, "hey that didn't take too long after all". To our horror, the waitress proceeded to tell us to THEN wait 25 minutes for the rice grains inside to cook from scratch! While the unagi pot rice did taste very good in the end, I wouldn't want to have to wait 40 minutes just for this! Is this some new tactic to save on employing extra chefs?