[Sponsored Post]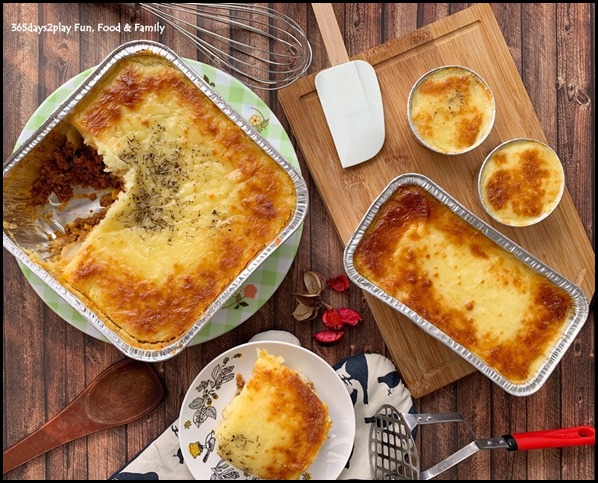 Win some shepherd's pies in this giveaway!
Recently, I was contacted by Shepherd's Pies to try out their shepherd's pies. I have never been a fan of shepherd's pies or cottage pies so I was curious to see how their products would taste like and if this could be a viable business. The reason why I've never been a fan of such pies is probably because I've never had a noteworthy version before in Singapore. I usually encounter them at buffets or perhaps at cafes where they look like they have been languishing in the freezer, only to see the light of day when someone orders them. And if I did order them due to a lack of a better choice, it just felt as if I was eating a lump of mashed potato placed on top of minced meat. Just never appealed to me.
That was before I tried Shepherd's Pies' shepherd's pies. Scroll down to find out more and to stand a chance to win some shepherd pies!
I am glad to report, after I have tried Shepherd's Pies, I am now a convert! I tried 2 different flavours, one being the premium curry Shepherd's pie with beef, and the other with chicken. Both versions I liked very much. The mince is seasoned with their secret recipe so there's a nice and slightly sweet spice kick. It is really flavourful and the whole house smelt heavenly as the pies were being reheated in the oven. The mashed potato itself was also smooth, buttery and moreish. If you're not careful, you could keep spooning it into your mouth.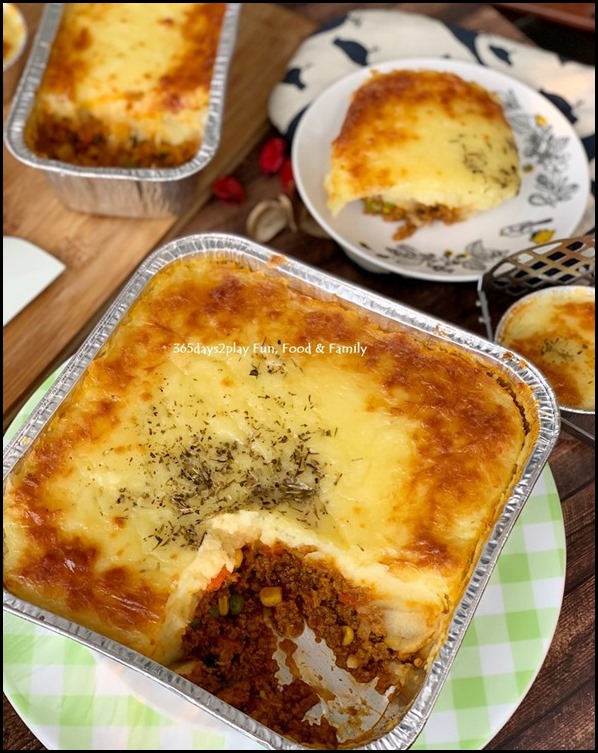 The pies keep well and even when we reheated them again the next day, the taste was pretty much the same. These shepherd pies would be great for parties or potlucks where you can simply reheat in the oven just before your event.
If you don't like curry, there are other options to choose from including a vegetarian version! Here are all the flavours available (beef or chicken):
Rendang
Black Pepper Shepherd's Pie
Shroom's Shepherd's Pie
Premium Curry Shepherd's Pie
5-Spices Vegetarian Supreme Shepherd's Pie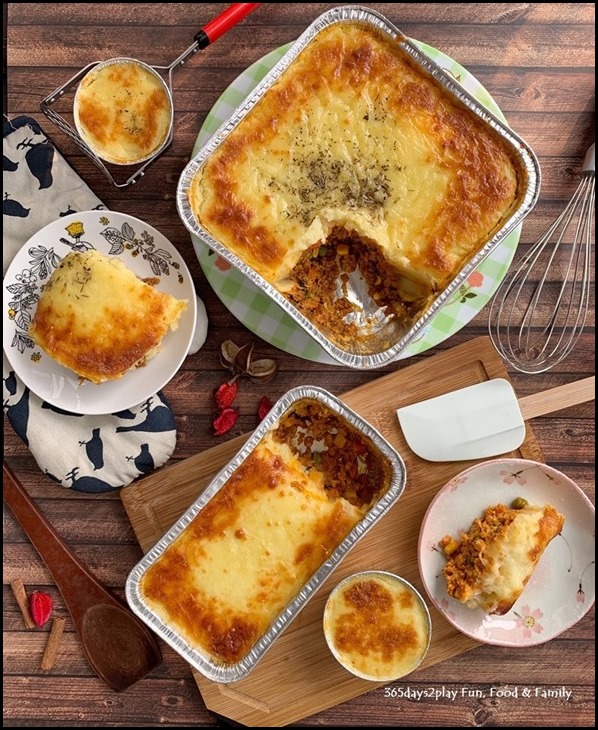 The pies come in 3 sizes: Massive, Medium and Mini. If you're not eating anything else, their medium version is good for 2 persons, while the massive version is good for 3-4 pax. The minis are quite small though. 1 mini pie would be good enough for a snack, or if you make your own side dish eg a salad, then perhaps it could be filling together as a meal.
$7 for delivery, or free delivery if you spend above $80. Self-collection can also be done at their store at 5 Guillemard Rd (Wing Fong Buildling) Singapore 399685.
~~~~~~~~~~~~~~~~~~~~~~~~~~~~~~~~~~~~~~~~~~~~~~~~~~~~~~~~~~~~~~~~~~~~~~~~~
[Giveaway]
Three winners will be picked to win the following!
1. Massive pie +Medium pie + Mini pie
2. Medium pie + Mini pie
3. Medium pie
All you have to do is to leave a comment as to why you want to win the shepherd pies. The best 3 answers will win. Make sure you can see your entry go thru. If you encounter issues, try using desktop/laptop. If you want additional chances, head on down to my Instagram where I will be picking a further 3 winners! Contest closes 1 November 2019 Friday 2359 hr.
~~~~~~~~~~~~~~~~~~~~~~~~~~~~~~~~~~~~~~~~~~~~~~~~~~~~~~~~~~~~~~~~~~~~~~~~~
Shepherd's Pie
5 Guillemard Rd (Wing Fong Buildling) Singapore 399685
Telephone : 9762 6523
E-Mail: admin@shepherdspie.sg