*Blogger's Invite*
As part of the myVillage Mall at Serangoon Garden's tour that I was invited to, (yes I'm STILLLLL writing about it because it was a jammed packed eventful night!) I had the privilege to be hosted to dinner at Old Hong Kong Restaurant. The boss of the Old Hong Kong Restaurant Group made time to join us which was great. Victoria Li, a Hong Konger has lived in Singapore for 10 years. She started the restaurant chain because she felt a lack of authentic Cantonese food in Singapore. It seems us Singaporeans tend to have different demands towards our food, be it due to local South East Asian influences, or perhaps pure ignorance?
For example, have you tried the Salted Egg Yolk Custard buns? These are little buns filled with oozy and liquidy egg yolk custard in them. It seems that Hong Kongers go for the taste of the egg yolk custard. Singaporeans are easier to please, as long as we see that the egg yolk custard is runny and not a hardened mass, we are happy.
We were first served little cups of Chinese Tea. The tea on the left is a special tea made of dried longan. I love it that the tea stays hot throughout the meal thanks to the tea lights. And the pots are so pretty! Hmmm…I wonder why tea lights are called tea lights? The double walled cups also help retain the heat but can also trick you into believing that your drink isn't as hot as it is. The tea on the right is made of chrysanthemum and wolf-berries, which we had after the meal.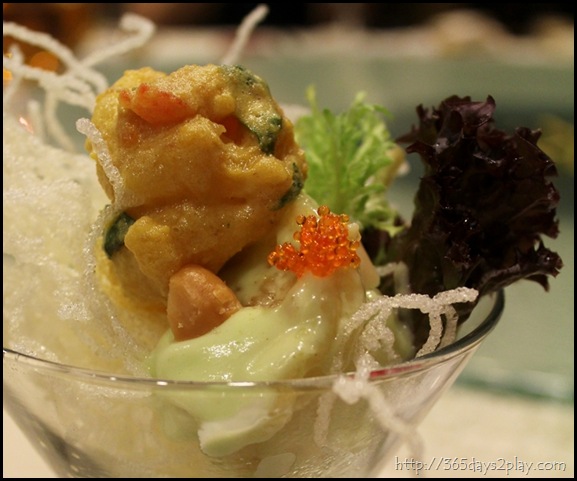 Fried Prawns in Japanese Wasabi Mayonnaise & Salted Egg Yolk Dressing $8 – Next, we were served this in a tall glass. The prawns were superb. They were so succulent tasting and had just the right amount of salted egg yolk dressing. I liked it that the amount of wasabi mayo used was in moderation because at some restaurants, there is so much wasabi mayo the prawn is lost in it. If you notice, curry leaves were also added to give an extra fragrance. Delicious!!
If there's anything negative about this, it's that I can't open my mouth large enough to put the entire prawn in, and a glass is not very conducive for me to slice the prawn in half!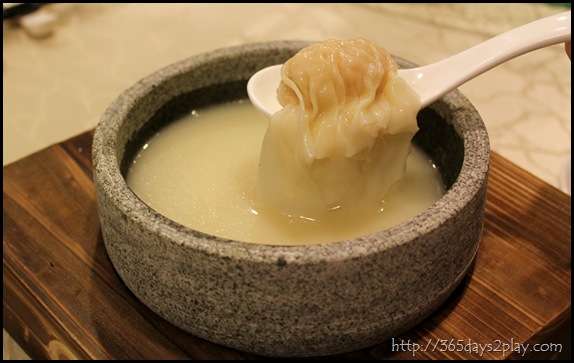 Wanton with Chicken in Shark's Bone Cartilage Soup $9 — Mmmmm if there's one thing, it's that the Hong Kongers really know how to make good soup. This soup was made with shark bone cartilege and boiled over numerous hours. Every mouthful was full of milky goodness and collagen. It's the secret to looking young. If only I had more stomach space to drink it all up!
According to Victoria, if the soup leaves a sticky feeling on your lips, it means it's been made with real bones. Some other restaurants may cut costs by thickening the soup with milk, which doesn't leave a sticky feeling on your lips. That's the trick!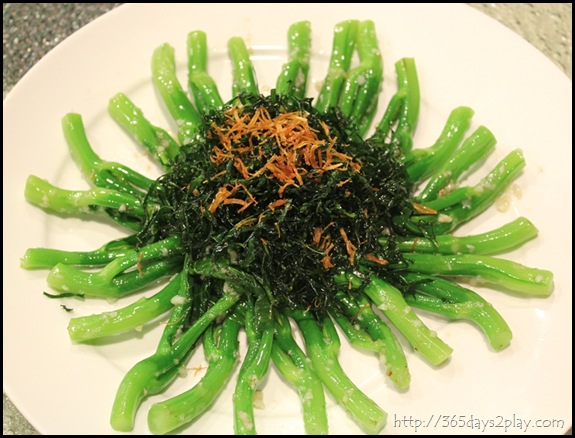 Sautéed Hong Kong Kai Lan with Dried Conpoy $14 — I love the crispy bits on top of the kai lan. Wonder if it's seaweed or dried kai lan. It's only the 2nd time I've come across the crispy bits, the 1st time being at Zenxin Organic Park. Damn delicious!!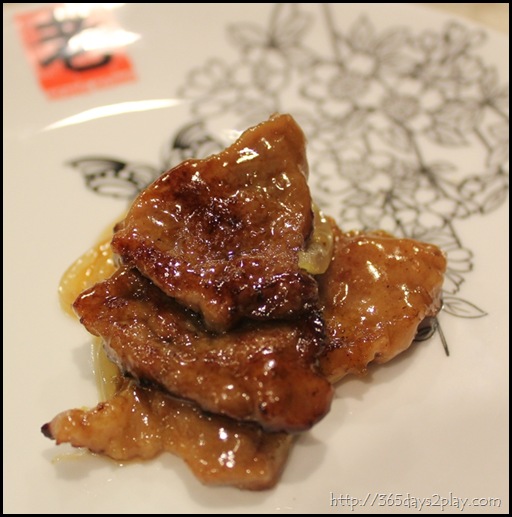 Flaming Kurobuta Pork with Danggui $22 — The dish arrived literally on fire. Alas I was too slow and I don't have a picture of that. Each slice of the pork was so tender and flavourful. I finished everything on my plate! It's a must especially if you like danggui, because the flavour of the danggui is very obvious.
Braised Soon Hock Fish with Shark's Bone Cartilage Soup $8/100gm — The fish was fresh and cooked just right such that it wasn't tough. I loved the flavourful mushroomy broth that came along with it.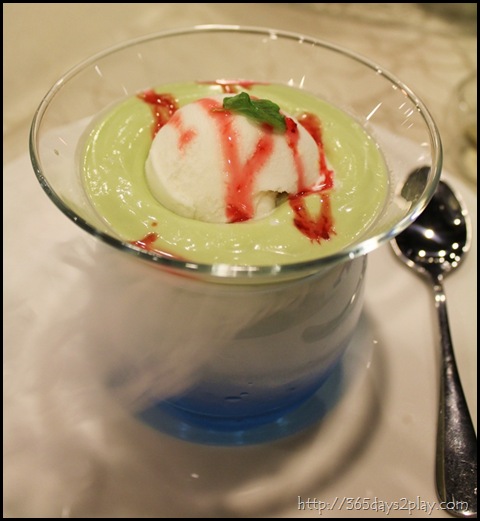 Chilled Avocado Cream with Ice-Cream $6 — Okay I have to say this may be an acquired taste. The whole dessert was served up on a glass of dry ice. While the coconut flavoured ice-cream was nice and I would have been quite satisfied to have just that, I found it a little weird that it was placed within avocado cream. I've never had ice cream served in this way before. I love avocados very much, but I guess avocado cream and ice cream just doesn't do it for me.
Old Hong Kong Taste
1 Maju Avenue, Singapore 556679
Open EVERY SINGLE DAY of the year
Tel: 68343013