*Part Bloggers' Invite, part secret visits*
As part of the not so long ago invite to sample the delights of myVillage at Serangoon Gardens, the best of the best Singapore Food Bloggers including 365days2play 🙂 got acquainted with Daikokuya at myVillage. It's one of the smallest restaurants I've ever seen, with about 10 tables of 4! It can get a little cramped if you are in a big group. We were introduced to the the Chef, who explained that the miso paste used in the soup stock is painstakingly made with great care.
Little bowls of ramen were then dished out for us to try. I normally am quite picky with ramen. Many ramen places disappoint me with their bland and lifeless soup. True to what Daikokuya's Chef was describing, the ramen that we tried that day, I believe is the Stamina Ramen as well as the Original Miso Ramen, was very delicious. The soups tasted rich and had an oomph. I don't really know how else to describe it except to say that the taste makes you want to keep slurping up more, which I suppose is the ultimate taste test.
So I kinda had pretty high hopes when I brought my parents to try out Daikokuya several weeks after the media event. Unfortunately, because we're such ardent fans of Sushi Tei for it's quality sushi/sashimi and value for money prices, we naturally compared Daikokuya to Sushi Tei. Scroll through the photos to read more about our experience.
Daikokuya Original Salad $7.90 — Salad of salmon slices, avocados amongst a huge bed of vegetables. For $7.90, we were quite wowed by the size of the salad. The vegetables were fresh and crunchy. The light sauce also tasted very nice and was a refreshing difference from the heavier sushi tei dressing we are used to. However, we felt that the amount of salmon served was pretty paltry. For $3 more at Sushi Tei, we would have been able to get many more thick slices.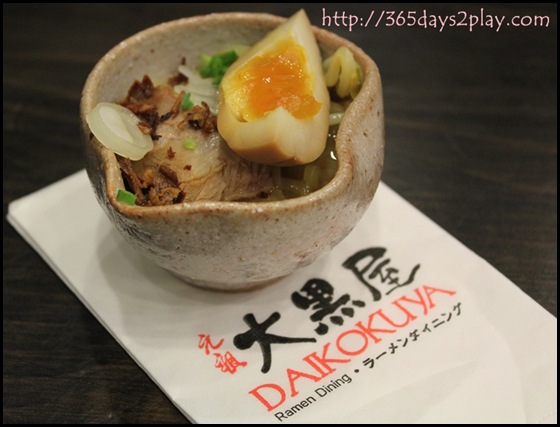 Stamina Ramen — This was one of the ramen we tried during the media invite. Don't you think the little bowl looks so cute? In western restaurants, they have mixed platters for you to try out all the house specialities. I think it would be great if Daikokuya could come up with something similar. Like 4 bowls of small ramen. I would love to try that. Then I can finally taste Shio, Shoyu, and Miso soup bases all in 1 sitting.  Btw I think Stamina ramen is only available at the myVillage outlet.
Homemade Special Miso Paste plus the special chilli vinegar which you can add to your ramen to up the oomph.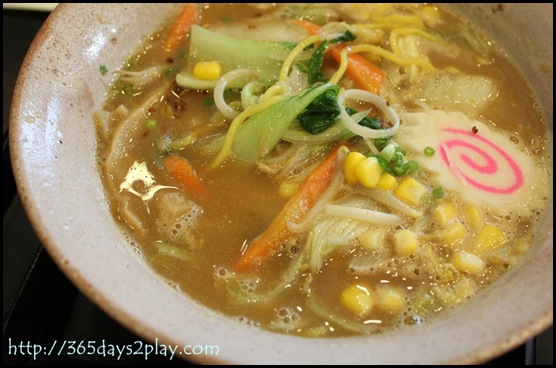 Vegetable Miso Ramen $12.80 — You know, I've never heard of ramen without any meat before. Was quite apprehensive when ordering this, but it turned out to be a pleasant surprise. I forgot to ask if the stock is vegetarian as well, but it sure tasted very rich and flavourful despite that. The vegetables had a nice crunch and added sweetness to the broth. For those who don't fancy chomping on Cha shu, this vegetable miso ramen would be a good option.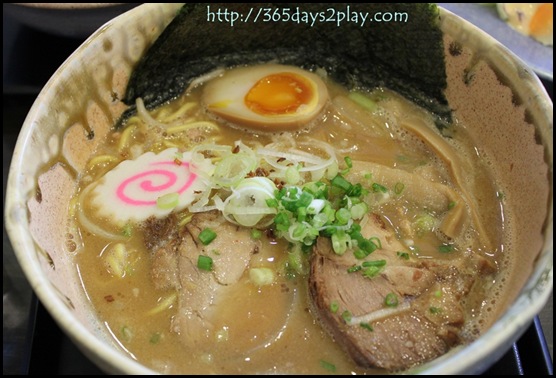 Daikokuya Original Ramen $13.80 — I have no complaints about the broth. It's really flavourful and makes you want to take sip after sip after sip. It is on the heavy side so I wasn't able to finish it all in the end. However, I didn't like the noodle texture. I've always been a fan of the springy Q Q type of noodles (think Marutama and Tom Ton) and the one at Daikokuya is the chewy type.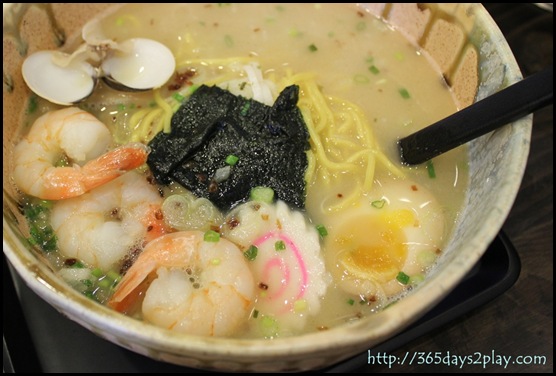 Seafood Shio Ramen $13.80 — Don't believe you can get seafood ramen easily in Singapore? It's a refreshing change although there was nothing particularly spectacular about the prawns in this case.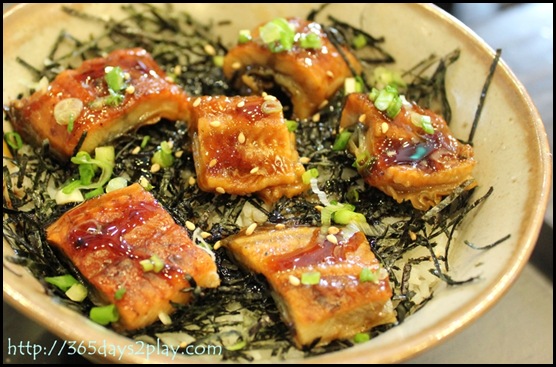 Unagi Don $6.80 — Thought this was one of the most value for money items at Daikokuya, and especially good for light eaters.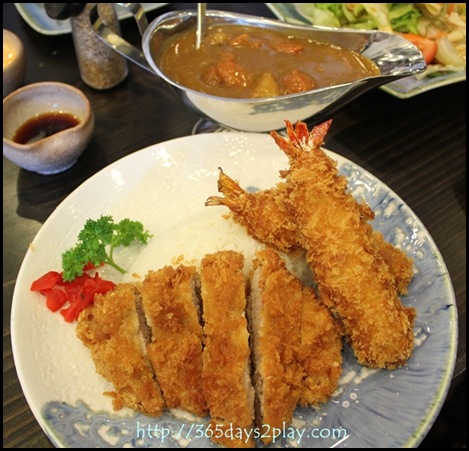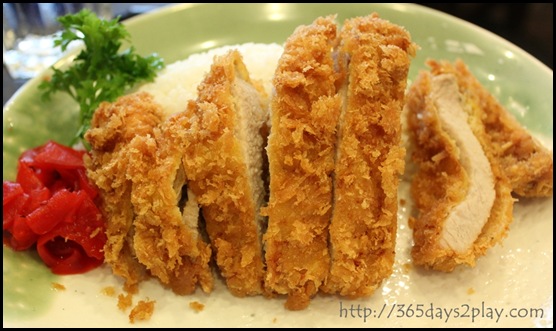 Tonkatsu and Ebi Fry Curry Rice $14.80 — We had this on 2 separate occasions. The experience from the 1st time was pretty good. The meat itself is very tender and doesn't taste oily even though it has been coated in batter and deep fried. The curry was also pretty tasty and together with the tonkatsu, made for a good meal. I would skip the Ebi Fry though as the prawns are super tiny when compared to the amount of batter used.
However, on the 2nd occasion, there seemed to be a weird taste coming from the curry. The weird taste was so strong it was detectable just by sniffing at the curry! The staff said it was due to the special blend of spices in the curry which we may not be used to. They gave us a new serving of curry but the weird taste was still there. As a hunch I took a sip from the glass of water I'd been served earlier, and the weird taste was there too, albeit less strong. I think perhaps Daikokuya should consider changing the dishwashing liquid used as it's permeating through the food and drink?
Conclusion: Go because of the ramen. Other items in the menu are a hit and miss.
Check out all the other posts on myVillage!
Daikokuya Ramen Dining
Serangoon Garden:
1 Maju avenue #01-01, myVillage
Serangoon Garden Singapore 556679
Tel: 6509 1690
Operating Hours: 11.30am — 10.30pm daily