I've never seen Meatworks full before in the numerous times that I've passed by it. Was a bit skeptical about the food, but when I finally tried it out, I'm pleased to report that they do a pretty good steak! Service was also pretty decent, even though I've read several reviews that mention otherwise.
The steak that I ordered was the Hanging Tender $26 and it lived up to its name. Every bite was really flavourful yet tender. The only thing I didn't like was the herb butter which I chose. I think if given the choice again, I would go for the Cabernet Sauvignon Mushroom sauce. Come to think of it, it should have been common sense to order that sauce, but I was kind of hoping that the butter would be special too. But given that the steak is so heavy already, you don't really want more fats via the butter. On the whole, still one of the best steaks I've had for this price range.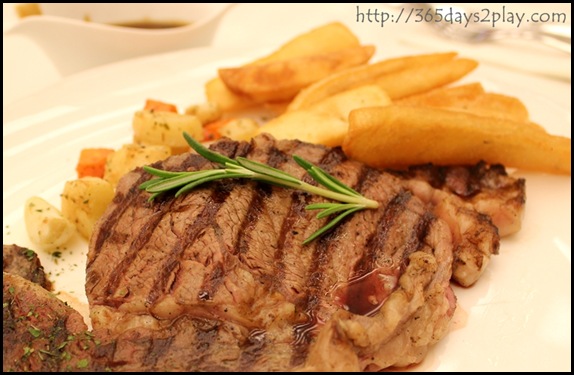 The Partner had the Ribeye. He was looking for grassfed Ribeye, but the only grassfed option was for the Sirloin which he doesn't like. still, it was a tasty Ribeye and I enjoyed stealing bits of it too. The steak fries were also very good, crispy just the way I like it.
Definitely going to come back again to Meatworks. But a huge grouse is that they don't serve alcohol! Something along the lines of them wanting to be Halal, so the waitress said. To intensify the pain, they haven't actually removed the alcohol page from the menu!You have to go to the supermarket on the same floor to get the wine if you need some, and corkage is charged at $20 per bottle. Steak really tastes loads better when you have a glass of wine in hand. And for some reason, I really was hankering for a glass after all that energy spent on shopping earlier. We plodded through without the wine, but certainly for the next round, I will buy a bottle or sneak one in!
MeatWorks ION Orchard
2 Orchard Turn #04-12
Singapore 238801
T +65 6634 0026
F +65 6634 8901
E talktous@meatworks.com.sg