It so happened that I managed to lay my hands on some vouchers to enjoy a business set lunch for 2 at Oenotheque Wine Universe. I'd heard of Oenotheque before when I was browsing through the Restaurant Week participating restaurants, but I'd never tried it before. I have the feeling that not many people know about Oenotheque Wine Universe, so do drop me a note should you visit Oenotheque after reading my post! I'd love to know that my review came in useful!
Well, as with any other vouchers that I have, it seems like I only remember its existence when it's a few days to its expiry! I had planned to take my parents with me to enjoy the set lunches. We'd have 2 complimentary and 1 paid one for $44++ (3 course) or $36++ (2 course). Divide the price amongst 3 people and it would be a great meal out at a very low cost

.
And so….at the height of the HAZE, on the faithful day that it topped 400 PSI in Singapore, we made our way to Oenotheque. Okay it was about 300 PSI during lunch time to be exact, but I recall us taking deep breaths, hopping out of the car as quickly as possible and dashing into to the restaurant just in front of the Millenia Walk car park. It felt like being part of some apocalypse movie scene! And because the whole restaurant is glass-walled, we felt like we were dining in the depths of an abandoned misty city, with no one else spotted on the roads. God forbid that we should have to endure another period of Haze like we did back in June!
I have to say, the business set lunch was the highlight of that hazy day. Totally don't regret driving all the way from the office to enjoy it!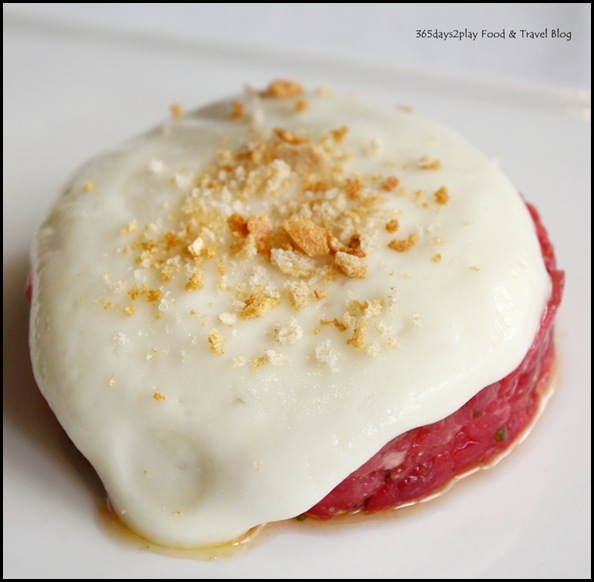 Beef Tartare with potato puree
I chose the beef tartare as my starter. It was one of the most fantastic beef tartares I have ever eaten! Probably the best one was the time I had it in Luxembourg, but this comes a close second! The sesame oil dressing on the tender diced beef complemented the meat so well! It was just pure enjoyment at it's best and the even better part was that the portion was very generous too! The potato puree placed atop the beef tartare was equally delectable, helping to enhance the flavours of the beef tartare due to its more subdued flavour.
Hotaru  with apple and celery iberico ham stock
A very interesting broth using a combination of squid and iberico ham, don't see that often do you? The broth was refreshingly light yet savoury. The squids were unexpectedly a little bland and actually quite nondescript. I love how the wasabi has 3 uses in this dish. First, the bright colour just draws you to the plate, next it is placed in an alternating fashion with the squids, giving the dish a balanced look. And lastly, it is meant as a dip.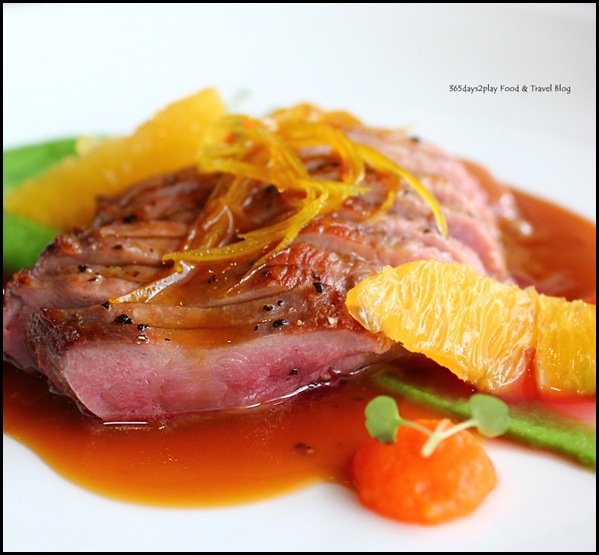 Duck with orange and pea and pumpkin puree
With my expectations set really high thanks to the incredible beef tartare, I was overjoyed to find my duck selection as mains another winner. Really, I think you can almost from the picture how tender the duck was. The rosy hue was still retained on the flesh. The duck was also cut in to numerous slices, which probably helped the meat to soak up more of the sauce. Putting each sliver of the duck into my mouth was sheer pleasure. It didn't taste heavy or oily either, unlike most restaurants that cook or fry the duck to death! I thought the addition of orange slices and pea and pumpkin puree helped to lighten and brighten the dish even more. This duck is probably the most tender and most delicious duck I have ever eaten in a restaurant!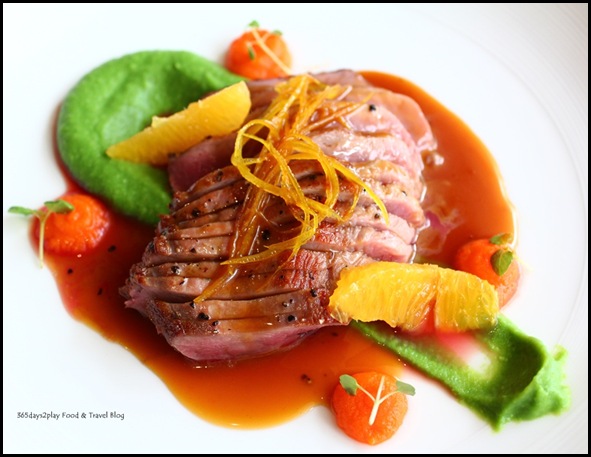 Another look at the eye catching duck.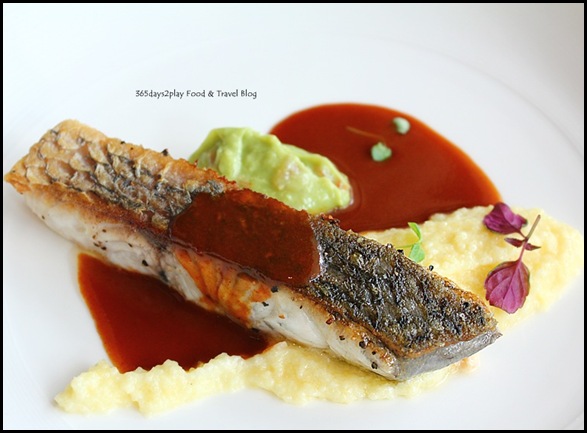 Seabass with corn, paprika and avocado
My parents both took the seabass, which they said was quite good. I didn't try the fish, but I did try the corn grits. It was indeed a very welcome change from the usual potato puree. I think corn puree has more depth of flavour and perhaps a bit more character, and being in grits form helps give a nice bite as well.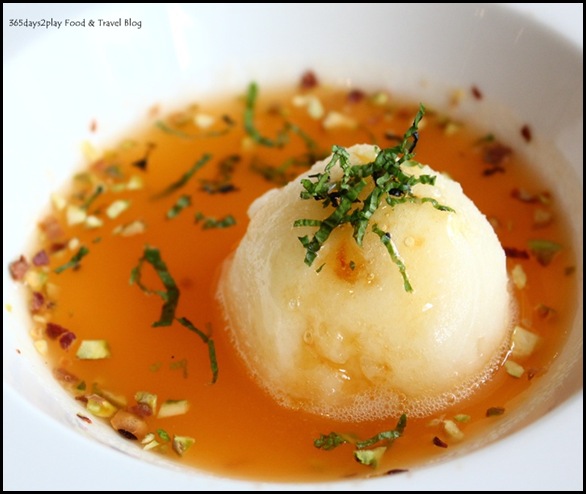 Melon sorbet with mint in a muscat and passion fruit soup
If you know me, I wouldn't normally order a sorbet for dessert if I can help it, but there were only 2 choices, either the melon sorbet above, or the cheese platter below. It's not that I don't lilke sorbet, it's just that I would rather have something sinfully satisfying to round off the meal, which usually means a decadent chocolate cake or something along that lines. The melon sorbet was quite nice, and definitely good for people who want a refreshing end to their meal. The passion fruit liquid gave the sorbet a sour tang, to wake up the diners who may be falling prey to the afternoon Z monster. There were some pistachios and herbs added to give it a Middle Eastern twist.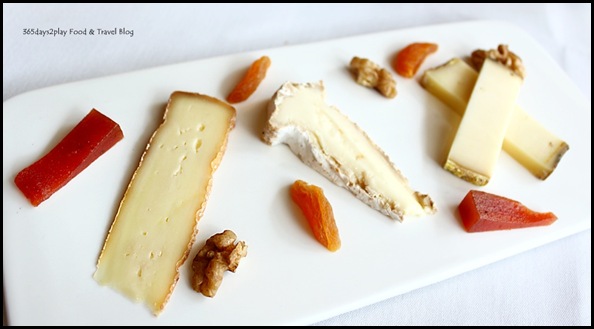 Various cheeses
I was surprised that my mother would order the cheese platter because I have never known her to be a lover of cheese! But apparently she's been dining out with her BFF so often that she acquired the appreciation from her friend! Each of the cheeses was nice, but they were all mild cheeses thankfully. I liked pairing them with the nuts and prunes, but I wish there were more nuts and prunes or crackers at least to go with the cheese!
There were supposed to be 4 cheeses, but we told them to hold off the blue cheese. Not too keen on eating that raw, but together in a beef patty is totally fine for me. Interesting that I used to be able to eat blue cheese without hesitation, but once in New Zealand, I happen to put too much in my mouth at one time and for some reason it was so horrible tasting that I never looked at blue cheese the same way again.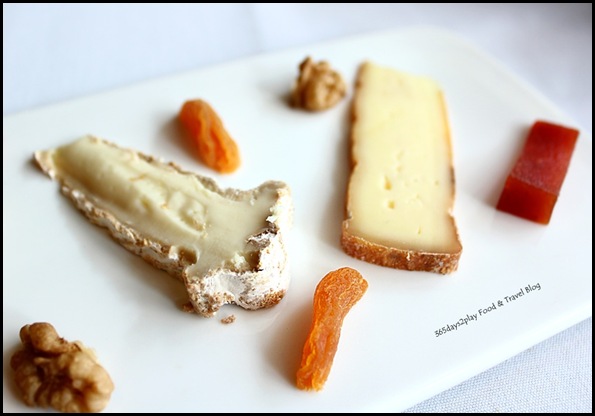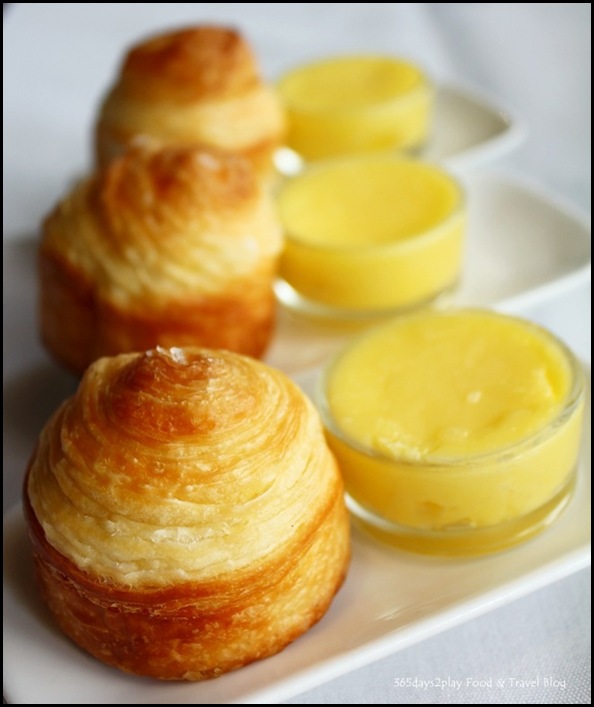 Complimentary bread rolls with a huge amount of butter. The bread rolls actually tasted very similar to croissants so I can't imagine putting even more butter on them.
On the whole, we had an excellent time at Oenotheque Wine Universe. It was truly a fantastic meal and I would definitely return again for a second round. Oh btw, just in case you were wondering about the name, right next to the restaurant is a wine shop, owned by the same people. You're supposed to pair each of your dishes with an appropriate wine, which is suggested in the menu. I believe the owners are wine purveyors, and set up the restaurant to help showcase and provide an opportunity for good wine to be paired with good food. But of course we didn't have any wine since it was a working day.
For those of you who might be thinking of where to bring your clients for a business lunch, do consider Oenotheque! Menu changes every week.
PS: This is not a sponsored review, just in case you were wondering!
~~~~~~~~~~
Add me on Facebook, Instagram and Twitter if you want to be kept up to date with the latest happenings in the food and lifestyle scene in Singapore!
~~~~~~~~~~
Oenotheque by Wine Universe
9 Raffles Boulevard, #01-109 Millenia Walk
Contact info@wine-universe.com.sg
Tel: +65 6338 0717