The Rose Veranda at Shangri-La used to be my favourite place for afternoon tea. It was also the 1st place that got me acquainted with the concept of "afternoon tea". In previous years, the afternoon tea would come with unlimited servings of their one-hundred-and-one different types of teas. It was always a treat to be presented with the maroon-coloured velvety tea menu. I'd mostly go for the safe types like English Breakfast (ha!) but just the idea that one could have a hundred other options brought about visions of opulence.
However, after the renovation, prices have increased slightly, and they NO LONGER offer unlimited servings of the 101 teas!!! What a let down! It's just a choice of 2 teas per person now, just like any other afternoon tea place that you find nowadays. Shucks. It's not like I can drink a hundred pots of teas, but the very idea of having so much choice makes me feel differently!
Anyway, the place still looks posh, the food still is good so we still had a pretty good time at the Rose Veranda.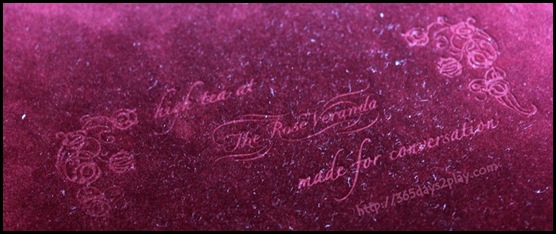 High Tea at The Rose Veranda. This is the maroon velvety menu I was talking about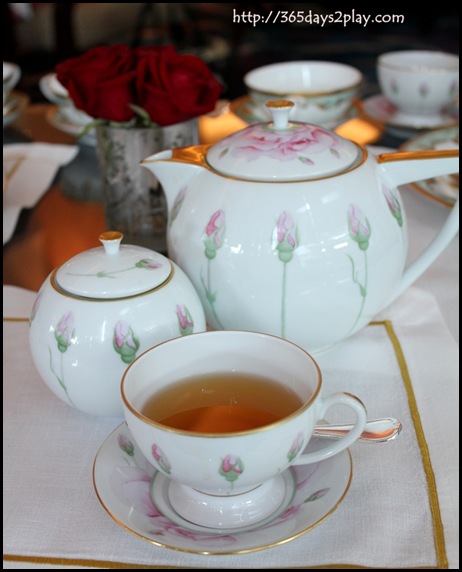 I like to choose strong teas, with English Breakfast being one of my all time favourites. Yes I'm traditional. Large pots of teas are nice, but the teas tend to grow cold if you can't drink up fast enough. All the teas served are now from TWG. The Partner was a bit miffed by this because his favourite Orange Pekoe was now no longer available and probably impossible to find in the whole of Singapore.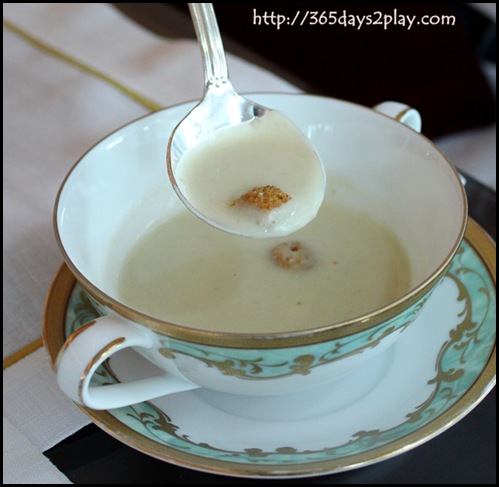 Potato and leek soup — So very English! It's interesting how potatoes can be incorporated into a soup but I've always loved a potato based soup. So comforting and simple. The leek taste wasn't very strong, and the soup was smooth enough so that there weren't any gritty bits of potato stuck in the throat.
Come to think of it, the afternoon tea buffet at the Rose Veranda has a lot of Asian dishes. No wonder Shangri La Rose Veranda is such a popular choice amongst the Japanese Tai Tais! Never fail to see at least one group of Japanese ladies, if not more, each time that I am there!
You can take as much sushi as you want, but the salmon sashimi is limited to one plate per table. We managed to get away with 2 plates 🙂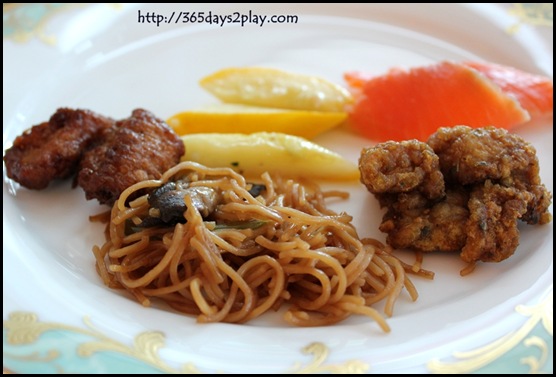 The fried noodles and chicken are okay. Not exactly what I would expect in a posh afternoon tea place.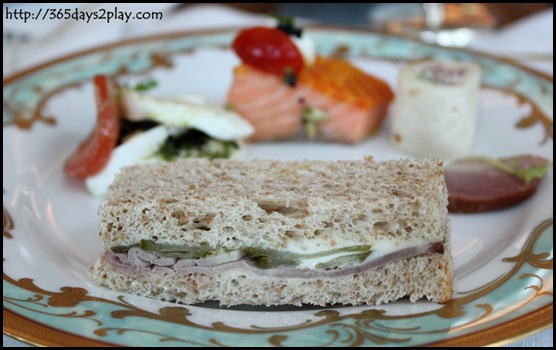 Variety of finger sandwiches are also rather limited. I guess I was expecting a more "English" type of afternoon tea.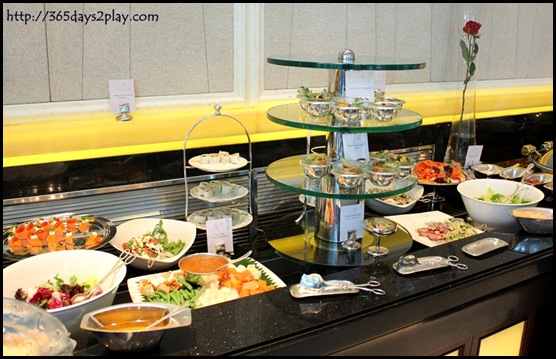 What they lack in variety for the "English tea items", they more than made up in variety of dishes in totality.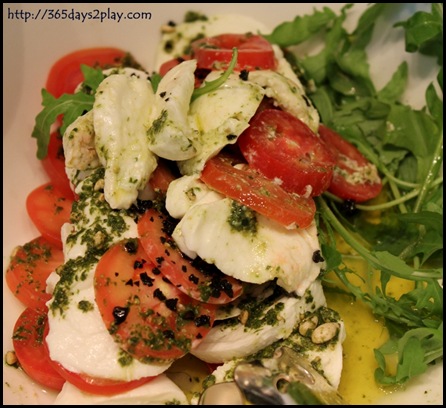 Love the Caprese salad of tomatoes and mozzarella cheese!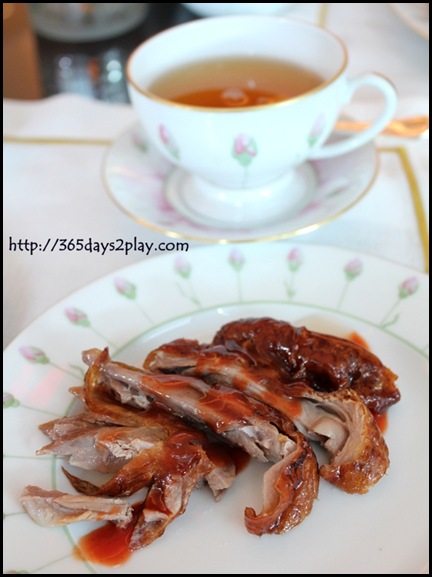 Roast duck. Very tasty although a little dry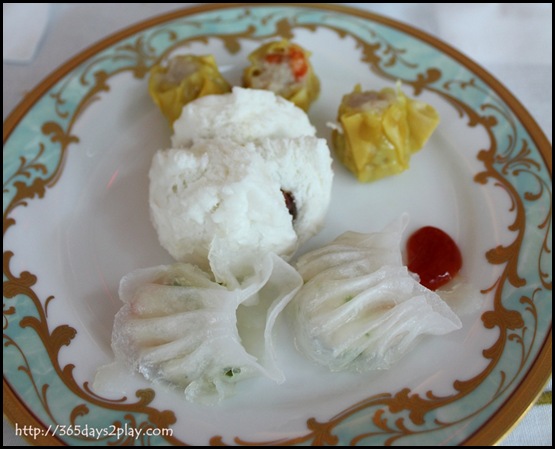 Never ever eat dim sum at a buffet. More often than not, the skins of the dim sum would have turned rubbery thanks to the amount of time they've been sitting inside the steamers.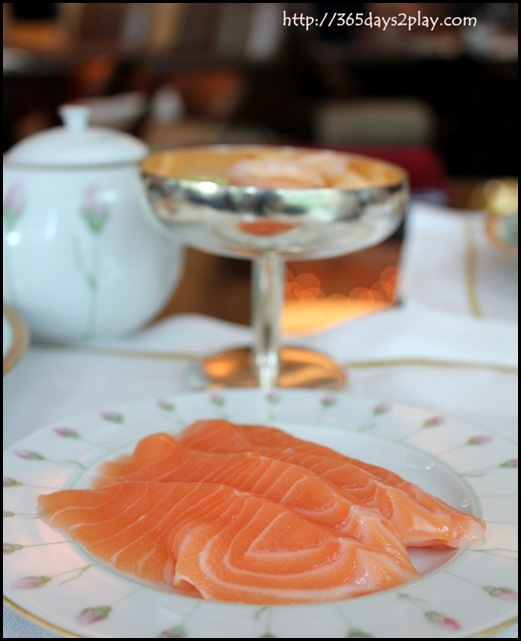 Very fresh slices of salmon. We were lucky to get 2 plates of this as the limit is 1.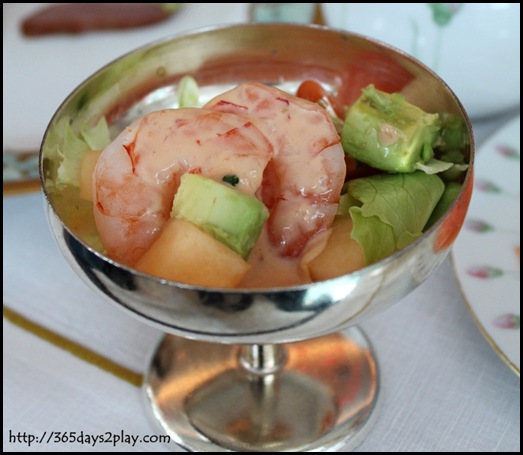 Prawn Cocktail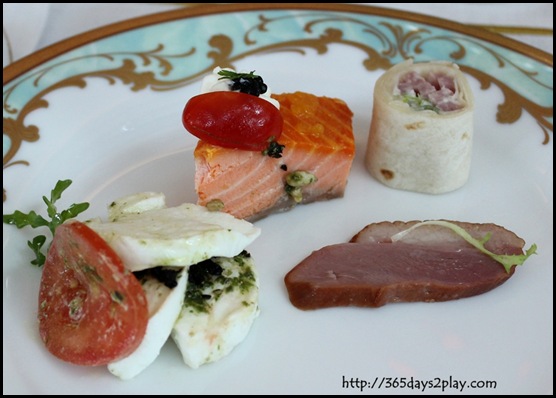 Dessert dishes coming up next! Stay tuned.