2 year old Burlamacco is one of those restaurants where I would genuinely love to return again to sample more of what the restaurant has to offer. I was glad to have the opportunity to dine there on a Sunday afternoon. Not many people think of going to the CBD area on a weekend, let alone a Sunday. Those who work in the CBD would probably abhor the thought, but you will be rewarded for coming to this part of town as you will be able to enjoy a laid-back, slow-paced and more personal atmosphere which you simply wouldn't get on a bustling weekday. Oh and did I mention that there are no ERP charges on Sunday and parking is a breeze?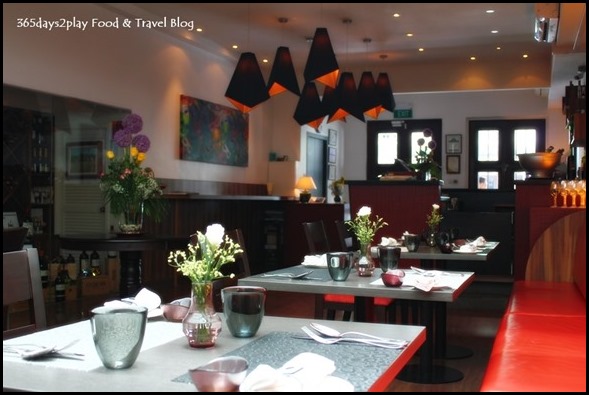 The Partner and I were the 1st to arrive for lunch at the restaurant, so we had the luxury of picking the best seats in the house. I like the cheery decor of Burlamacco, as well as the pictures of clowns decorating the restaurant. This restaurant in a conservation shop house row boasts a skylight, which allows natural light to permeate the restaurant. Just in case you were wondering, Burlamacco refers to the clown-like figure which presides over the carnival in the Tuscan town of Viareggio, and is the town's mascot.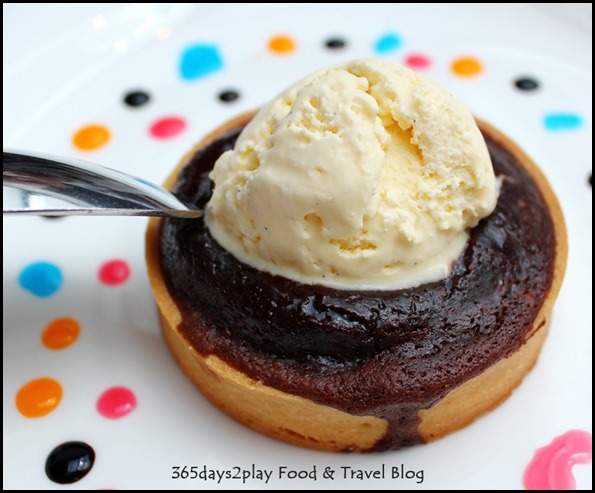 As always, before I delve right into the what we sampled at Burlamacco, let me first tempt you with a picture of the decadent molten chocolate tart we tried. Yes, you heard me right, MOLTEN chocolate tart, a first for me and for many people I'm sure. Click Read More to find out more!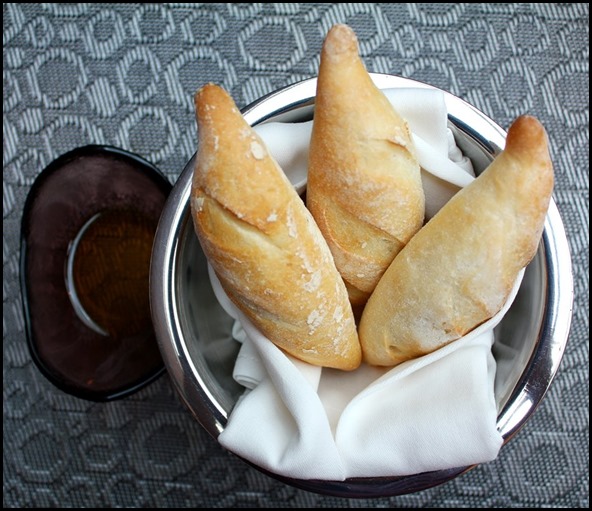 Complimentary bread basket and olive oil to kick start any Italian meal.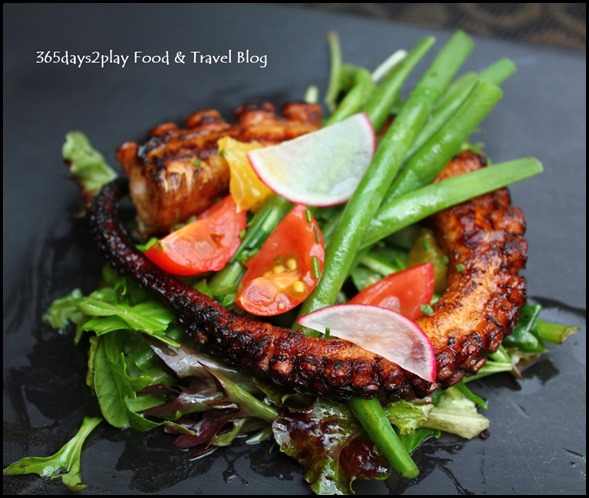 Balsamic Grilled Octopus Tentacles swerved with Fine Beans and Orange $28
I chose this as my starter, partly because I was quite keen to try something different even though the Burrata was really calling out my name. This grilled octopus is a nice starter to share amongst friends, or if you are a light eater, you could even consider eating this as your mains, to save space for dessert. The octopus was well-balanced in all aspects. It had a nice char-grilled flavour without being burnt, it had a bouncy texture without being tough, and the citrus elements helped to lighten the palate.  The portion I have in the photo is smaller than what you would get for $28.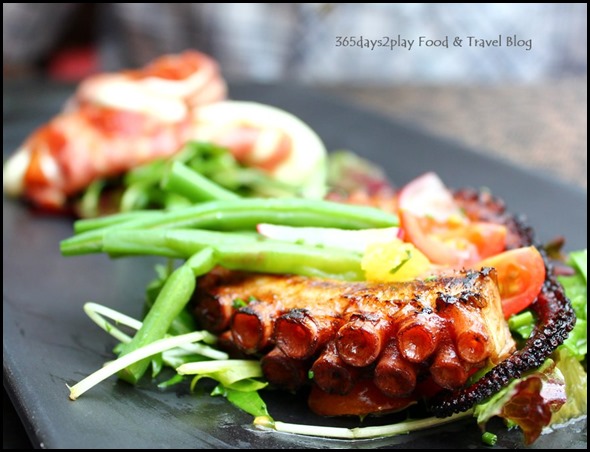 Pan-Roasted Buffalo Mozzarella Wrapped in Parma Ham $24
Not the nicest of presentations with the mozzarella oozing out of the parma ham. The mozzarella was tasty, but the parma ham was a tad too salty for my liking.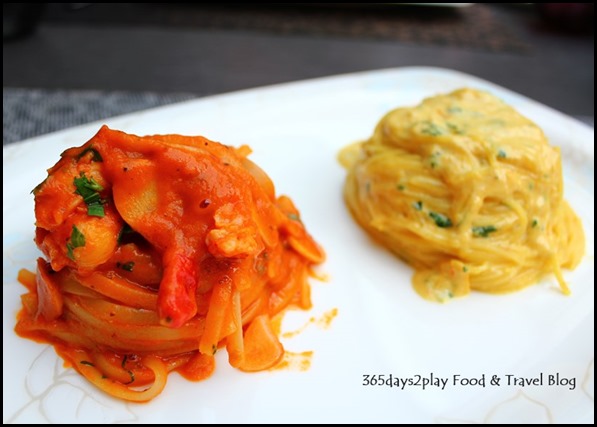 Linguine with Boston Lobster Tail in Spicy Arrabbiata Sauce $30
We were recommended these 2 pastas so we decided to go for them. Once again, we asked for the pasta portions to be halved so that we would still have space for the other dishes ordered.
While the chef was very generous with the ingredients, with the lobster tails being very tasty on their own, the dish struck me as being made of separate elements. I was expecting the tomato sauce base to also have a seafood element to it, but if there was any, it must have been quite mild. The added chilli gives a good kick. A tasty tomato pasta dish, with lobster.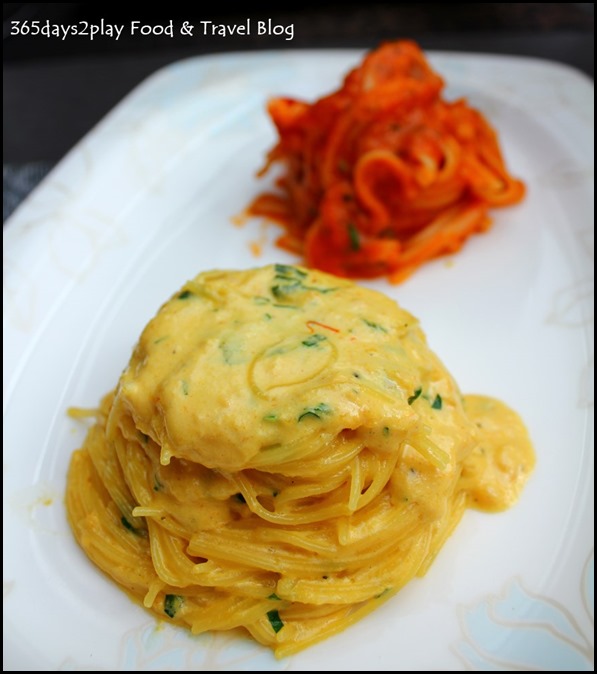 Angel Hair served with Sea urchin and Saffron Cream Sauce $26
The angel hair pasta was in my opinion a more memorable and unique dish. I've never had sea urchin and saffron cream sauce before, and I would say without hesitation that this combination really works. The sea urchin really gives a new dimension to the otherwise ubiquitous pasta carbonara. Definitely a must order, but do share, as it does get cloying after a while, no matter how delicious!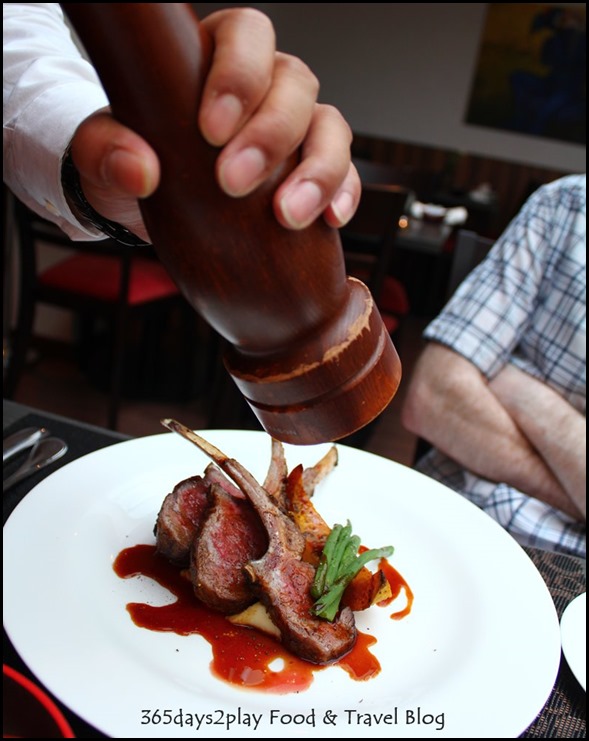 Roasted Lamb Rack with Herbed Pumpkin in Red Wine Sauce $42
The Partner ordered this. Now, he thinks of himself as somewhat of a lamb expert, having eaten the best lamb (NZ lamb in his opinion) from a young and tender age (him, not the lamb). And the Partner proclaimed this to be possibly one of the best if not the best lamb chops he has ever eaten in Singapore. I tried a piece of this pan-fried followed by roasted lamb and had to agree that it was indeed supremely tender and yet flavourful.  The added pumpkin was also nicely grilled and not mushy.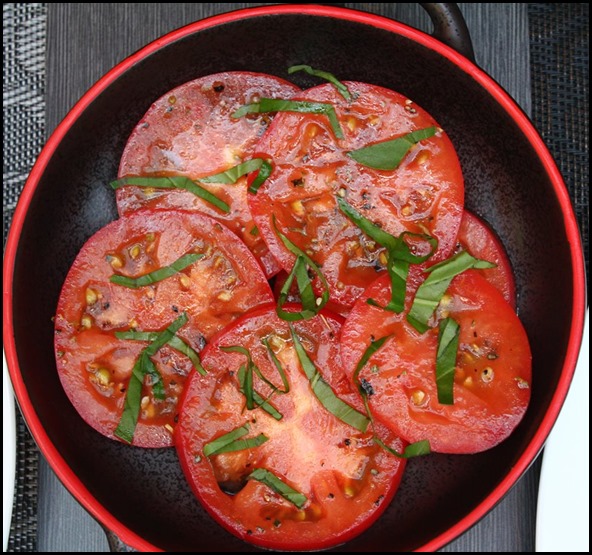 Tomato Salad $12
We ordered some side salad to attempt to neutralise our meat laden diet. Tasty tomato slices they were, although we did think that $12 was a little pricey for a simple dish like this.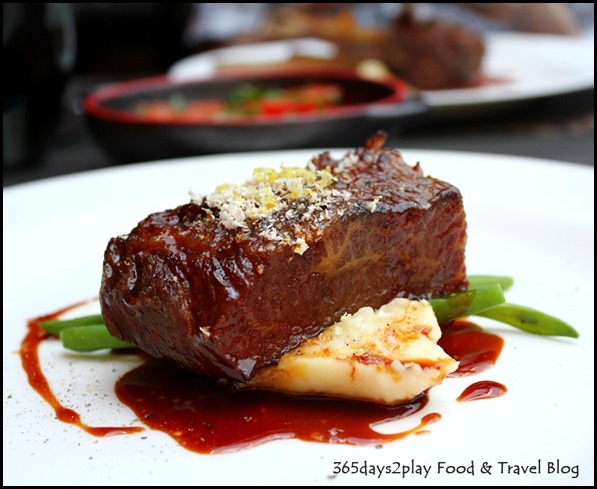 48hr Slow Cooked Beef Short Ribs with Marsala Wine Sauce $40
When the Partner enjoys his main course so much, it usually means that he has ordered the best dish in the house and mine would pale in comparison. How wrong I was. This slow cooked beef short ribs was mind-blowingly tender, you didn't really even need to use a knife! The sticky sweet marsala wine glaze was the perfect accompaniment for the beef, and every mouthful was pure pleasure. I finished nearly the entire piece, and this is after having some pasta and some starters prior to this!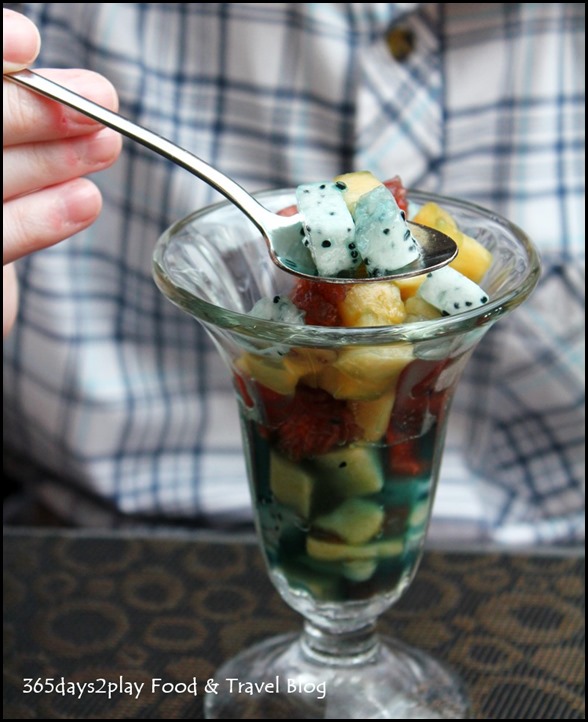 Fresh Fruit Salad infused with Galliano Macedonia
The Partner chose something light for dessert. This dessert is part of the set menu and isn't available as an ala-carte order. Just a plain fruit salad in comparison to the impactful mains we just had.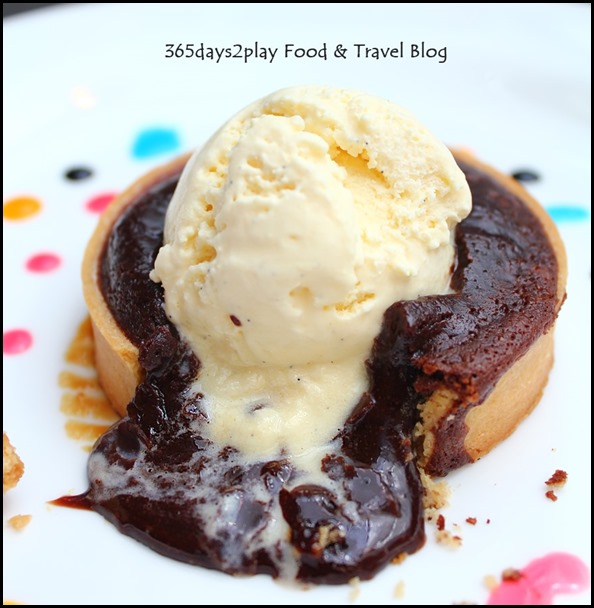 Crostata – Chocoalte Tart Eruption with Vanilla Ice Cream $16
I continued to be on a roll, hit the jackpot with this Crostata order. These days, molten chocolate lava cakes are so common, but what about molten chocolate lava tarts? I really liked the tart base, which was really buttery and delicious. It provided a good contrast to the molten chocolate. The molten chocolate was also fantastic. It was piping hot, chocolaty in every word, and when paired with the icy cold vanilla ice cream, the result was a decadent marriage of bliss. The little dots of coloured syrup did look gimmicky at first, but thankfully the product spoke for itself.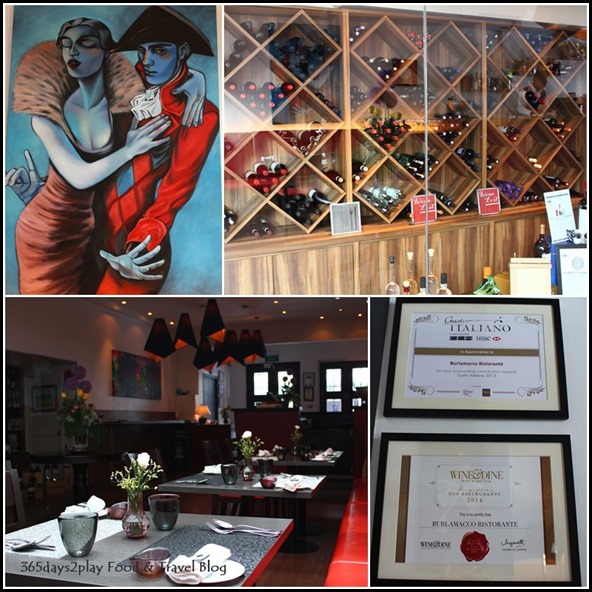 Executive Chef and owner Gabriele Piegaia hails from Tuscany and helms the kitchen here, and he and the restaurant have received numerous accolades. Chef Piegaia has also worked for Senso, Four Seasons Hotel and most recently, Alkaff Mansion.
Some thank you drink (vodka, lemon skin, star anise, lemongrass) for every guest that dines here.
---
Add me on Facebook, Instagram and Twitter if you want to be kept up to date with the latest happenings in the food and lifestyle scene in Singapore! 
---
Burlamacco Ristorante
77 Amoy Street Singapore 069896
Tel: 6220 1763
Monday – Friday
Lunch – 11:30 – 14:30
Dinner – 18:00 – 22:30
Saturday
Dinner – 18:00 – 22:30
Sunday
Brunch – 11:30 – 14:30
Dinner – 18.30 — 22.30