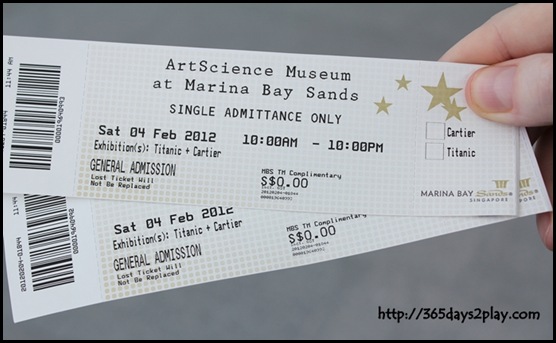 Got 2 free tickets to the Titanic exhibition at the ArtScience Museum.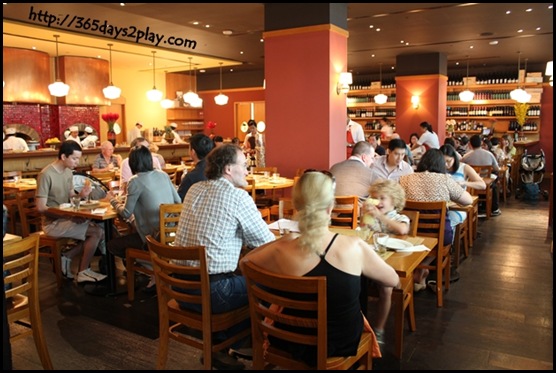 So we took the opportunity to dine at Marina Bay Sands. We chose Pizzeria Mozza because I have already been to DB Moderne and I wanted something in a similar price range.
I've kinda been avoiding trying out Pizzeria Mozza or Osteria Mozza for that matter because last year, we had a most horrid time at Osteria Mozza. The music was blaring like nobody's business and we happened to sit right under the speakers. The noise level in the restaurant was horrendous because everyone was trying to outtalk the speakers. I can't imagine why people would want the music so loud, when most of the diners were middle aged people! Thank goodness Mozza has since turned off the racket so I was okay to dine at Pizzeria Mozza.
As you can see from the photo above, the place looks nice and relaxing. There's an open kitchen for you to entertain yourself if your partner isn't entertaining enough.
They served us complimentary cheesy dough sticks. I though they were pretty nice, being crispy and cheesy. The Partner thought that they were too salty and he stopped at one. YAY for me.
We ordered this appetiser of melons with prawns in a kind of tangy chilli sauce $17. The first bite was really refreshing as the sweetness of the melons in the soury chilli sauce gave me a good wake up jolt. The prawns were fresh tasting and succulent. However, I found the dish to be way too spicy for my liking. It's hard to imagine food in a Western Restaurant being spicy, but this one can beat any Thai restaurant! I had to let my taste buds rest after a while.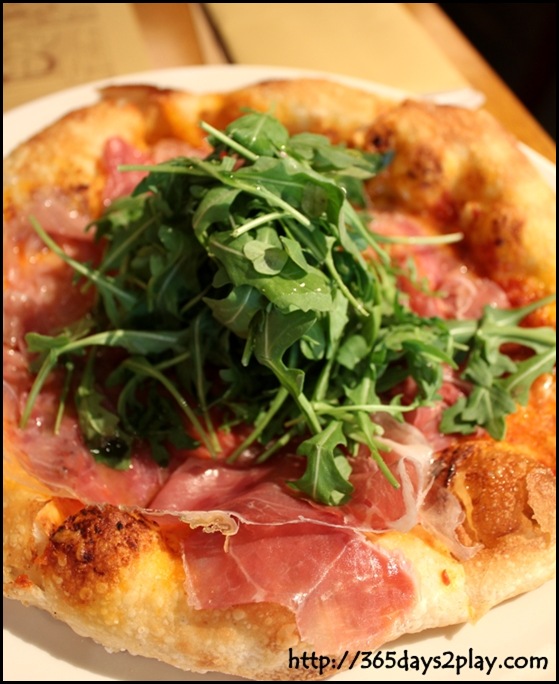 We also ordered a Prosciutto di Parma with rucola, tomato and mozzarella pizza $31 to share. They were extremely generous with the Parma ham but too generous with the rucola. I personally don't like rucola because I find it to be bitter. I guess I should have eaten the rucola with the parma, but it was hard to since it wasn't sticking to anything and falling all over the place. On the whole the pizza was delicious. The crust was nice too even though it wasn't my favourite type of crust. The pizza base at Mozza is kind of crispy at first bite, then chewy in the middle.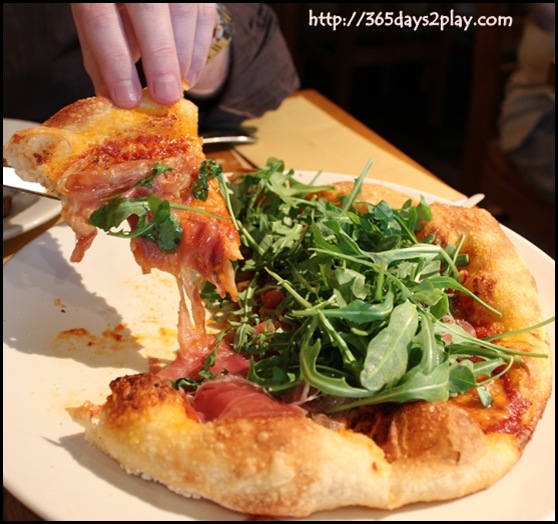 Love the placemats they gave. Very educational. I had no idea liposuction was invented by the Italians. And the parachute. And the scissors.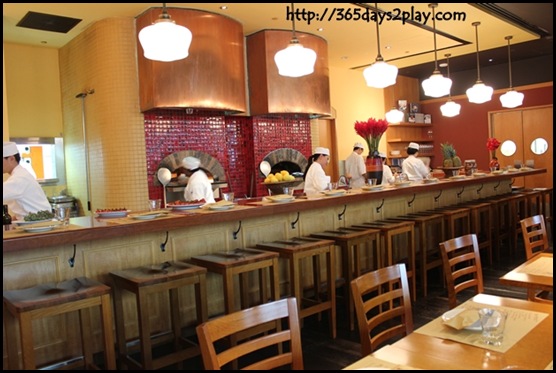 A nice meal to fuel us for our visit to the Titanic Exhibition.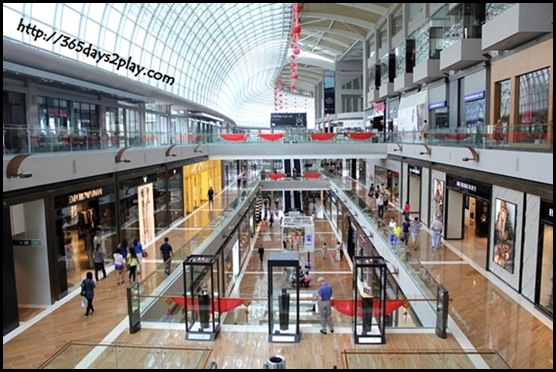 Couldn't resist taking yet another picture of the Shoppes at Marina Bay Sands. I just find the mall so pretty and bright.
Pizzeria Mozza Singapore
B1-42-46 (Across from Theater),
Galleria level, The Shoppes at Marina Bay Sands
Daily 12pm to 11pm (Last Reservation at 10:45pm)
Tel : +65 6688 8522
Read about my other visits to Marina Bay Sands