Il Lido has always been etched in my mind as a really top notch restaurant, not least thanks to my ex-boss, who so favoured dining at Il Lido for business lunches and special occasions, so much so that the staff remember his special requests. In fact, I partook in one of those special occasions, the boss's birthday(!), and that eventually became my 1st ever food review on 365days2play!  (In case you are wondering, that was way back in 2008, and I subsequently resurrected the blog again in mid 2010.)
Back in those days, Il Lido had these colourful plastic chairs, and my 1st impression upon stepping through the front door was "You must be JOKING. My boss finds this place ATAS?" The food and service quickly changed my mind. I was glad to find that in my recent visit in January 2012 that they'd gotten rid of those unbecoming chairs. They still have those chairs at the al fresco area, which I think is more appropriate given that it is outdoors.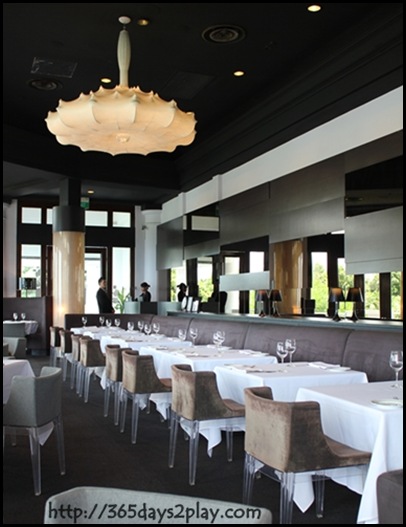 Looks quite fine, don't you think?
So in late Jan 2012, thanks to a DBS birthday treat coupon which gave us a 50% discount, we were able to sample the delights at Il Lido again. Actually, it's not terribly expensive to dine at Il Lido. Mains are about $35 – $60. Appetisers are about $20 and desserts are in excess of $10. Contrary to popular belief, I am not a big eater, so I almost never order an appetiser and dessert all on my own. Set lunches/dinners are different as the restaurants kind of scale down the size of the food anyway. And of course, for buffets, I bring my other stomach, you know the bigger capacity one.
Back in January, they were having this wonderful weekend set lunch menu, which comprised of FIVE appetisers and FIVE mains, FOUR desserts and coffee/tea for $68+++. I mean seriously, is this a good deal or what??? The portions are all smaller than usual, but still, the total amount was sizable. I really love menus like these. I don't know about you, but I have the perpetual problem of not knowing what to order. Usually it's because there are so many attractive dishes I want to order, rather than the lack of something interesting.
So….presenting the appetisers! Portions are for 2 pax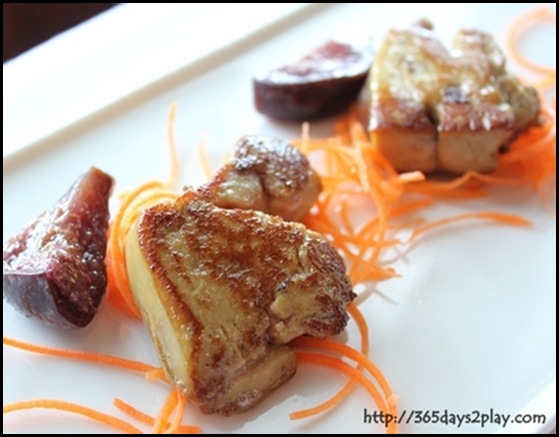 Goose Liver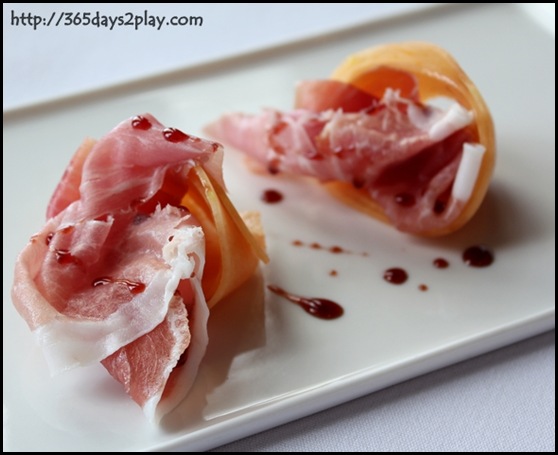 Parma Ham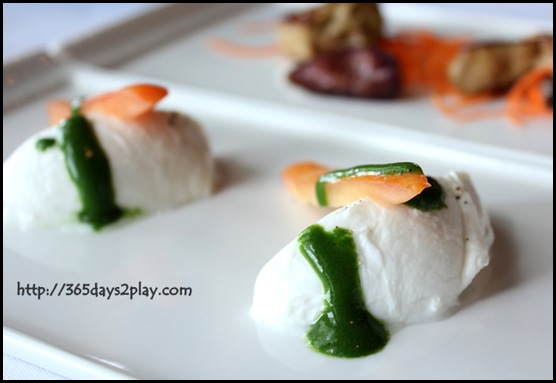 Caprese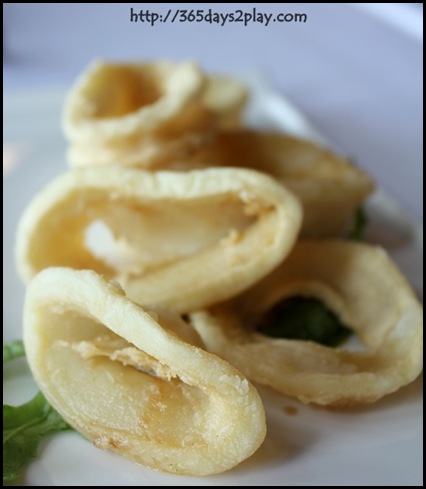 Calamari
Phew, 5 appetisers man! All of them were super delicious. My personal favourite was obviously the foie gras. Just can't go wrong with that. Also loved the texture of the octopus terrine. Don't believe I've ever had an octopus terrine before and I really loved the bouncy feel. The Calamari also had a nice bouncy texture and didn't taste oily at all. Parma Ham and rock melon was another winning combination. In fact, for a cheese lover like me, the caprese was the least outstanding, which goes to show how good the other appetisers were.
Next up, the Main Courses. Portions are for 2 pax.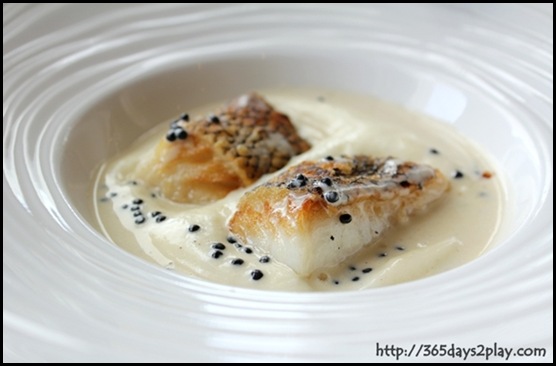 Pan-roasted Cod with Smoked Caviar Sauce and Whipped Potato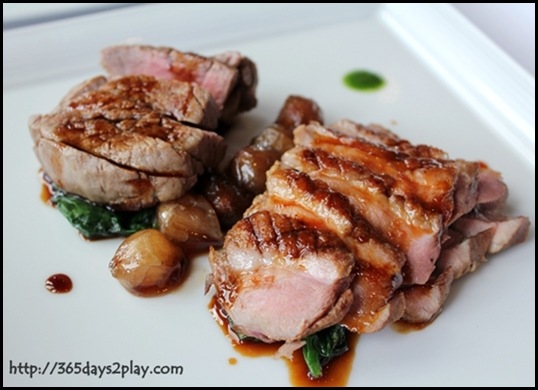 Left — Beef Tenderloin with Potato Cake and Blueberry Sauce
Right — Roasted Duck Breast with Spinach, Confit Shallots and Orange Sauce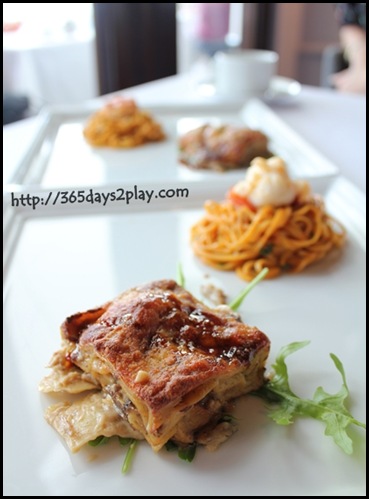 Baked Lasagne with Wagyu Beef Cheek, Porcini Mushrooms and Truffle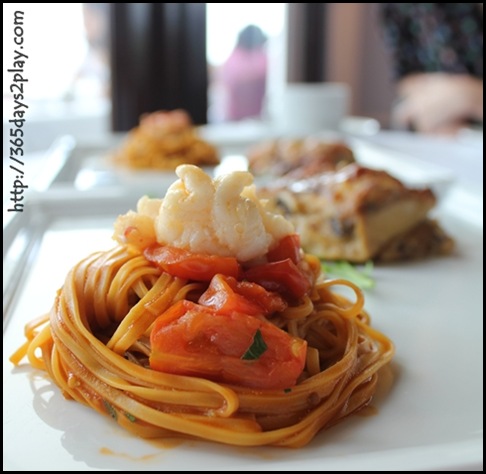 Tagliolini with Lobster, Cherry Tomatoes and Basil 
The main courses were not as outstanding as the appetisers, although still enjoyable. The 2 pasta dishes were very good. I have this feeling that the Il Lido chef's expertise is in pasta dishes, because all the pasta dishes that we had, even the Ala Carte ones were fantastic. I particularly liked the baked lasagne, oozing with flavourful ingredients mixed with cheese. The 2 meats were so so. I thought that they were a little on the tough side, especially the beef. The cod itself was nice, but the whipped potato that it was sitting in was super salty. Notice the beef tenderloin didn't have any accompanying blueberry. The chef forgot about that, and gave us extra whipped potato to make up for it. I accepted it before I realised that the whipped potato was so salty….
Stay with me ladies and gentlemen….desserts next. Portions are for 2 pax!!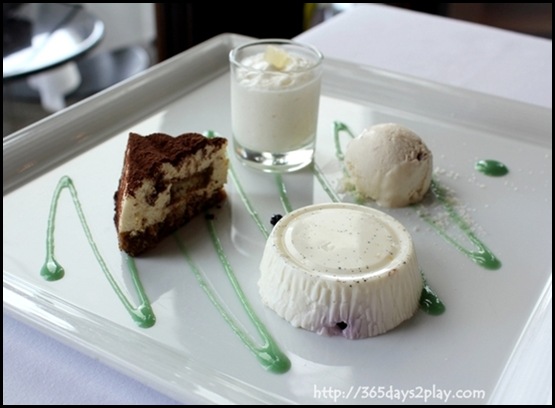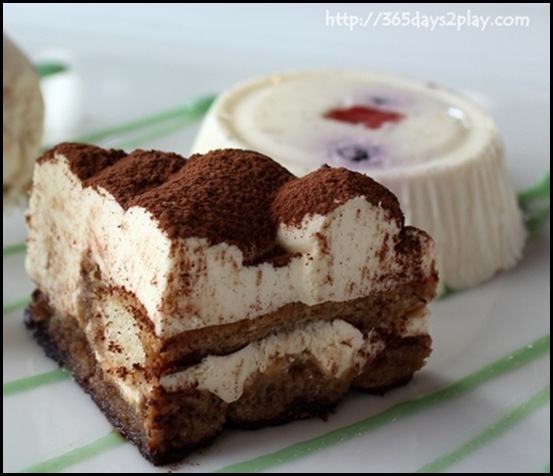 Tiramisu, panna cotta, ice cream, and a creamy thing.
Sweet desserts to end off the wonderful super set lunch. Of all the desserts, I was surprised to find that I liked the creamy thing in the little shot glass the most. Surprised because my favourites are usually the more solid desserts like cake and pudding. Sorry, for the life of me I can't recall what on earth its called or what was in it. All I remember was that it was something fruity, yet creamy, with a slight yoghurty taste. It was almost as light as air and really delicious. Ah well, I must have been in sweet oblivion.
UNFORTUNATELY, Il Lido changed their set menu in February 2012, so you can't get this super set menu with so many items now. But if you call them up and hound them, they might just revert back.
Watch this space for my review on Il Lido's new set menu. Yes, I enjoyed the meal at Il Lido so much I went back again in February.
Il Lido Singapore
Sentosa Golf Club
27 Bukit Manis Road
Singapore 099892
Lunch : Open daily from 12pm to 2.30pm
Dinner : Open daily from 6.30pm to 10.30pm
https://www.facebook.com/pages/il-Lido-Italian-Dining-Lounge-Bar/46809362805
PS: You have to pay an entrance fee to enter Sentosa. Check this link for the charges. Parking is free at Il Lido.