When it comes to Dim Sum, the Parents have probably tried more places than I have in the last few months. They have been secretly dining out without inviting me, on the pretext that I was too busy with my own programme. What kind of an explanation is that?? My programme is always flexible when free food is involved. Yeah they knew they were on shaky ground, so a reservation was quickly made at their latest discovery, aka Crystal Jade Dining IN at Vivocity.
I was initially surprised that they would suggest Crystal Jade. Although I had a good dim sum meal at one of the casual Crystal Jade restaurants several years ago, I just didn't associate Crystal Jade (a really affordable restaurant) with good dim sum. I forget that Crystal Jade has so many outlets ranging from cheap to premium. Crystal Jade Dining IN is of course one of their premium restaurants.
I love this Vivocity outlet. Not only do you get a view of Sentosa, the natural light coming in makes for great food photography! The staff are really attentive and will not hesitate to fill up your cup with tea the instance it is empty. We were sitting at the lower tier, nearest the glass walls, and because of the tiered seating, we didn't realise that the restaurant was totally full during lunch, it was that cosy.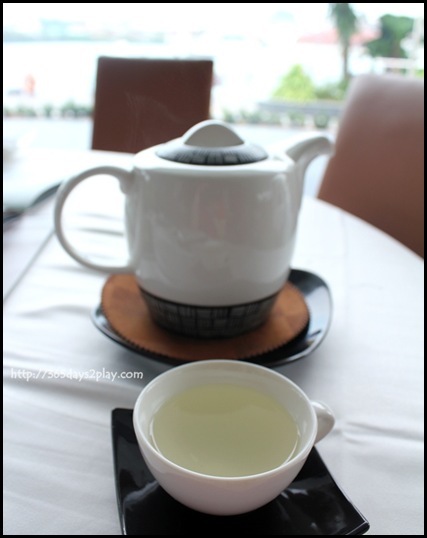 Believe we ordered Tie Guan Yin (Iron Buddha) tea, The tea is a little light because I was too hasty in pouring it out.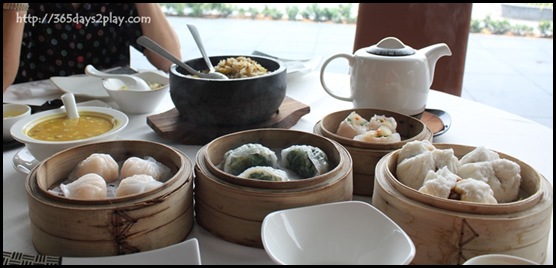 I haven't caught on to the Tapas fad, but small bites in the form of Dim Sum is okay for me. I wonder why.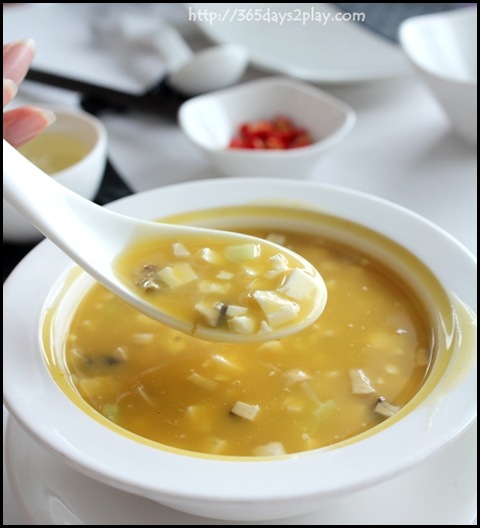 Pumpkin soup with Seafood $12
I thought my parents were joking when they said they were going to order pumpkin soup. I've never been a fan of pumpkin, and much less pumpkin soup, which I expected to be a thick puree of pumpkin. Thankfully, it wasn't and it was a really good recommendation too. There wasn't a strong pumpkin taste actually. It lent itself in the colour of the soup, the smooth/slightly thick texture and sweet flavour. I loved the diced vegetables and seafood in the soup. I like my soups to have something to bite into, and not just be pure liquid.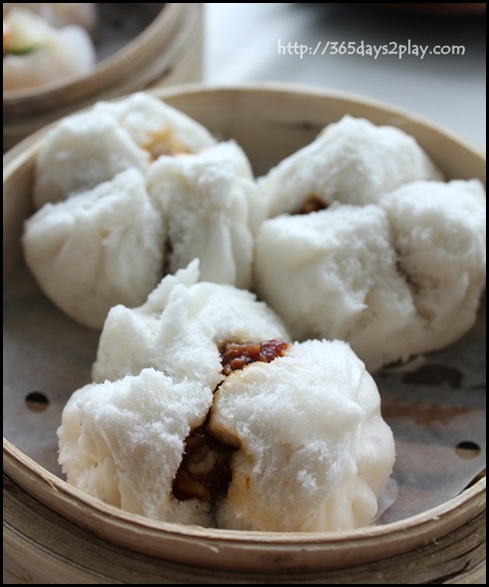 Char Siew Bao aka Steamed B.B.Q Pork with Honey Bun $4.20
I found this to be delicious at first bite, with the sweetness of the BBQ pork being just right. The pork was also firm and I did not detect fatty bits, which to me is a sign of a cheap quality bun. Towards the end, I did feel like there was a sort of off flavour in the pork, which made me wonder if the pork was not fresh.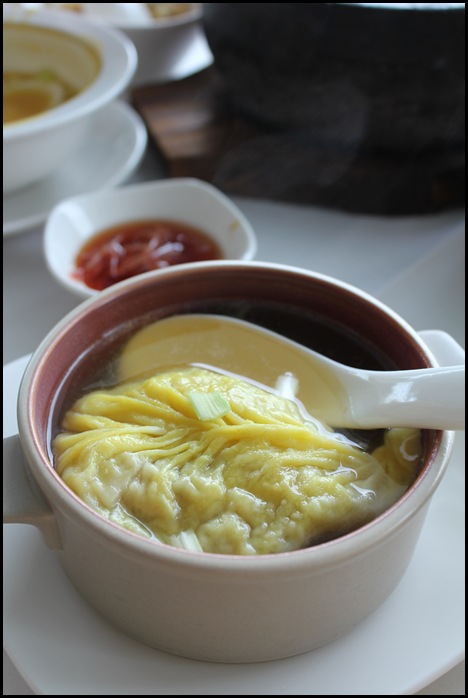 Shark's Fin Dumpling Soup $7.20.
This was also another delicious soup. The shark's fin dumpling was humongous and packed full of good stuff like shark's fin, prawns and minced pork.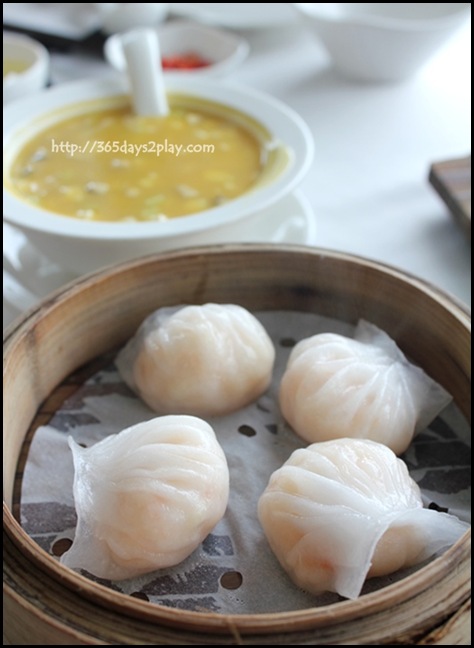 Steamed Shrimp Dumpling Ha Kau $5.20
Ha Kau is a must order for me and my family when we go for dim sum! These days, most restaurants do a very good version as they probably know that this is a signature dish that most people will not fail to order. These were piping hot when they arrived, as were the other dishes. I couldn't wait to put the precious parcel into my mouth and have the rich prawn stock envelope my tongue. The prawns used were humongous and springy in bite. The skins were a little too sticky though and stuck to my plate. Still, we enjoyed the Ha Kau so much, we ordered a second one.
The 2nd order arrived when we were already pretty full, as a result we didn't eat them piping hot. I detected a kind of chemical flavour in the Ha Kau, which i suspect is the alkaline water used to soak the prawns to give them the unnaturally springy bite. You notice that at Western restaurants, you will not find prawns that have as springy a bite as what you often find at Chinese restaurants. It's due to the stuff that they soak the prawns in. Interesting that I only noticed the chemical flavour after the prawns became cold. I wonder if that's what caused the prawns to be ultra humongous.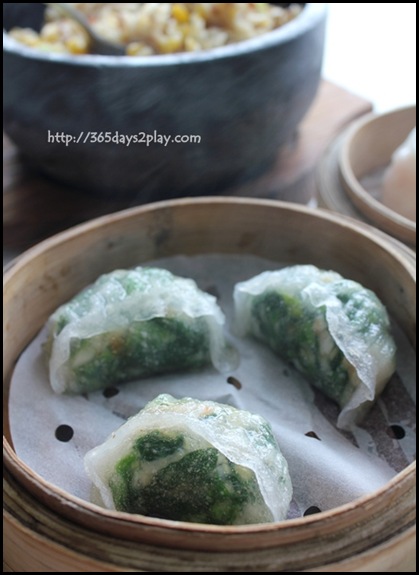 Steamed Shrimp Dumpling with Spinach $3.80
Delicious crystal dumpling with enough shrimp such that it didn't taste like a vegetable dumpling instead. I like the glutinous texture of this dumpling.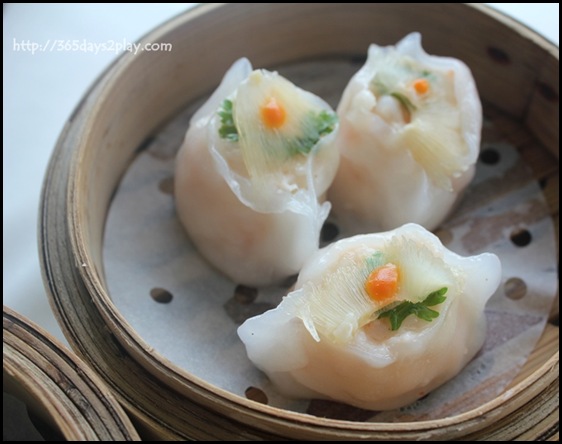 Steamed Shark's Fin Dumpling with Crab Roe $5
Another delicious treat that was packed full of good stuff. Crab roe on the top followed by some shark's fin, a sliver of scallop and more prawns. Delicious but expensive as there's only 3 per serving.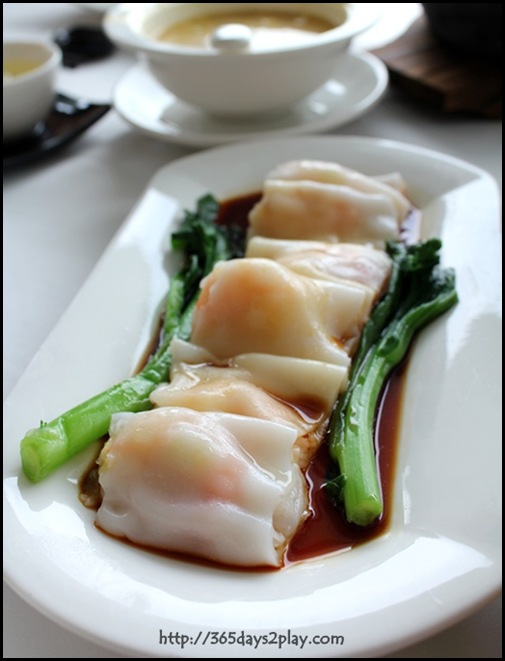 Steamed Cheong Fun aka Rice Roll with Shrimp $5.50
This Cheong Fun should win an award for presentation. Countless time I've been served cheong fun that was a mess of white. For this one, you can tell that the rice roll is extremely thin, as the prawns are poking out. Lovely texture and I have to say, one of the best rice rolls I have ever eaten.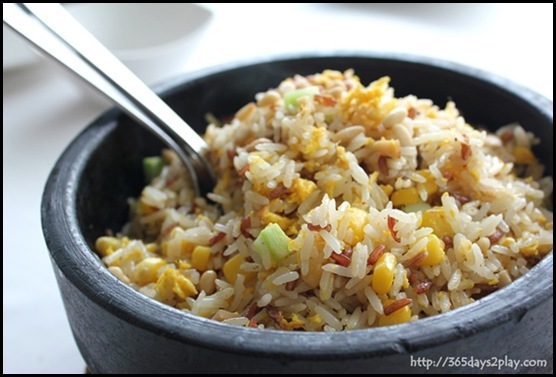 Assorted Grains Fried Rice Style in Hot Stone Pot $18
Healthiest fried rice you can order in a Chinese restaurant. We all liked this very much. It doesn't taste like it's health food. Instead, the non-white rice grains gave the dish a better bite, and imparted a more unusual nutty flavour. They also managed to make this non-oily tasting upon our request. Unfortunately, I can't say it's the best assorted grains fried rice, cuz just the night before, I had a similar thing at Canton-I @ Ion, and their version included prawns for a similar price.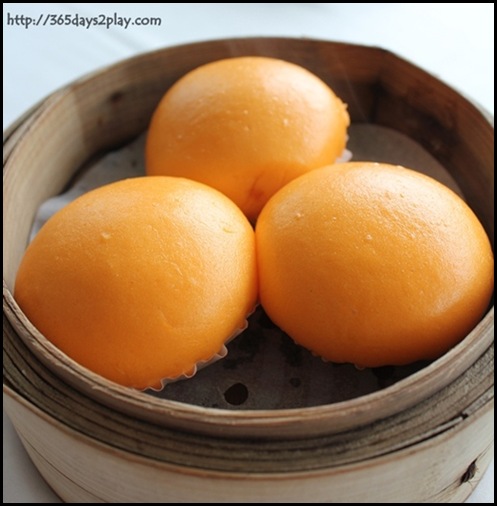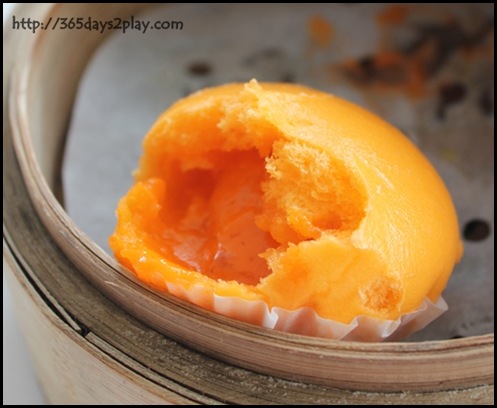 Steamed Custard Buns with Salted Egg Yolk $4
And last and perhaps least, the Liu Sar Pau. Not the best one I've tried. Too much colouring is used for the bun. The filling consisted more of other things than of salted egg yolk.
Feel like trying out their special deal set, which seems to be full of good things. When people ask me for set lunch recommendations, I always veer towards Western restaurants. Now I can suggest this to them.
If you've enjoyed reading this post, please vote for me at the Singapore Blog Awards 2012. I'm a finalist in the Food Category. Please press VOTE ME and it's only successful if you see the word VOTED come up!